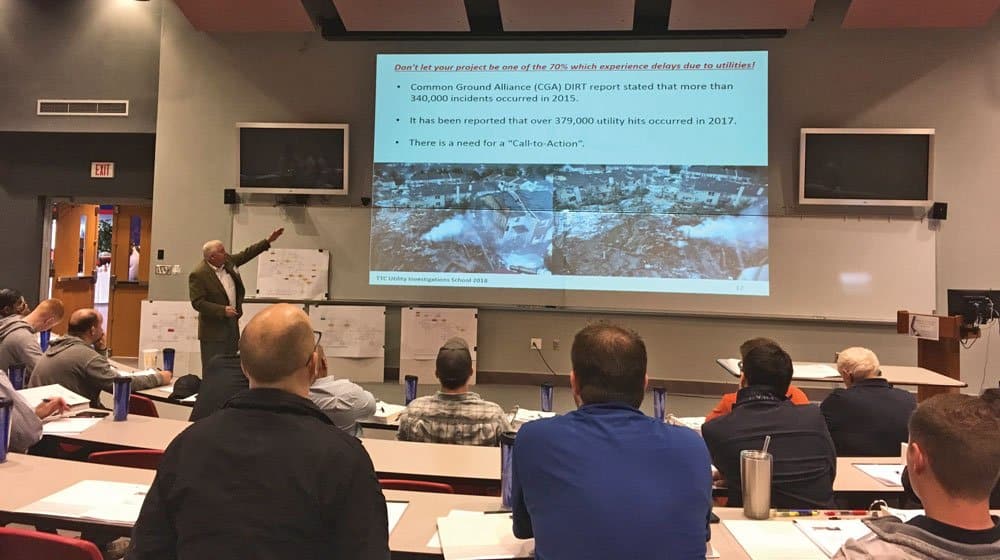 As the Trenchless Technology Center marks its 30th anniversary in 2019, its leaders look forward to a future that is bright as ever.
For nearly 30 years, the Trenchless Technology Center (TTC) has been at the forefront of research and development, education and technology transfer in the utility construction market. Since its founding at Louisiana Tech University in Ruston, TTC has been instrumental in laying the groundwork for the then-fledgling industry with pioneering research, in addition to raising awareness, developing new products and methods, and even nurturing the next generation of trenchless leaders.

As TTC marks its 30th anniversary in 2019, its leaders look forward to a future that is bright as ever. Despite the fact that the market has matured and trenchless technology has firmly established a niche within the utility construction industry, challenges – and opportunities – abound.

RELATED: Trenchless Technology Center Awarded Phase 2 of NASSCO CIPP Safety Study
In the last few years, TTC has rolled out new initiatives to keep pace with the changing needs of the industry, including educational programs, partnerships with utilities, associations and universities, and continued research. And TTC eyes an even bigger role within the industry going forward.

"The Trenchless Technology Center is unique in that we have a number of capabilities that have been built up over the years," said Dr. John Matthews, TTC Director. "We have a diverse group of faculty, researchers and research facilities, and we are fortunate to have great support from Louisiana Tech University and our Industry Advisory Board."
Matthews certainly was no stranger to TTC. He earned bachelor's, master's and doctoral degrees from Louisiana Tech, while working as a research assistant at TTC. After spending a few years in private practice, he returned to TTC as Director in March 2017, assuming the role from TTC co-founder Dr. Tom Iseley. Iseley, the Center's original Director from 1989-1994, rejoined as Director in 2014 after serving in various utility, academic and private industry roles in the interim. Iseley remains as Associate Director of TTC's International Operations, and together with co-founder Dr. Les Guice, who now serves as Louisiana Tech's president, they provide experience and guidance to support Matthews as TTC writes its next chapter.

Background and History
The Trenchless Technology Center (TTC) was initially formed as the Trenchless Excavation Center in 1989 and formally established as the TTC in November 1991. It was created to promote research, education and technology transfer in the trenchless technology industry at a time when the market was still very much in its formative stages. To provide some context, the first U.S. microtunneling project took place in 1984, the International Society for Trenchless Technology was formed in 1986, and the North American Society for Trenchless Technology had yet to be established.
The idea for the Center came as Iseley, then doing doctoral research at Purdue University, saw a need for bringing together researchers, industry and government, similar to what had been done with co-operative research centers in the transportation industry.

"I was doing research for the Indiana Department of Transportation and I was looking for information related to means and methods of putting pipelines underground without trenching," Iseley recalled. "I quickly realized that there was limited information available, and I saw a need for a research center that focused on underground infrastructure."

With the support of Louisiana Tech and Guice, who at the time was head of the Civil Engineering Department, the Center was formed. With little funding and only a few graduate researchers available, the Center was officially underway.

One early project put TTC in the spotlight – the $1.2 million Construction Productivity Advancement Research (CPAR) program. This joint effort by TTC and the U.S. Army Corps of Engineers was one of the largest trenchless research projects ever conducted. It included full-scale field research experiments on seven pipeline rehabilitation systems from five manufacturers; microtunneling systems under controlled ground conditions with extensive instrumentation and monitoring; and small directional drilling systems. The findings of the research led to the development of the "The Guidelines for Trenchless Technology: CIPP and FFP Rehabilitation Systems, Mini-HDD, and Microtunneling."

"The CPAR program was very important in establishing an engineering foundation for trenchless construction and helped kickstart the TTC, as well as the industry," Matthews said.

Another important step in laying the groundwork for TTC was the establishment of an Industry Advisory Board (IAB), which provides financial support, expertise and guidance. "Working closely with the Board allows us to be in tune with the needs of the industry and what type of support or research they need," Matthews said.

Starting from a base of 11 original IAB members, TTC now boasts nearly 50 members representing a cross section of the industry. Organizations like the Louisiana Contractors' Educational Trust Fund (CETF) play an important role in supporting the TTC.

Transitions
When Iseley decided to pursue opportunities in private industry, Dr. Ray Sterling would become the next full-time TTC Director in 1995 (Dr. Paul Halada served as interim director from 1994-95). Under Sterling, TTC increased its focus on municipal users, launching the popular Municipal Forum program in 1998. The Municipal Forum is a one-day educational event, primarily targeted to municipalities and their consultants, to learn the latest developments and share information in a collaborative setting. To date, TTC has hosted about 200 Municipal Forums across the country – about 10 per year.

Another major step for TTC came in 2007 when the state-of-the-art National Trenchless Technology Research Facility was dedicated. This 5,000-sq ft facility was funded primarily by Industry Advisory Board members and is the largest dedicated trenchless technology research facility in North America. The laboratory is fully equipped to perform most research functions and includes a strong floor, two soil boxes, a full material testing system, plus an outdoor in-situ pipe testing field.

Research and development also continued to play a key role under Sterling's leadership, and continued after he stepped away in 2009 under the tutelage of Dr. Erez Allocuhe (Research Director) and Dr. Rob McKim (Administrative Director). It was during this time that TTC was principal author of the landmark EPA report "State of Technology for Rehabilitation of Wastewater Collection Systems" – a first-of-its kind summary and description of products available for sewer rehab.

Following McKim's passing in 2013 and Allouche pursuing private practice, Iseley was invited to re-join the center he began more than a quarter century ago. Upon his return in 2014, Iseley was proud of the Center's part accomplishments but looking forward to taking it to new heights.

Expanded Vision
While the core mission of TTC has remained largely intact – research, education and technology transfer – it has undertaken several new initiatives that is changing the direction in how goals are being achieved.

Special Schools
To begin, TTC has begun offering specialty schools to provide in-depth discussion of particular topics. "We wanted to go beyond just increase awareness, but increasing understanding of the methods, including potential certification," Iseley said.

In 2015, TTC held its first auger boring school at the Louisiana Tech campus. Recognizing that this trenchless method has not been receiving the recognition that was so visible in the 1980s and early 1990s, TTC set to develop a permanent training facility and develop a training program that would be offered recurrently.

After introducing the Auger Boring School, TTC launched the Utility Investigations School (UIS). TTC teamed with the American Society of Civil Engineer's Utility Engineering and Surveying Institute (UESI) to provide an intensive five-day course in August 2016. The class gives attendees the knowledge and tools to provide competent utility investigations in accordance with accepted national standards.

RELATED: The Last Word: Importance of Verification, Validation and Peer-Review

Finally, TTC has teamed with the Buried Asset Management Institute-International (BAMI-I) to offer Certification in Training in Asset Management (CTAM) for water utility infrastructure management professionals. Better management practices including sustainability and life-cycle analysis are important for scheduled pipeline maintenance and rehabilitation. (Online CTAM courses are also available.)

Expanded Campus
Part of the vision of the TTC's expanded role going forward includes state-of-the-art facilities for research, classes and specialty schools. Currently, planning is underway for the Barbera Underground Infrastructure Research & Training (BUIRT) facility, which is envisioned in the vicinity of the National Trenchless Technology Research Facility on Tech's South Campus.

The Barbera facility is being designed as a world-class field training facility with pit and soil box, and 150 ft by 150 ft canopy, to be used for auger boring and other schools as well as research and development. It is being named in honor of the accomplishments of the Barbera family, most notably Leo Barbera, founder of American Augers, and his brother Jim Barbera, founder of Barbco Inc.

In addition, TTC has plans for its own dedicated Lecture Facility, to be used for classes, specialty schools and other events, including IAB meetings. When complete, the TTC will create an Underground Infrastructure Campus unmatched in the water utility sector.

Living Lab
Relating research to real-world applications is always a challenge, so TTC has partnered with the Ruston Department of Public works to establish a "Living Lab" when new products and methods can be tested and evaluated in actual working conditions. Recently, the partnership was used to evaluate the effective of drone technology for pipeline condition assessment, as well as other rehabilitation systems.

Forging Ahead
Another recent milestone for TTC came in June with the award of $200,000 grant from NASSCO to pursue a study on the emissions from steam CIPP projects. The TTC will partner with the U.S. Army Engineers' Research Development Center (ERDC) to study the release of organic chemicals in the steam exhaust.

The project is Phase 2 of a larger study and calls for measurement of styrene and other organic compounds at six CIPP installation sites, representing different pipe diameters (8-in, 12-in., and larger), and lengths, in order to capture variation in emissions. Measurements will be conducted before, during, and after curing at the termination manhole, as well as various locations in the surrounding outside area and inside nearby buildings. Worker exposure will also be measured via personal exposure monitors.

Finally, dispersion modeling will be conducted to estimate compound concentrations at a large number of locations for a wide variety of meteorological conditions. Measured and modeled concentrations will be compared to appropriate health-based action levels to determine if any potential health risks exist for workers or citizens in the surrounding communities.

"The trenchless industry and its needs are rapidly changing and the TTC must continue to be dynamic and expand into a more comprehensive role," Matthews said. "The TTC's staff of technicians, research faculty, and scientists is working closely with the industry partners to develop new technical solutions. The TTC will continue its mission to serve industry partners and conduct research for governmental and professional associations and it will continue to serve as an independent source of knowledge, education, and technology transfer for the trenchless industry."