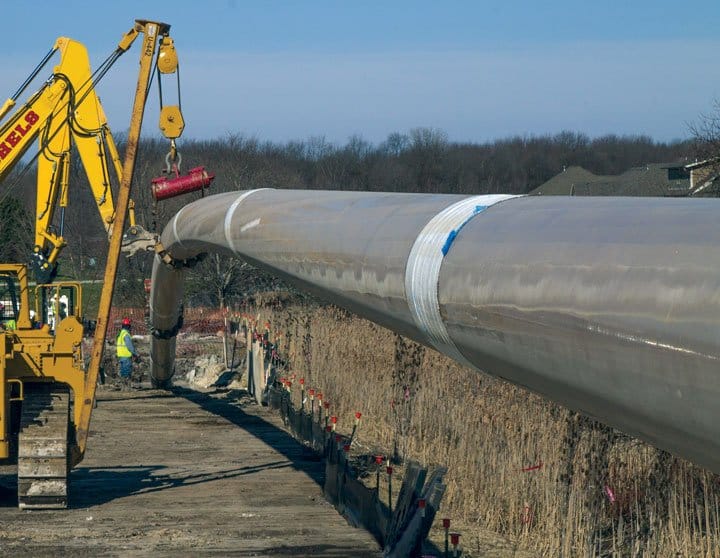 Horizontal directional drilling (HDD) can be an essential tool for replacing natural gas pipelines in locations that aren't nearly the same as they were when the pipeline was initially installed.
Michels Corp. recently completed a 5,788-lf installation of a 24-in. steel pipeline in Germantown, Wisconsin, about 20 miles northwest of Milwaukee. The installation is of part of a nine-mile high-pressure gas lifecycle lateral reconstruction project that spans two suburban Milwaukee counties, replacing a 20-in. pipeline that was installed about 60 years ago. The increased pipe size is intended to improve reliability and operational flexibility to the downstream metropolitan area network.
Oh, what difference a half-century makes.
RELATED: The Mighty Mississippi River No Match for HDD
When the pipeline was initially installed, open trenching was used in the 5,800-ft segment where Michels worked this spring and summer. However, in the ensuing decades, an interstate highway and residential subdivision came to occupy a portion of the area; wetlands occupied another portion. As a result, Michels was called in to use HDD to install the pipe and mitigate disruptions to traffic flow, wetlands and the neighborhood.
Michels is an international pioneer in HDD and has completed boundary-pushing installations in some of North America's largest cities and most isolated areas. This project was a rarity because it was located only 30 miles south of Michels' headquarters in Brownsville, Wisconsin. While the project could be considered conventional compared to others the crews have successfully completed, it was a major undertaking that benefitted from Michels' experience with large-scale projects and trenchless construction.
Preparations
Receiving and assembling a pipe that will ultimately span more than a mile is a daunting task, particularly in a residential area where long strings cannot be staged across streets and intersections. For this project, Michels crews assembled the pipe in seven individual strings along the perimeter of a nearby 16-acre park. When the strings were assembled, Michels hydrotested the pipe and coated the welds in preparation for pullback.
RELATED: HDD Key to Construction of Wisconsin Wind Farm
In the days before pullback, the seven pipe strings were welded together and placed on rollers in two longer strings that stretched along a residential street that was temporarily closed from the park to the entry site. Communication with residents was essential to minimize disruptions. Pedestrian access to all residences was maintained during the final stages of construction. Michels also erected noise-mitigating barriers along the out edge of pipe and rig-side work sites adjacent to several houses to reduce noise within the neighborhood.
Drilling
At the same time as the pipe was being assembled, Michels used two rigs, sophisticated guiding equipment and the pilot hole intersect method to drill the bore hole. Due to development in the area, both work sites were fairly compact, requiring crews to carefully plan which pieces of equipment were essential to the project. The hole was reamed in several stages to reach the final diameter of 36 in. and a depth of 150 ft.
RELATED: Microtunnelling Under the Mary Hill Bypass
Michels used a comprehensive mud management program to maximize drilling efficiency and remove cuttings. Containment pits and berms prevented the mud from flowing into environmentally sensitive areas. Following installation, Michels completed post-pullback hydrotesting to ensure the pipe's integrity. The entire process took about three months.
Russ Droessler, PMP, is a pipeline construction project manager at Michels Corp.. He has nearly a decade of experience with utility construction. Jim McGovern is a horizontal directional drilling project manager at Michels. He has been working in the pipeline construction and HDD fields for nearly 50 years, including more than 20 as a project manager.