Unleash the Power of Trenchless Technology Magazine for Your Brand
Trenchless Technology is the premier magazine for the underground construction industry. Partner with us and let the strength of Trenchless Technology's brand carry your message to utilities, DOTs, engineers, contractors and other underground infrastructure project stakeholders.
A Community of Underground Infrastructure Project Stakeholders
51,856
Magazine Subscribers
87,029
Website/Digital Impressions (monthly)
Digital and Print
For 30 years, Trenchless Technology has been the most informative guide to the people, projects, innovations and advancements of the underground construction industry. Our media properties illuminate the perspective of all project stakeholders, connecting professionals through print and digital channels.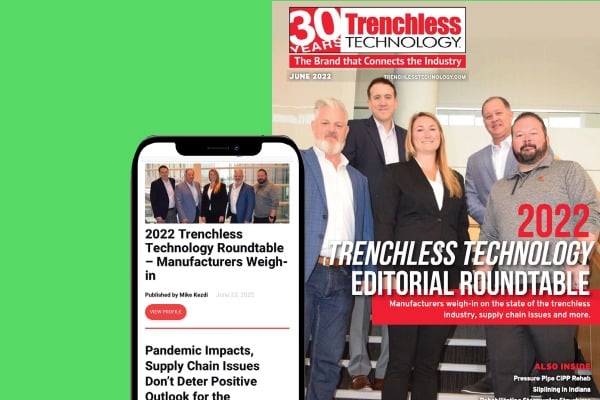 Trenchless Technology Magazine
Every month more than 51,000 North American subscribers turn to Trenchless Technology for informative and educational content.
View Example Issue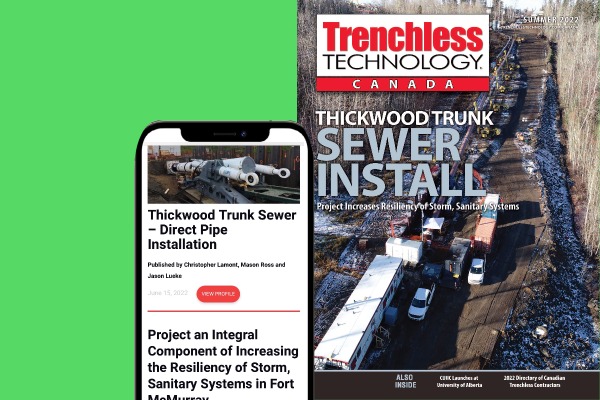 Trenchless Technology Canada Magazine
A quarterly resource for more than 3,500 Canadian underground construction professionals seeking exclusive Canadian content.
View Example Issue
View 2023 Media Kit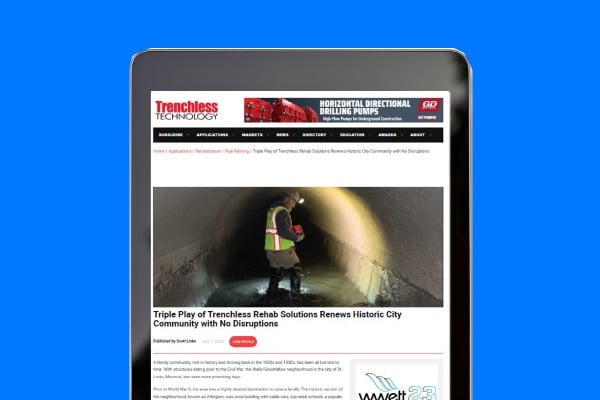 TrenchlessTechnology.com
A daily source of information and educational content for all perspectives of an underground infrastructure project.
Visit TrenchlessTechnology.com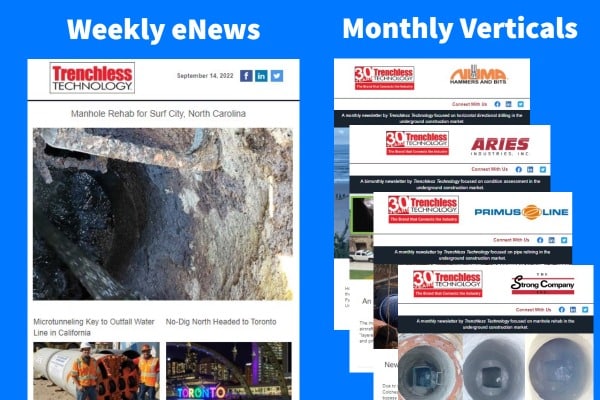 eNewsletters
Every Wednesday more than 16,500 eNewsletter subscribers get the latest updates from the trenchless industry. Content-specific vertical eNewsletters are sent once a month.
Weekly eNewsletter example
Vertical eNewsletter example
Cross-Platform Experiences
Trenchless Perspectives LIVE Webinar Series
This quarterly webinar series brings you insight into the industry from the system owners, engineers and contractors doing the work across North America.
View
How To Issue
A special annual issue of Trenchless Technology that combines editorial and sponsored content to solve the industry's biggest challenges.
View.
Buyer's Guide
The biggest online searchable database of more than 700 trenchless contractors, engineers and manufacturers/suppliers. Print edition publishes annually in May.
View Online Buyer's Guide
Add a Listing
Top 50 Trenchless Engineering Firms
Every December Trenchless Technology reports the highly anticipated Top 50 ranking of trenchless engineers, compiled from data submitted by engineering companies.
View
Engineering Firm Survey
Trenchless Technology Projects of the Year
The annual Project of the Year Awards issue recognizes notable and complex rehab and new installation projects.
View
Nomination Form
Trenchless Technology Person of the Year
Trenchless Technology has presented its Person of the Year annually since 1993. The Person of the Year is chosen based on the individual's recent & lifetime achievements, and demonstrated leadership abilities.
View
Nomination Form
HDD Guide
An essential resource for today's HDD contractor, engineer and project owner. The annual HDD Guide provides specs, hdd tips, and practical information for all perspectives.
View
Trenchless Innovations & Game Changers
This issue pays homage to the trenchless innovations and game changers that have shaped and advanced the industry.
View
Special Reports
A collection of informative and authoritative articles focused on specific subjects.
Aging Infrastructure
New Installation
Undergrounding
Damage Prevention
Custom Reports
View
No-Dig North
Hosted by the North American Society for Trenchless Technology (NASTT) and its Canadian Chapters, No-Dig North is a two-day, Canada-wide trenchless event.
nodignorth.ca
Microtunneling Short Course
A three-day intensive course covering emerging microtunneling technologies and the latest technical information to ensure a successful project.
microtunnelingshortcourse.com
Horizontal Directional Drilling Academy
Led by directional drilling experts, the HDD Academy provides classroom instruction on pre-construction, design and material selection, and construction and operations.
Advertising Sales Contacts
Kelly VanNatten
Publisher
kvannatten@benjaminmedia.com
234-380-3030
Dan Sisko
Trenchless Ambassador
dsisko@benjaminmedia.com
234-380-3036