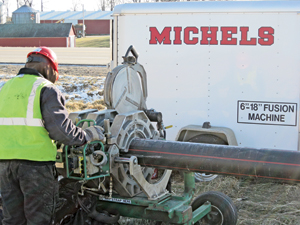 Project owner We Energies received the Certificate of Public Convenience and Necessity authorizing construction of the project on Jan. 22, 2010. Construction began on May 17, 2010, and consisted of a Wisconsin-based alliance to design and build the wind farm, which will consist of 90 Vestas V90 1.8-megawatt (MW) turbines.
For the project's collection system, We Energies turned to Michels Communications, a division of Michels Corp. As one of the top 10 utility contractors in North America and a leader in wind farm construction, Michels Corp. has more than 3,600 MW of wind farm experience. Michels has been at the forefront of Wisconsin's quest to meet its Renewable Portfolio Standard, which was signed by then-Gov. Jim Doyle in 2006 and requires Wisconsin utilities to generate 10 percent of their energy from renewable sources by 2015.  
While Michels Communications performs a great deal of collection system work, including trenching, plowing, boring and wetlands crossings for wind farms throughout the United States (which have recently included Shirley Wind Farm in Shirley, Wis.; Bison Wind Farm in New Salem, N.D.; Buffalo Ridge II in Brookings, S.D.; and Elm Creek II in Jackson, Minn.), the amount of HDD work performed at Glacier Hills makes it unique.
In addition to the 50 miles of power and communications systems that Michels Communications would be installing via trenching, roughly six miles of 6- and 8-in. HDPE pipe were to be installed by way of HDD.
After the planning and early civil work were completed, Michels Communications started its collection system work just as the Wisconsin weather was beginning to turn for the worse. Battling first freezing rains and then snow, Michels dealt with weather challenges from the beginning. Michels' vast wind farm experience, however, made the issues seem minor.
To deal with the cold weather and potential freeze-ups, Michels used heated tents and, in some cases, heated trucks to keep its rigs and reclaiming machines running strong. As with all of its work, Michels reclaimed all of its material, collecting, containing and reusing the drilling fluid when possible.
Using Vermeer machines ranging in size from 36×50 to 100 x 120, Michels began to drill. One of the biggest challenges the company encountered was the different material underground. In addition to the presence of wetlands in the area, there was also a large amount of rock that Michels Communications encountered.
As the ground trembled alongside a busy state highway, there could be no mistaking it — even a seemingly simple 500-ft crossing wasn't going to be easy. Other crossings through similarly difficult rock reached nearly 1,000 ft.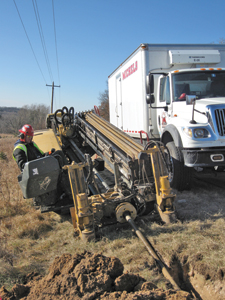 But it wasn't just solid rock that Michels dealt with. In fact, one of the biggest challenges on this particular job was the varying soil conditions Michels encountered on its drills. Ranging from sand and gravel to solid rock and cobble, the changing conditions required special attention throughout the drills.
One of the drilling foremen on the job for Michels, Rodney Hopp, said that the constantly changing conditions posed a challenge. "It would change from a nice sandy soil to solid rock just like that," Hopp said. "So we had to use a number of different drill fluid additives and reamers to maintain production."
Keeping good relations with local landowners was crucial. Both Michels and We Energies stayed in regular contact in order to coordinate the work and understand their needs. Additionally, safety was a concern due to a relatively large Amish population and the existence of a busy biofuel plant that saw grain trucks come and go all day long. Meeting these needs required additional flaggers and an understanding of Amish culture.  
The One Michels concept, which is a shared safety and environmental culture across Michels' 15 divisions and subsidiaries, has showed its strength on the Glacier Hills project. As the calendar moved into 2011, the project was nearly incident-free. Additionally, the Michels Environmental Resource Group (MERG) has been performing regular site inspections and environmental monitoring for the project. Led by MERG manager Dave Melum, the group has worked to ensure full environmental compliance on the project.
While the drilling crews worked on the actual drilling of the holes, support crews worked to assemble the HDPE pipes. After conquering the logistical challenges of delivering six miles of pipe to the site, Michels used McElroy fusion machines to fuse the polyethylene pipes, a process that actually provides for a stronger connection than welded steel. The pipes, which arrived onsite in 40-ft segments, were welded together up to five at a time to create multiple 200-ft spans for the longer crossings.  
Despite the harsh Wisconsin winter, Michels Communications was expected to complete its portion of the work in January. The balance of electrical collection system construction and installation of the wind turbines is expected to be complete by the end of 2011.
Bob Wothe is a marketing specialist with Michels Corp., based in Brownsville, Wis.