We know that Trenchless Technology's website is where you turn for the most important information about the trenchless industry. Every once in a while we take the opportunity to let our readers get to know a bit more about the team responsible for making this website, and the magazine on which it is based, a reality.
To that end, around the holidays we like to lighten things up. The team has presented you with a list of our favorite holiday movies and TV shows and we also created two holiday playlists. You can check those out in the links below.
RELATED: Trenchless Technology Presents its 2017 Christmas Music Playlist
RELATED: Our Gift to You – A Trenchless Technology Top 30 Holiday Playlist
RELATED: Trenchless Technology's Favorite Christmas Movies and Shows
This year, we thought it would be cool to share with you some of our favorite holiday recipes. After all, a cornerstone of the season – regardless of your background – is to gather with family and friends to celebrate. And by celebrate we mean eat, drink and be merry.
We hope you enjoy the recipes below and, if you desire, feel free to comment on this story with a recipe of your own to share. Or, if you prefer, email Mike Kezdi, managing editor, at mkezdi@benjaminmedia.com.
And, as we head into the new year, the entire team at Trenchless Technology, would like to thank all of you for a great 2022 and we look forward to continuing to deliver the best and most comprehensive coverage of the trenchless industry.
Kelly VanNatten, Publisher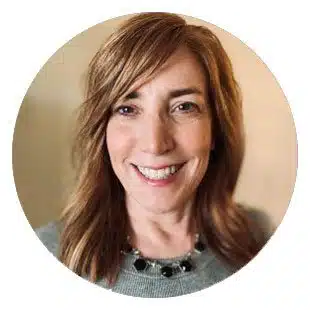 One of the new traditions I started with my husband is concocting a custom cocktail at our holiday get-togethers. I love martinis and this year I'm going to serve one of my favorites, a white chocolate martini with a few special touches to make it a Christmas martini.
Christmas Martini
Ingredients:
3 oz. white chocolate liqueur
2 oz. Vanilla Vodka
2 tbsp. heavy cream
Ice
Directions:
Add the ingredients together in a cocktail shaker and shake well. Strain into a glass rimmed with sugar (red or green sugar for a colorful touch) or crushed peppermints. If you want additional garnish, add a peppermint stick. Toast. Enjoy!
Sharon M. Bueno, Editor
I can't remember a time when this tasty salad wasn't a part of our Thanksgiving and Christmas tables. This dish has been part of my life for over 50 years and goes back before me. It's not the holidays for us unless Grandma Mary's Cranberry Salad is on the table.
Grandma Mary's Cranberry Salad
Ingredients:
2 lbs. fresh cranberries
1 cup sugar
1 (6 oz.) package of Lemon Jell-O
1 cup boiling water
1 cup cold water
1 tart apple (peeled and diced)
Zest of an orange
1 (8 oz.) can of crushed pineapple, undrained
Directions:
Wash and grind the cranberries (some pulses on the food processor to grind the cranberries into medium size pieces) and cover with sugar. Let stand while you mix the Jell-O with the boiling and cold water. Mix together with the cranberries, Jell-O, diced apple, orange zest and crushed pineapple. Pour into 9×13 dish. Let set overnight.
Mike Kezdi, Managing Editor
For me, this time of the year can be summed up best as feasting with family because there are several gatherings between Thanksgiving and New Year's Day. However, the meal that is probably the most unique is Christmas Eve thanks to my family's roots in Hungary (both parents immigrated with their families following World War 2).
While it took me many years to appreciate it, the centerpiece of our Christmas Eve meal is Halászlé, a traditional Hungarian fish soup. For several years, this soup was painstakingly made by my Nagayama (grandma in Hungarian). She would get assistance from my mom and other helpers over the years. After she died, my mom faithfully took over this tradition and her helpers have come to include my daughters. Keep in mind this is a family recipe, so there is a lot of cooking by the look, feel and taste and not exact measurements. This recipe is for 12 to 16 people and can be reduced to feed 6 to 8.
Not a fan of fish or the idea of fish soup? Feel free to give Hungarian sour cherry soup a try. It's the other Christmas Eve soup course staple. FYI, the Mike/kid-approved version does not have cream in it.
Halászlé (Fisherman's Soup)
Ingredients:
2 medium onions (diced)
2 tbsp. oil
2 tbsp. sweet Hungarian paprika
8 cups hot water
1 (5.5 oz.) can Spicy V8
6 red potatoes (peeled and cut into 1/2-in. cubes)
2-3 lbs. of assorted fish (salmon, shark, cod and snapper) cut into 2- to 3-in. pieces and well salted
3/4 cup dry red wine (Cabernet)
Salt to taste
Directions:
In a large pot heat the oil and sauté the onions until soft. Reduce the heat and add the Hungarian paprika and stir well for 1 to 2 minutes. Add the hot water and simmer the onions for 20 minutes. Add the V8 and potato cubes and bring to a boil. Add the fish and reduce the heat. Simmer for 10 minutes. DO NOT STIR, instead swirl the pot to avoid breaking the fish into smaller pieces. Add the red wine and swirl together. Salt to taste.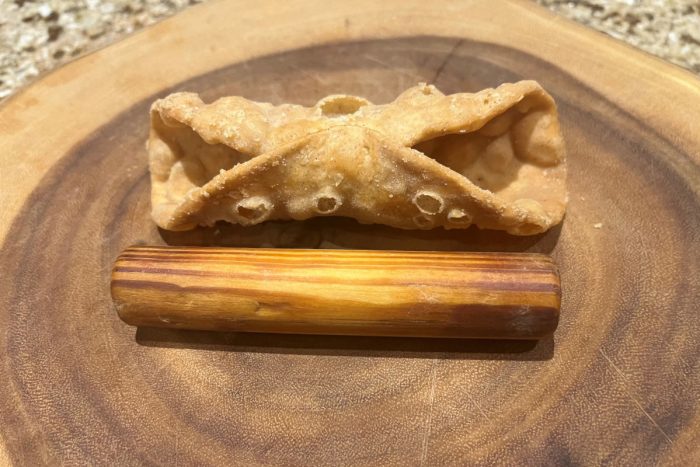 Andrew Farr, Contributing Editor
This has been a holiday staple in my family, on my mom's side for more than 100 years (we would often pronounce them gannola or gannoli, as I've found some of the old Sicilian dialect can differ between families).
Christmas Cannoli
The traditional Sicilian method for cannoli would involve making the shells from scratch, a three-step process of 1) making the dough; 2) rolling it out and forming the shells individually around a wooden forming rod to about a 5-in. length, about 1-in. diameter; and 3) quickly deep frying until crispy. But you can buy already-made/formed shells at an Italian import-type store.
And now for the filling.
Ingredients:
1 lb. Ricotta cheese
2 cups vanilla pudding
1 cup whipped cream
1 teaspoon vanilla
A little bit of grated cinnamon and nutmeg
Shaved chocolate
Directions:
Combine all and mix. Fill the shells. This recipe will be enough to fill 36 shells. Garnish with Maraschino cherry halves on both ends and sprinkle with powdered sugar. That's it. You're all done. Take the cannoli. Leave the gun.
Bradley Kramer, Contributing Editor
For more than 50 years, my parents and their close friends got together for a pre-Christmas celebration that included food, drinks, gifts and caroling. Christmasfest lasted until the arrival of several grandchildren on both sides. One of the staples of this get-together was a smorgasbord of appetizers, and the bacon-wrapped water chestnuts were among my favorites.
Bacon-Wrapped Water Chestnuts
Ingredients:
2 cups ketchup
1 cup packed brown sugar
2 tbsp. Worcestershire sauce
1 pound bacon
2 (8 oz.) cans water chestnuts, drained
Directions:
Preheat the oven to 375 degrees F. Combine ketchup, brown sugar and Worcestershire sauce in a medium bowl. Cut bacon strips in half. Wrap one slice of bacon around each chestnut and secure with a toothpick. Arrange water chestnut wraps in a 9×13-in. baking dish. Bake in the preheated oven for 10 to 15 minutes. Remove water chestnut wraps from the oven and drain some grease. Pour ketchup sauce over wraps. Bake until bacon is crispy and sauce thickens, 30 to 35 more minutes.
Dan Sisko, Trenchless Ambassador
This is a simple yet must have at our holiday gatherings. Having this dish always reminds me of my mom, so it's even more special to me and my family. It was one of my mom's dishes that she always made during the holidays. Many a friend and family member have asked for this recipe so they can make it as well.
Corn Casserole
Ingredients:
1 (15 ¼ oz.) can drained whole kernel corn
1 (14 ¾ oz.) can cream-style corn
1 cup sour cream
½ cup (1 stick) melted butter
1 (8 oz.) package corn muffin mix
Directions:
In a large bowl, stir together the two cans of corn, corn muffin mix, sour cream and butter. Pour into a greased casserole dish. Bake at 350 degrees F for 40 to 45 minutes or until golden brown.
Chelsea Ulmer, Sales Coordinator
Grammie makes all the food for every holiday (despite everyone trying to help), so this dessert is quick/easy for her to make along with everything else, but oh so good! A must have for a holiday meal!
Grammie's Simple White Chocolate Cheesecake
Ingredients:
1 (8 oz.) box cream cheese, softened
1¼ cups cold milk, divided
1 package Jell-O white chocolate instant pudding
½ of an 8 oz. tub of Cool Whip
1 graham cracker crust
Directions:
Beat the cream cheese and ¼ cup milk until well blended. Add remaining 1 cup milk and pudding mix, beat 1 minute. Gently stir in cool whip. Pour into crust. Refrigerate at least 1.5 to 2 hours.
Deborah McManus, Design Specialist II/Production Coordinator
Any family recipes are secret and on a strict lockdown, so I can't really share those. This Almond Pear Cream Cheese Torte will have to do. There really isn't a story behind this recipe. I started making it 14 years ago and my family and friends rave every time I make it. It's what I make if we go places for Christmas and my cookies aren't requested. So why didn't I share my cookie recipe? Because – just like all the other women in my family who have passed on their recipes to future generations – I am keeping these recipes secret!
Almond Pear Cream Cheese Torte
Prep: 30 min | Total: 4hr 5 min | Yield 12 servings
Ingredients:
½ cup (1 stick) butter; softened
1 cup sugar
1 cup flour
1 package (8 oz.) cream cheese
1 egg
½ tsp. vanilla
½ tsp. ground cinnamon
4 cups sliced peeled pears (about 4 pears)
¼ cup sliced almonds
Directions:
Preheat oven to 425 degrees F.
Beat butter and 1/3 cup of the sugar in small bowl until light and fluffy. Add flour; mix well. Spread firmly onto bottom and 1 in. up sides of 9-in. springform pan. Beat cream cheese and 1/3 cup of remaining sugar in bowl with mixer until well blended. Add egg and vanilla; mix well. Spread evenly over crust. Combine remaining 1/3 cup sugar and cinnamon. Add to pears and toss. Arrange the pears over creams cheese layer; sprinkle with almonds. Bake 10 min. Reduce temperature to 375 degrees F. Continue baking for 25 min. Loosen from rim of pan. Cover and refrigerate for 3 hours.
Allison Holt, Audience Development Coordinator
My favorite Thanksgiving appetizer is bacon wrapped dates.
Bacon Wrapped Dates
Ingredients:
14 small/thin dates (pitted)
7 strips of bacon, cut in halves.
Other
Directions:
Preheat the oven to 375 degrees F.
Wrap each date with a half strip of bacon and place onto a baking tray that is lined with parchment paper. Secure each with a toothpick. Bake in a preheated oven at for 12 to 15 minutes or until the bacon is cooked to your liking. Make sure not to burn the dates. Can be served warm or cold.
We hope you enjoy these recipes. If you try one, grab your phone, snap a pic and share it with us! Happy Holidays for the entire team at Trenchless Technology magazine. We leave you with this toast to share with you and yours, "May we always be grateful for the past, find joy in the present, and remain excited for the future."