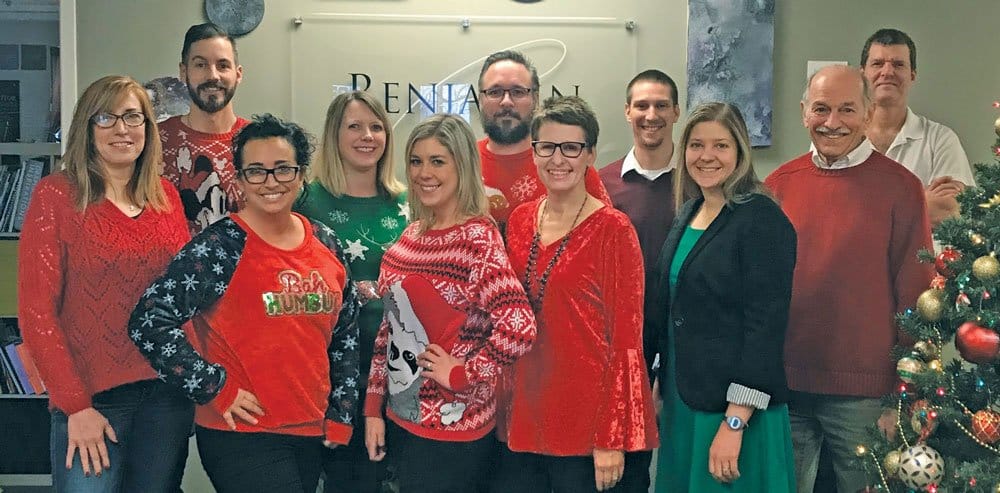 Once again, the conversation among the Trenchless Technology staff shifted from our normal trenchless industry banter, this time instead of Christmas movies, we focused on some of our favorite Christmas tunes.

RELATED: Trenchless Technology's Favorite Christmas Movies and Shows

Not a group known for keeping things to ourselves, and in the spirit of giving that the holiday season is all about, we wanted to share the list with you. Some are old, some are new and some are just plain funny. As one of our esteemed colleagues noted, "We've put together quite an eclectic mix!"
Contributing to the music list are managing editor Sharon Bueno, associate editors Mike Kezdi and Andrew Farr, Erica McClurkin email marketing specialist and the newest member of our team, advertising account manager/Trenchless Technology Brand Ambassador Dan Sisko and Rob Krzys, president of Benjamin Media Inc.

Everyone offers up their Top 5 with a brief description of why these rank at the top of their 2017 rotation. And at the bottom of the post is a link to our YouTube playlist. Or if you can't wait, and want to listen now click here.
We encourage you to to add to your party playlists. As the holiday approaches, kickback with your favorite seasonal brew, a spiked eggnog or hot cocoa if that's your thing, wrap some gifts and give this playlist a spin.

Happy Holidays from the Trenchless Technology team
Mike
Don't get me wrong, I enjoy the standard Christmas tunes, but this year, I started looking for more obscure or less heard Christmas songs. That is why my 2017 list is more eclectic than most. Oh, and if you like Christmas music and music documentaries, checkout "Jingle Bell Rocks". I caught this on TV the other day. Quite fortuitous considering my musical exploration this year.

5 – Fat Daddy Claus
This song was featured in the aforementioned movie. Paul "Fat Daddy" Johnson was a famous Baltimore DJ. I enjoy the "old school" quality of this recording and Fat Daddy's delivery on this track. According to a Baltimore Sun article about Fat Daddy, Esquire and Billboard name him one of the top five R&B disc jockeys in America.

4 –  Dominick The Donkey (The Italian Christmas Donkey)
You can take your Frank Sinatra, Dean Martin, Perry Como and the like, if we're talking Italian-American singers, give me Lou Monte and this novelty classic. Go ahead an give it a listen and try not to smile a little bit.

3 – I Am Santa Claus
The title track from the Bob River's Twisted Radio album of the same name, "I Am Santa Claus" is a parody of Black Sabbath's "Ironman." It's an appropriate addition to the list in honour of the boys from Birmingham playing their final show together on February 4, 2017. And I somehow doubt Black Sabbath ever got around to making a Christmas album let alone one song.

2 – Christmas At Ground Zero
Weird Al penned this song in 1986 during the Cold War, and takes a look at doing all of your Christmas activities while the world is getting nuked. Some may say this is an odd choice considering the current global political climate. It's no political statement on my part, I just like it because it is a funny Christmas parody song from my youth.

1 – Must Be Santa
This is not the only version of this call-and-response style song. Both Bob Dylan and Raffi have versions of the song available, but I find The Irish Rovers polka rendition to be one of the best. Probably the most "traditional" Christmas song on my list, it really captures the fun of Christmas. Take a listen. My favorite part is the instrumental at the 1:15 mark.

Sharon
I love Christmas music and I'm mostly old school about it. Give me Bing Crosby, Frank Sinatra, Nat King Cole, Perry Como, Andy Williams and the Ray Conniff Singers any day. My co-workers will, I'm sure, share with you more current music fare, so I thought I would stick to my holiday classics. Seriously, the Ray Conniff Singers are awesome!

5 – The Monkees Ríu Ríu Chíu
Yes, The Monkees. I'm sure no one but a Monkees fan will even know this one. This was included at the end of their Christmas episode in December 1967 (and yes, I have the series DVDs) and they sing it a capella. The song is a 16th century Spanish folk song and the Monkees' arrangement definitely showcases their harmonizing talents.

4 – A Partridge Family Christmas Album
Again, I know it's not just a song but I love, love, love this album. I remember my Mom used to play it on our stereo in the living room on Saturdays during the Christmas season. Today, I have the original LP and the CD. Particular favs off of it are "My Christmas Card," "Jingle Bells" and "Rockin' Around the Christmas Tree." RIP David Cassidy.

3 – Oakridge Boys Christmas Album
I know it's not a song but have to include this album, released in 1982. I play it every year and I can't pick just one. I'm not a country music fan but all these songs are just so good. I like music you can sing along to. Favs off the album are: "Jesus Was Born Today," "Christmas Carol" and "Happy Christmas Eve." The group's rendition of "O Holy Night" is amazing.

2 – Andy Williams' The Most Wonderful Time of the Year/Happy Holidays
If these songs don't get you in the holiday spirit and put a smile on your face, I don't know what will. I can hear these songs every day and they don't get old. Yes, I included the Osmonds version of Happy Holidays with Andy Williams because I love them. I'm allowed, it's Christmas. 🙂

1 – I Heard the Bells on Christmas Day
Classic by Bing Crosby, who frankly makes every Christmas song he sings just amazing. This one though brings the lump in my throat and tears in my eyes at the lines, "Then rang the bells more loud and deep…God is not dead, nor does he sleep… The wrong shall fail, the right prevail…With peace on earth, good will to men… Awww, Bing….

Erica
It was tough to compile this list, but here are my favorite tunes for the Christmas playlist.

5 – Linus and Lucy – Vince Guaraldi Trio
This is my favorite song on the soundtrack for "A Charlie Brown Christmas." It's been a while since I've seen the TV special, but part of my Christmas ritual each year is to put on this album while I wrap presents.

4 – The 12 Days of Christmas – Straight No Chaser
This is the song that introduced me to SNC. I love a cappella – perhaps because of the challenge and the beauty when done well – and this holiday medley has everything needed for a smile…plus an 80's bonus and five golden rings.

3 – Christmas Eve/Sarajevo and Christmas Canon – Trans-Siberian Orchestra
TSO is part of my personal Christmas soundtrack from holidays in the late 90's. I couldn't narrow down this to one or the other because both remind me of holiday celebrations at that time.

2 – Dance of the Sugar Plum Fairy – Pentatonix
It's hard to select one Pentatonix holiday song that stands above the rest because they sing so many amazing arrangements of songs I know and enjoy. This one makes my list because it's cool – and so is "The Nutcracker."

1 – Sleigh Ride – United States Navy Band
Whether you are in the mood to sing along or just listen, "Sleigh Ride" is one of those songs that brings holiday cheer with it. I like this instrumental version as well as many of the other versions that get radio play around this time of year.

Rob
There were so many to choose from, I couldn't narrow it down. I just knew that a lot of the classics had to make my list. Oh, and if you have the time, check out the Dropkick Murphys "The Season's Upon Us" or revisit Cheech & Cong's "Santa Claus and His Old Lady." Merry Christmas and a Happy New Year.

5 – Father Christmas
The seventies would not be the seventies without a little punk rock Christmas. Maybe it had something to do with the Clash influence I had when I was small.

4 – Frosty the Snowman
For some reason, this Gene Autry version of "Frosty the Snowman" speaks to me. I chose this song because, growing up in Northeast Ohio, Christmas-time often meant snow on the ground and Frosty is all about having fun in the snow.

3 – Silent Night
I chose this song because it's the only Christmas song that I think I can sort of sing.

2 – Rudolph the Red-Nosed Reindeer
This made the list for me because it reminds me of family Christmas gatherings. Namely, a Christmas many moons ago at my aunt's house. I was 10 and her dog bit me on the nose.

1 – Santa Claus is Coming to Town
This is one of the most upbeat Christmas songs out there. Christmas is an exciting time of the year and this song captures that excitement.

Dano
I grew up with my mom playing the Christmas songs right after Thanksgiving.  I can't think of a time when she didn't have them on. For me it brings back great childhood memories of hearing some great traditional songs that just got you excited for Christmas with the family. The last couple of years I have been following her footsteps with playing Christmas songs when December begins, I have even taken it a step further in 2017 and I find myself listening to Christmas songs during most of my car rides.

5 – It's Beginning to Look a Lot Like Christmas – Johnny Mathis
This song has been song by many performers and definitely a must hear many times during the holidays.  I feel like this song just sets the tone and has be one my favorites that I find myself singing along to it at times.

4 – The Christmas Song (Chestnuts Roasting on an Open Fire) – Nat King Cole
This song is just a lovely one that I find the lyrics and music are really perfect.  The end of the song is pretty solid with saying, "Although its been said many times, many ways, a very Merry Christmas to you."  I have often thought that if we said "Merry Christmas" throughout the year, we might possible have happier people than just during December with the Christmas cheer.

3 – Holly Jolly Christmas – Burl Ives
This song is very upbeat Christmas song that could very easily be my # 1 song too.  Actually, it is very hard to rank Christmas songs because there are so many good ones.

2 – Rudolph The Red Nosed Reindeer – Gene Autry
I love this song and loved watching the movie as a kid.

1 – All I Want For Christmas Is You – Mariah Carey
I remember Mariah Carey performing this song on live TV a few times and thought it was really good and still do.  She had one of the most amazing voices to me back in the 90's. For my various Christmas Pandora station music stations go to's, I do have Mariah Carey (Holiday) Radio as one of them.

Andrew
A lot of the Christmas songs I enjoy are ones you've heard a million times in movies – the Brenda Lee version of "Rockin' Around the Christmas Tree," the Bobby Helms version of "Jingle Bell Rock," etc. You've heard them all, but nevertheless, they're classics. Here are five of my favs.

1 – Blue Christmas – Elvis Presley
The King's Christmas album is always on my list of yearly essentials, headlined by "Blue Christmas," recorded in 1957. Forget the Christmas cookies. Enjoy this one with a fried peanut butter and banana sandwich.

2 – Run Rudolph Run – Chuck Berry
Too good to leave off this list, featured in a multitude of Christmas films. RIP Chuck Berry (1926 – 2017).

3 – White Christmas – The Drifters
Sorry, another movie reference. But you have to admit, Macaulay Culkin screaming from the sting of the aftershave, Tim Allen spraying the burnt turkey with a fire extinguisher – and for that matter, the holidays – wouldn't be the same without The Drifters' version of "White Christmas."

4 – Winter Wonderland – Tony Bennett, Lady Gaga
This will class up any Christmas party. If you don't like Lady Gaga, listen to any of her collaborations with Tony Bennett and you might change your mind. Yes, Tony Bennett is still alive and performing. Look it up on the internet if you don't believe me.

5 – The Little Drummer Boy
I actually couldn't think of a No. 5 so I included my least favorite Christmas song. This has got to be one of the dumbest songs ever written, let alone Christmas songs. It's just depressing. And one of the verses goes, "I have no gifts to bring, Pa rum pum pum pum." Wow! Someone please pour some more rum rum rum rum in my eggnog if I have to listen to this nonsense on Christmas. Anywho…happy holidays, everyone!