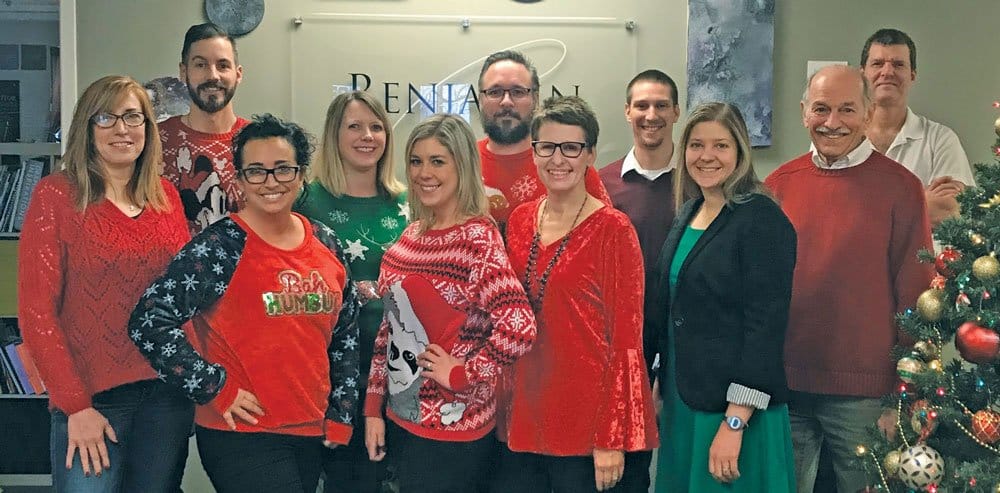 The other day some of the staff at Trenchless Technology were waiting for a meeting to begin when the discussion turned to Christmas movies and TV specials. The discussion morphed into what would become this fun, end-of-the-year, blog post you are reading today.
What you find below are some of our favorites from: managing editor Sharon Bueno and associate editors Andrew Farr and Mike Kezdi, advertising account manager/Trenchless Technology Brand Ambassador Dan Sisko and Benjamin Media event sales manager Brittany Cline, who many in the trenchless field know from her work on NASTT's No-Dig Show and the Trenchless Technology Road Shows.
Maybe these are your favorites, maybe we will turn you on to what will become a new favorite, or maybe you think there is a glaring omission and we're crazy (which we kind of are). Quite an eclectic range of holiday fare for you to take in. Let us know by leaving a comment below or email mkezdi@benjaminmedia.com.
Editor's Note: Since publishing this list of our favorite Christmas movies and shows in 2017, a newcomer hit the market by way of Netflix in 2018. It's definitely worth a mention and both Sharon and Mike agree that "The Christmas Chronicles" starring Kurt Russell is probably one of the best new Christmas movies to hit the screen. As a matter of fact, according to Netflix data, the movie had 20 million views in its first week making it the largest opening week for any of Russell's movies. Check out the trailer here to see what the fuss is all about.
Sharon Bueno
Everyone who knows me, knows my love of old, black-and-white movies so the fact that 4 of the 5 movies on my list are from that era should surprise no one. The black and white version turn you off? They are available in colorized versions.
1 – It's a Wonderful Life (1946)
I know this is a movie people either love or hate. I don't get the haters. For me, this movie is the gold standard for Christmas movies. Such an uplifting feeling at the end through such a simple, yet sometimes, forgotten message: No man is a failure who has friends. People need to be reminded of this every now and then. I only watch it once during Christmas season (and it's on a ton) and the last 10 minutes brings me to tears every single time. Cue the tissues, please.
2 – Miracle on 34th Street (1947)
Pure, simple Christmas joy watching this movie every year. Edmund Gwenn as Kris Kringle is just perfection. Little Natalie Wood embodies every child (though a bit skeptical and cynical of the world at such a young age!). Will make a believer in the coldest of souls.
3 – Holiday Inn (1942)
If you like musicals (I do) and Bing Crosby and Fred Astaire (Yes, to this one, too), this one is for you. A really delightful movie, which introduced the world to the iconic song White Christmas. Just so many levels of wonderful.
4 – Christmas in Connecticut (1945)
This one is awesome.  Story about a lifestyle writer (think Martha Stewart type) who completely misrepresents her housewife skills (she's not married and has none) but she has to pull off a fabulous, last-minute traditional Christmas dinner for her publisher, while hosting (and falling in love with) a war hero. It's so good. Who knew Barbara Stanwyck could be funny? And I want the cabin in this movie!
5 – The House Without a Christmas Tree (1972)
This was a made-for-TV movie from my childhood. Jason Robards as a bitter widowed dad, who refuses to allow a Christmas tree in the house, is wonderful. His young daughter longs for a Christmas tree. Set in Nebraska in the 1940s, this movie has so many layers about loss, forgiveness and sense of belonging. It's a Christmas movie so you know it has a happy ending. I miss seeing this one. Available on DVD.
Andrew Farr
Here are five of my holiday movie and TV essentials.
1 – Die Hard (1988)
Likely a controversial pick for my No. 1. But make no mistake, the most influential action film of all time is in fact a Christmas movie. It takes place during the holidays, at a Christmas party, the script is full of Christmas references and according to Argyle, this is Christmas music.
2 – Home Alone (1990) & Home Alone 2: Lost in New York (1992)
I'll count Home Alone 1 & 2 as one entry in my top 5 here. These are just too classic to leave off the list, especially if you grew up in the 90s. While the original will always be my favorite, Home Alone 2 holds up as maybe one of the best sequels ever made, for many reasons including a tour de force performance by Tim Curry and this scream by Marv.
3 – Dr. Seuss' How the Grinch Stole Christmas (2000)
While not an acclaimed film and not nearly as classic as the 1966 animated special, watch this one for the makeup and performance. It's exactly what you get when you cast Jim Carrey as the Grinch in a live-action film. He doesn't disappoint.
4 – "A Very Sunny Christmas" (2010)
Adding some TV shows to the mix, check out "A Very Sunny Christmas" as the gang from It's Always Sunny in Philadelphia takes on the holidays in this uncut Christmas special from December 2010.
5 – The Office (US): "Christmas Party" (2005)
If 'Sunny' is too raunchy for your taste, here's another great comedy television episode. This is one of the great episodes of the American version of The Office, which includes Michael Scott's hilarious, last-ditch solution for throwing a successful office Christmas party.
Mike Kezdi
Not that I am a Krampus, but the majority of Christmas movies, I can take or leave. However, here are five that I watch yearly.
1 – Scrooged (1988)
Watch either of the Hallmark channels or any number of direct-to-TV Christmas movies, and it's apparent that many are take-offs of Charles Dickens's "A Christmas Carol." For my taste this 1988 modernization starring Bill Murray puts the comedy in the carol. I particularly enjoy watching for, what I can only assume are, Murray's countless ad-libs throughout the movie.
2- Home Alone (1990)
I vaguely remember going to see this movie in the theaters with my family, and it might be one of the first I saw in a theater. One thing I distinctly recall after watching this movie, is plotting out ideas on how I could thwart thieves trying to get into my own house. Despite this being a 1990s movie, it still holds up today and my kids enjoy watching it two, three or more times each season.
3 – Phineas and Ferb Christmas Vacation! (2009)
Having two kids in the house who have not yet hit their teen-aged years, Disney and Nickelodeon produced Christmas specials always seem to be on. Of the bunch, I would say this hour-long episode from season two of the show is one of the best of the bunch. One of the best parts is the soundtrack by swing group Big Bad Voodoo Daddy.
4 – National Lampoon's Christmas Vacation (1989)
Quite possibly my favorite of the "Vacation" movies, this classic follows the Griswold family through the days leading up to Christmas. While there are many great scenes, the one that gets me very time is the sledding scene. Most likely because it prompted me to try many forms of lubricant on the bottom of my sleds to get more speed.
5 – The Polar Express (2004)
Once again, being in a house with kids, an assortment of Christmas movies is on regular rotation. It's easy to ignore most of the movies and specials, but because of quality of the computer animation, this film always gets me to stop and watch. The way the creators were able to capture Tom Hanks' likeness and mannerisms as the Conductor are great, if not a bit creepy.
Brittany Cline
Here are my Top 5 Christmas Movies. Enjoy!
1 – The Santa Clause (1994)
This is my favorite Christmas movie, because I can remember when it came out and it instantly became a family favorite in our household.  We still try to watch it together every year!
2 – Elf (2003)
"Elf" has so many hidden meanings throughout the movie that just makes you smile and feel good the entire time you watch it!
3 – National Lampoon's Christmas Vacation (1989)
This will always be one of my favorites, as it's a classic and never gets old.  A true hilarious Christmas movie that all can relate too!
4 – A Christmas Story (1983)
This is one of my favorites because of its ties to Cleveland! Next time you're in Cleveland, be sure to visit Ralphie's house, it's a museum dedicated to the movie and it's open year-round.
5 – How the Grinch Stole Christmas (1966)
The original "How the Grinch Stole Christmas" warms my heart each holiday season because it comes to show that the spirit of Christmas can bring out the best in everyone – even the Grinches of the family!
Dan "Dano" Sisko
1 – Gremlins (1984)
I've probably seen this movie about 50 times or more. LOL! Anyone else excited that Gremlins 3 is supposedly happening?  I'm okay if I'm one of the few. I wonder if we get to see some new and improved inventions from Mr. Peltzer like The Bathroom Buddy in the new flick to be.
2 – How the Grinch Stole Christmas (2000)
Dr. Seuss wrote a classic and Ron Howard directed this one starring Jim Carrey. I've always been a big fan of Jim Carrey and never thought I would see him play the role of The Grinch in all that crazy makeup. Today "grinch" is a regular holiday vocabulary word. Props to Dr. Seuss on that!
3 – Scrooged (1988)
Bill Murray does a great job in a modernized version of Charles Dickens's A Christmas Carol.  Murray was the perfect Scrooge of the '80s.
4 – National Lampoon's Christmas Vacation (1989)
There are so many great family funny moments in this movie. But ultimately, once Clark Griswold finally gets his Christmas lights working, don't most of us wish our house could look like the Griswold's at Christmas.
5 – Elf (2003)
Buddy Elf played by Will Ferrell is full of positive energy and heart.  Two of the many important things we can learn from the movie: 1. We learn that elves try and stick to the four main food groups: candy, candy canes, candy corns and syrup.  2. The best way to spread Christmas cheer, is singing loud for all to hear.