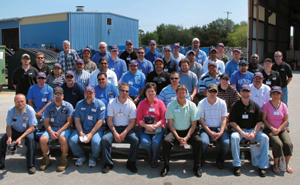 Thompson Pump & Mfg. Co. Inc., held its 20th annual Pumpology School April 21-23, at its corporate facilities in Port Orange, Fla.
Thompson Pump hosted more than 40 attendees from 15 states and three foreign countries. The three-day workshop included training sessions for sales and service-oriented professionals on pumping fundamentals, dewatering and bypass applications, selecting the correct pumping equipment, designing, installing and maintaining pumping systems, troubleshooting, pump maintenance and more.
Pumpology School offers hands-on demonstrations and classroom training from industry experts. Upon completion of training and successfully passing a comprehensive examination, attendees are recognized as "certified Pumpologists" at an awards ceremony.
"Our Pumpology School allows us to share our expertise about pumps and pumping systems and we raise the knowledge quotient across a wide spectrum of applications, markets and territories," said Thompson Pump president Bill Thompson. "The training is geared to address the requirements of engineers, sales representatives and operating technicians."
Thompson Pump, a family-owned company based in Port Orange, Fla., is a full-service manufacturer and provider of high quality pumps, pumping equipment and engineering expertise for the toughest dewatering, bypass and emergency pumping applications. Since 1970, Thompson Pump has assisted contractors worldwide with pump rental, sale, design, installation and operation. Thompson Pump operates sales, rental and service centers throughout the United States with 20 branches. The company is also aligned with more than 30 distributors in the United States, Canada and South America.
Thompson Pump is a Blue Chip Enterprise Award winner and its products meet the requirements for certification as defined by the Contractors Pump Bureau. Thompson Pump holds numerous product patents along with the registered trademarks of Enviroprime, Silent Knight and Arctic Knight.
The company achieved ISO 9001 quality certification for their Port Orange manufacturing facility.
Thompson Pump is one of only a very few pump companies to have obtained ISO 9001 certification. The globally recognized certification was granted following independent testing and assessment of the company's quality management systems and manufacturing capabilities.