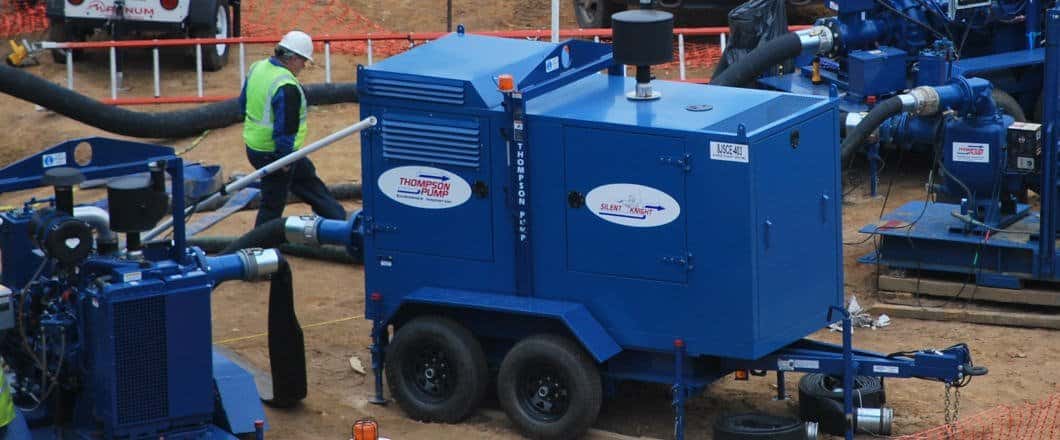 After 38 years at Thompson Pump and Manufacturing Co., John Farrell, vice president of sales and marketing, is retiring. With Farrell's retirement comes the promotions of Bobby Zitzka to vice president of sales and marketing and of Pat Broderick to national sales manager.
Farrell, a well-respected industry veteran, recently announced his retirement after 38 years at Thompson Pump. Hired as a purchasing agent, he then rose through the ranks to purchasing manager, regional sales manager and in 2002, he was promoted to vice president of sales and marketing. While with Thompson Pump, Farrell helped establish and grow partnerships with national rental companies, distributors and vendors. Farrell also traveled the world meeting with customers, attending tradeshow and growing Thompson Pump's international and municipal business as well as its dealer and distributor network to more than 40 business partners across the U.S. and Canada.
"I am humbled and proud to have been such an integral part of the Thompson Pump team … to have helped this company exceed all expectations and grow to be the industry leader it is," said Farrell. "I will miss being at Thompson Pump each day, but I will be keeping in and staying a part of the family."
"John is and always will be a friend to coworkers, customers and competitors across the globe, and to us. We wouldn't be where we are today without him and we are forever grateful," said Chris Thompson, president of Thompson Pump and Manufacturing Co. "I know the team is in very capable hands with Bobby and we are looking forward to seeing just how far he can take us."
Zitzka began his career at Thompson Pump in 2002 as the branch manager for the company's owned rental branch in Orlando, Florida. After much success at the branch, including being named 2007 Branch Manager of the Year, Zitzka was promoted to national sales manager in 2013. He then moved to Thompson Pump's corporate headquarters where he spent time with Farrell learning about the distribution network and national accounts. The men worked together to bring in additional large accounts, and Zitzka helped close the largest sale in company history. He is also part of Thompson Pump's executive management team.
RELATED: Keeping it in the Family: Thompson Pump & Mfg. Goes All in on Manufacturing Pumps
"The years I spent working with John were the most formative and gave me a solid foundation to help Thompson Pump build towards the future," said Zitzka. "As the company continues to grow, I'm excited to help with several initiatives to take Thompson Pump to the next level as an industry leader, just like John always did."
As Zitzka rises through the ranks at Thompson Pump so does Broderick. Broderick has been with the company for almost 20 years. He was hired as a sales and rental territory manager in the Midwest and helped expand Thompson Pumps reach beyond the East Coast and Gulf areas by starting the company's Kansas City branch in his barn. With Broderick's experience in the pump industry, he was able to grow the branch to a proper rental facility serving a large portion of the Midwest. In 2005 he was promoted to regional manager for the entire Midwest and West Coast regions.
"For nearly 20 years, I've been a part of helping Thompson Pump grow and expand and I'm excited for the opportunity to further that growth," said Broderick. "I am grateful to John for showing me the way that will help me build Thompson Pumps partnership network for years to come."
"As we get ready to begin 2022, and with Bobby and Pat helping to lead the charge, we are ready to take on even more. From growing our production to furthering our partnerships, Thompson Pump will continue to be an industry leader," said Thompson.
SOURCE – Thompson Pump and Manufacturing Co.