As I write this, Trenchless Technology's team is gearing up for the NASTT 2022 No-Dig Show, April 10-14 in Minneapolis, Minnesota, and WE ARE STOKED!
RELATED: 2022 NASTT No-Dig Show Preview – Trenchless Heads to Minneapolis
If you've never been, you owe it to yourself and your company to attend. You'll find answers to your toughest underground construction challenges through the technical sessions, meet people at the forefront of the industry, and see the newest trenchless products in the industry's largest exhibit hall.
While you're there, be sure to stop by and visit us at booth #919 and come to the Kick-Off Breakfast where Trenchless Technology will formally present the awards for the 2021 Trenchless Technology Projects of the Year for New Installation and Rehabilitation, as well as the 2022 Trenchless Technology Person of the Year to Derek Potvin.
For more information about No-Dig, visit nodigshow.com.
The No-Dig Show is not the only trenchless event taking place in 2022. Check out these trenchless events and make sure they are on your calendar:
Trenchless Technology Road Show (TRS)
April 24-26 | Kelowna, BC Canada
catttrenchlessroadshow.ca
Taking place in western Canada this year, TRS focuses on buried infrastructure condition assessment, construction, renovation, asset management and subsurface utility engineering. Great opportunity to network with Canadian project stakeholders and see demos.
RELATED: Agenda Set for the 2022 Trenchless Technology Road Show

Microtunneling Short Course
April 27-29 | Phoenix, Arizona
microtunnelingshortcourse.com
A personal favorite, the microtunneling short course is a must-attend event for anyone involved in microtunneling. Experts from around the world share their knowledge during this three-day conference that includes plenty of networking opportunities.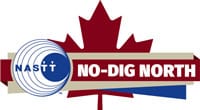 No-Dig North
Oct. 17-19 | Toronto, ON Canada
nodignorth.ca
NASTT's Canadian chapters host this annual event that includes two days of technical paper presentations, industry exhibits, and networking time. You're going to want to be sure to head to Toronto for this show!
Because I worked in the conferences division for many years, I have a unique, behind-the-scenes perspective of event planning. A shout out to Benjamin Media's conference team, CATT, NASTT and all of the passionate industry volunteers for the time and effort that's put into these industry events, created specifically for professionals in the underground construction industry!
Manhole Rehabilitation
As Bill Shook noted in "The Art & Science of Manhole Rehabilitation" article in our January issue, the EPA estimates that there are more than 30 million manholes in North America's sewer systems and half of these were installed more than 40 years ago. That's a lot of manholes! This issue of Trenchless Technology brings manhole rehabilitation to the forefront with case studies from the City of Topeka and University Park, Sarasota, Florida, plus the Manhole Rehabilitation Capabilities section highlighting various manhole rehabilitation brands.
RELATED: The Art and Science of Manhole Rehabilitation
Manhole Covers & a Public Relations Campaign
A little fun fact about how manholes, or more specifically manhole covers, were used to get what's out of sight, into mind. In the 1980s, a Japanese civil servant, Yasutake Kameda, wanted to help taxpayers understand the need to spend money on the rehabilitation of underground sewer systems. He suggested making the manhole covers more captivating with interesting designs as a way to get the taxpayers to support costly sewer projects. Did it work? I can't say for sure but prior to COVID, Japan held a popular three-day Manhole Cover Festival for years, paying homage to the artistic manhole designs across the country. I'd love to see artistic manhole covers in my town!
Hope to see you at a trenchless event in the near future!
Publisher, Trenchless Technology