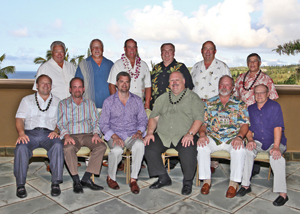 The Pipe Line Contractors Association (PLCA) held its 63rd annual convention Feb. 22-26, at the Ritz-Carlton Kapalua on Maui, Hawaii. Participation at the convention was strong with 665 attendees and PLCA 2010 president Brian Ganske, Snelson Companies, hosted the event.
The agenda was full of business, social and networking activities. A raffle was held one evening and raised more than $300,000 with Butch Graham, Ritchie Bros Auctioneers, and Bob Johnston, Henkels & McCoy, emceeing the event. They employed an entertaining and novel idea that had the 21 winning raffle tickets identified with 21 briefcases. In the briefcases, were descriptions of what was won. Included in the raffle were three vehicles — a Ford pickup, a Mustang and a Cadillac Escalade.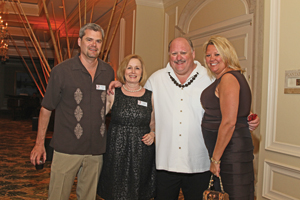 General business sessions included Ganske giving a report on 2010 pipeline construction and projections for 2011. One of the business sessions included a fascinating presentation by "The 3 Painters," employing music while painting dramatic murals. There were numerous regular contractor member meetings, a meeting of the PLCA scholarship fund and a meeting of the World Federation of Pipe Line Industry Associations. Caterpillar, as it has done for many years with Pipeline Machinery International, hosted cocktails and dinner on Thursday evening.
The annual banquet and floor show featured entertainer Sawyer Brown. At the banquet, the 2011 board of directors was introduced. Chris Leines, Minnesota Ltd. Inc., was introduced as the 2011 president. Other officers for 2011 include first vice president, Dan Murphy, Precision Pipeline; second vice president, John Allen, Pipeline Constructors; and treasurer, Ronnie Wise, Price Gregory International. The 2012 convention will be held at the Park Hyatt Aviara, Carlsbad Ca. Feb. 21-25.