In many respects, drill pipe is the unsung hero of a horizontal directional drilling (HDD) project. The pipe is the first thing that goes in the ground, creating the hole in which the product pipe and reamers and other tooling traverse through.

Once the drill pipe goes in the ground, its job is done and gone from sight.
Sounds simplistic but its significance to an HDD project can't be overstated — drill pipe is an expensive investment for a contractor to make because if it fails, the project cannot get off the ground at all.

Broussard, Louisiana-based Hunting Trenchless has been making these invaluable sticks of pipe for the drilling industry for more than 40 years, pioneering the one-piece forged drill pipe that is now the industry standard for HDD and copied around the globe. The company's origins are found in the oilfield industry but when the oil and gas markets hit a rough patch during the mid-1990s, the facility turned its focus to making drill pipe for HDD projects.
Hunting Trenchless started out with one long-term HDD manufacturer client and once that contract expired, established its own distribution channel that presently includes more than 100 dealers worldwide, covering 12 countries; those countries include the continents of North and South America, Europe and Asia; Poland represents one of the countries where drilling work is just booming.
Today, Hunting Trenchless is part of U.K.-publicly traded Hunting Energy Services, a $1-billion parent company made up of 17 divisions, dominated by oilfield companies. The Hunting Trenchless manufacturing campus is spread out over 30 acres with six buildings. Recently, the company added a facility to house its office and sales staff, doing away with the multiple modular trailers — similar to those found on construction sites — they had always worked in.

Hunting Trenchless is led by Klane Kirby, who has accumulated more than 31 years in the trenchless industry. He joined the drill pipe manufacturer in 2010, serving as general manager of the trenchless division.
"The other 16 divisions [of Hunting Energy Services] are oilfield driven businesses," says Kirby. "In revenue within the oilfield, [Hunting Trenchless is] relatively small. In profitability, we are better, especially as the oilfield industry is struggling right now. With oil and gas work down, the trenchless division is a steady division that we keep in steady growth and profitability.

RELATED: Managing Your Drill Pipe Investment

"We're the little train that keeps chugging up the hill," he says, noting its growth is on the uptick of 3 to 5 percent growth per year.

Company Expansion
Hunting Trenchless started out as a drill pipe manufacturer and, in recent years, expanded its product lineup to include HDD tooling. This expansion has proven to be a profitable addition. "People know us by our drill pipe because of the one-piece forged history," Kirby says. "We've made millions of sticks of pipe over the years. We now have tooling, rock tooling and mud motors that we do quite well with."

Kirby explains that Hunting Trenchless began producing HDD tooling while contracted with its HDD customer. The company wanted to produce everything connected on each end of the drill pipe. "So, we controlled the threading and what threaded up to the drill pipe," he says. "We immediately began making drive chucks, saver subs, transition subs, lead bars, and sonde housings."

While the tooling technology, especially the rock tooling and mud motors, has maintained healthy growth over the last three to four years, drill pipe continues to drive Hunting Trenchless. "Drill pipe represents 75 percent of our revenue," Kirby says.

What Is One-Piece Forged Pipe?
Hunting Trenchless' crown jewel is its one-piece forged drill pipe. Developed in mid-1990s, this pipe was unique to HDD drillers at the time. "The one-piece forged pipe came from the oilfield," Kirby explains. "When you look at oil country tubular goods (OCTG), that's forged pipe that the oilfield [drillers] used for years to go downhole. That's where the technology came from — forging that tool joint right onto the tube so it's all one piece."

RELATED: HDD Tech Talk – Managing Your Drill Pipe Investment

In the early years of HDD, the standard for drill pipe was welded pipe, which consists of three weld joints at the end of tube. The introduction to the one-piece forged drill pipe was a game-changer, Kirby says, noting that it offers a better bend radius and no worry of encountering a poor weld. "It takes out much of the risk when it's a one-piece pipe," he says. "If you remove all the welds, you have a stronger piece of pipe."

He also notes that though this method of producing drill pipe is the best, it does not carry the lowest price tag. "It's not the cheapest," Kirby says. "Everybody has copied us from all over the world because it's the best. There is still welded pipe out in the market because of the economy. It's a less expensive way to make a piece of drill pipe. It will always be a part of the market. But contractors have found out over the last 20 years that you get what you pay for. [One-piece forged drill pipe] has proven over the years that it's the best way to go."

Production of such a high-quality pipe is what has propelled the success of Hunting Trenchless, along with a high-quality, company-wide philosophy and structure. "That high quality resonates in everything we do," Kirby says. "We have quality checks from the mills where we get our raw materials. We have quality checks from our upsetting group. We have quality checks all the way down the line from raw materials to the birth of the pipe. These quality checks are necessary to make sure a customer does not get something that will fail. We have zero tolerance."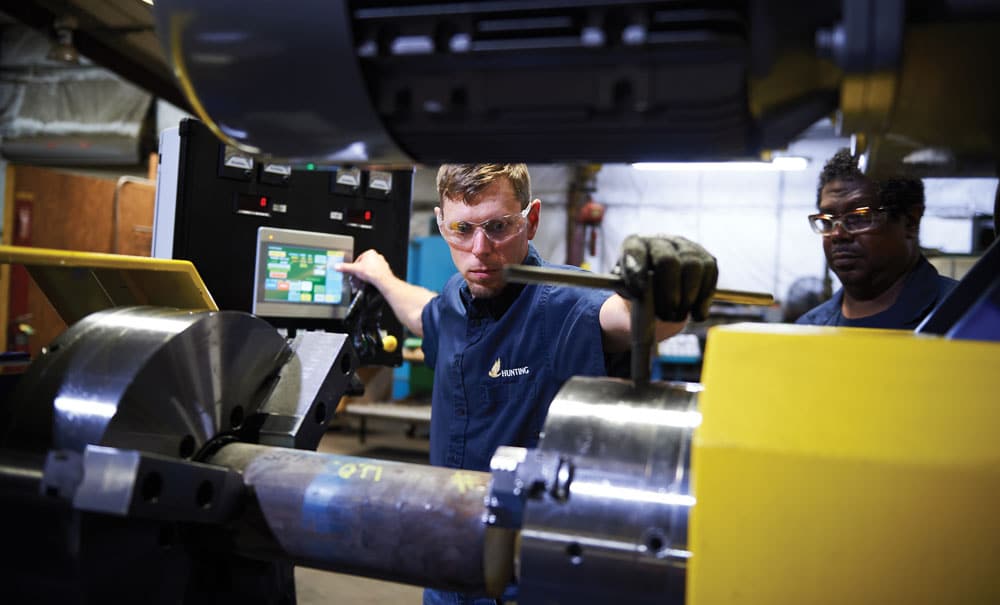 Kirby says one way Hunting Trenchless provides customer service that competitors do not is how its pipe can be traced in case of a problem. Every pipe made by Hunting Trenchless gets a birthmark, of sorts — so it can be traced to exactly when it was produced. "We can tell you exactly what material is in that batch, when it was threaded, etc.," Kirby says. "That can be costly but it is one of those things where to do it, you do it right."

Among the keys to the long-term success of Hunting Trenchless is the tenure of its employees. Its operation manager Charlie Braus has been with the company for 40 years (when the company was known as Iberia Threading) and the first person hired under the Hunting Trenchless umbrella, Kerry Derouen, is still there, as well. Kirby is proud of the company's employee retention.

"We have over 25 percent of our original employees in this division who are still here," he says, noting that Braus started with the company when he was just 17. "Our heritage is with our people, who have been here for years and years. That experience is the backbone of our company."

That continuity of service and level of experience for the customers looms large for Hunting Trenchless as competition for drill pipe remains fierce, particularly due to internet sales and companies making subpar imitations of its product. "No doubt that the marketplace is getting more constricted compared to 20 years ago. Drill pipe, more so than tooling, is becoming more of a commodity type product. The internet has made it more competitive. People are shopping more because of the economy," Kirby says. "There are people who are copying products [in other countries], using materials that are suspect or not of the quality that we would use."

RELATED: When Is It Time to Invest in New Drill Pipe?

State of the Market
The trenchless market, like many in the construction industry, has felt the sting of the global COVID-19 pandemic. But work has continued as water and sewer work has been deemed by the U.S. government as essential business, permitting projects to continue. Manufacturing facilities have remained opened during the pandemic, but many offices and distributors closed, making it difficult for contractors to get what they need when they need it.

In an effort to combat that issue, Hunting Trenchless implemented a program to ship direct to customers. "[The success of that program] has told me that everybody is still working," Kirby says. "I know they're out there because we have been selling pipe. Overall, I believe [the trenchless market] is doing fairly well right now. I wouldn't say we're rocketing out of orbit, but we are holding our own."

While there has been a slight slowdown in the trenchless market, Kirby sees a bright spot during this age of COVID-19 that will have a direct effect on the HDD industry going forward: the need for more bandwidth and internet capabilities. "The COVID pandemic that has driven everybody back to their homes — whether working from home, going to school or just being at home — is only going to improve the 5G buildout," he says. "[The pandemic] is going to change the way people work [and] that could be forever. From what I'm hearing, the midsize and small drills are needed to do work in the rural areas — meaning communities outside the larger cities."

What does the future hold for Hunting Trenchless in the short term, as well as the long-term? Kirby sees a bright future for the drill pipe and tooling maker with development of new products on the horizon, as well as possible acquisition to further enhance the Hunting Trenchless brand.

"Our growth over the years has mirrored the HDD market itself," he explains. "If you look at the number of drills that have been sold over the last 10 years, we've been very close behind that as that number has steadily grown for both. We have a goal to grow the company and we have been. We've got our eye on a few acquisitions. We're looking at all aspects."

One area of expansion Kirby is excited about is growing the Hunting Trenchless name in Europe and making its products more accessible to its international customers. A facility was opened in Holland three years ago. It is filled with inventory of all sizes that the company's European dealers can draw from for their customers for more efficient service — instead of waiting for pipe or tooling to ship from the United States, which takes valuable time. "This has worked out so well for us and helped to grow our international market," Kirby says. "Prior to that, for example, a dealer in Poland or the U.K., would have to order a container load of drill pipe from us, here."

To expand its mud motor market, service centers have opened in Edmonton, Alberta, Canada, as well as in the United Kingdom and Scotland.

"The motto throughout the Hunting companies is Total Customer Satisfaction," Kirby says. "Those words are on our walls, our business cards and how we approach our customers.

Sharon M. Bueno is managing editor of Trenchless Technology.