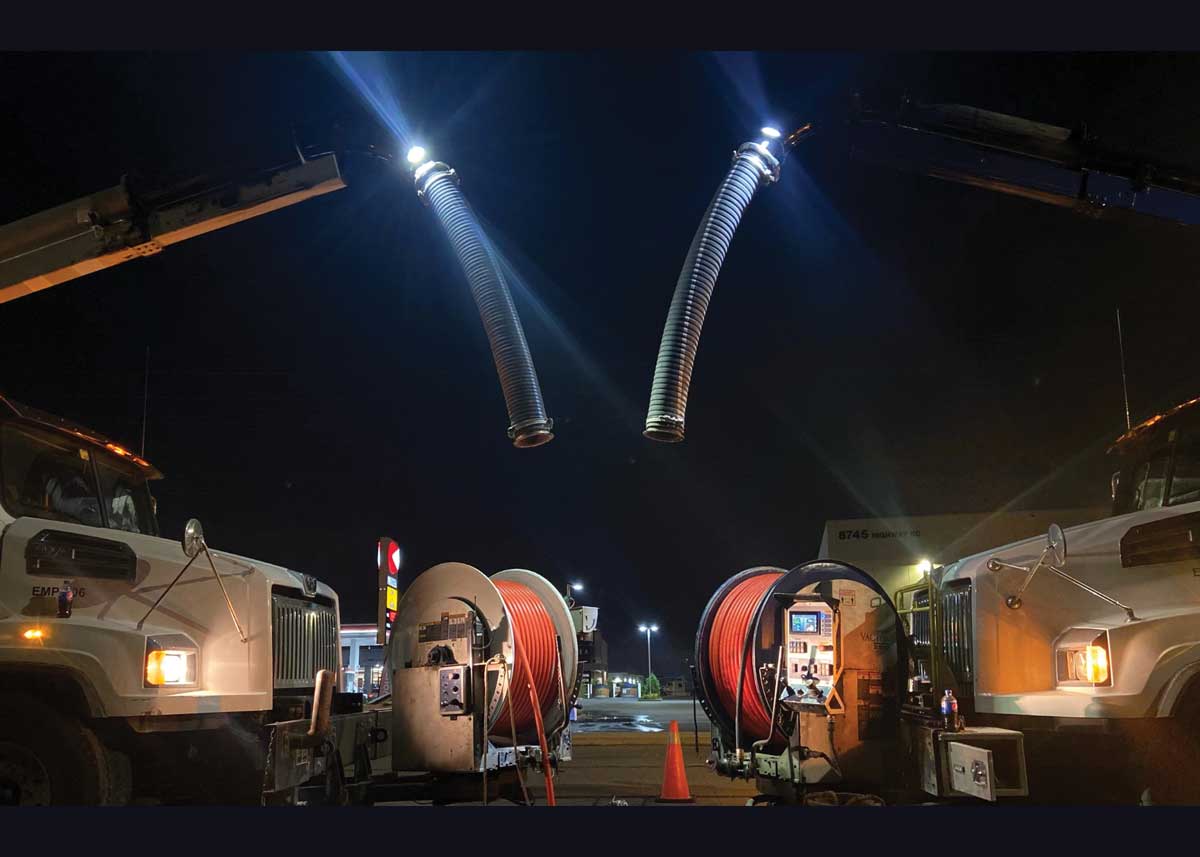 When it comes to underground infrastructure maintenance and repair projects, having a trusted partner is key to a successful outcome. One of those trusted partners in Ontario and Alberta is Empipe Infrastructure Group.
Established in 2007, Empipe serves clients across Canada from its head office in Hannon, Ontario, and a satellite office in Calgary. The core of Empipe's services include cleaning and inspection, cured-in-place pipe (CIPP) and spray-in-place pipe (SIPP) lining of water and wastewater systems.
Its clients include system owners, as well as other trenchless contractors, like Insituform Technologies Ltd. and LiquiForce Services. Working with these clients, Empipe has been involved with several award-winning projects, including the 2022 Trenchless Technology Project of the Year Rehabilitation Honorable Mention: Stamford Interceptor Phase II Trunk Sewer Rehabilitation – which is also the 2022 No-Dig North Project of the Year for Rehabilitation – and the 2018 Trenchless Technology Project of the Year Rehabilitation Runner Up: NATS Rehabilitation Project.
At the helm of the 16-year-old operation is Stephen Mercer, the company's founder and general manager. While Empipe started in 2007, Mercer's experience in the Canadian trenchless industry has much deeper roots.
"My journey in the industry began in 1989 when I started working at one of the industry leading trenchless CIPP pipe lining companies. I was drawn to the potential of trenchless technologies to minimize disruption and optimize efficiency in underground infrastructure projects," says Mercer. "After gaining years of practical experience, I founded the Empipe Infrastructure Group, together with Jelena Mercer, my better half."
Empipe Delivers for Its Clients
What started as a relatively small operation has grown and thrived, thanks, in part, to a dedication to completing projects efficiently, safely and diligently for its clients. This dedication has allowed Empipe to expand to a team of approximately 50 individuals across the two provinces all of whom, "Work tirelessly to deliver exceptional solutions to our clients," says Mercer.
He adds, "Some key team members at Empipe include our experienced project managers who oversee the successful execution of projects, our skilled technicians who carry out trenchless operations, and our innovative managers who keep up with the latest industry advancements. This collaborative team approach ensures the delivery of high-quality results to our clients."
With many tools in its trenchless toolbox and given Mercer's almost four decades in the industry, he has seen many changes take place in the way system owners do business. Much of this is due, in part, to an increased awareness of the role that condition assessment plays in overall system health and longevity. And as the industry has evolved, the means and methods to complete these assessments have improved.
"The adoption of sophisticated inspection technologies, such as remote-operated cameras and robotic systems, has been one of our services' most important developments," Mercer says. "These developments enable us to perform accurate analyses of underground infrastructure, detecting problems without the need for significant excavation. This method minimizes disruptions to communities and the environment while also lowering costs."
With improved data, system owners are better poised to make the right decisions when it comes to maintaining their systems. It also helps inform which rehabilitation methodologies are deployed to ensure long-term system health. To that end, Empipe offers CIPP repairs for pipelines, as well as spray-applied repairs for culverts, manholes and tunnels. The company also offers these spray-applied solutions for chambers, clarifies, digesters, lift stations, tanks and water towers, among other things.
"The development of trenchless rehabilitation methods, such as CIPP lining or SIPP lining, has revolutionized how we repair and rehabilitate pipelines," says Mercer. "These methods not only extend the lifespan of infrastructure but also contribute to minimizing environmental and social impact."
As the saying goes, 'No man is an island,' and this is something that is easily applied to the trenchless construction industry. A contractor is only as good as the products they use, and a product is only as good as the contractor who uses it. To that end, the company has representatives on the advisory boards of two of the main SIPP manufacturing companies.
"We dedicate time to do this in order to stimulate development and progress at the manufacturing of materials level," says Mercer. "We place a high value on establishing enduring connections with reliable dealer and distributor partners. Regular communication and collaboration enable us to stay informed about the latest equipment and technological innovations in the industry. This allows us to make well-informed decisions when acquiring new tools and technologies, ensuring that we always have access to the best solutions available."
Empipe's Growth Across Canada
The Greater Toronto Area (GTA) is a hub of trenchless work. Some might say that the region is driving the growth of the industry in Canada. But, as a company providing services across the country, Mercer has a view beyond that. And what he sees is promise and potential.
"Aging systems, population growth and urban development create a continuous demand for innovative solutions to address infrastructure challenges," he says. "This presents both opportunities and responsibilities for companies like Empipe to contribute positively to the sustainability and functionality of vital underground networks."
Is there an underground infrastructure construction sector poised for more growth than another? Mercer points to those areas of urban development, municipal rejuvenation and environmental preservation as areas that continue to grow and evolve. He notes that these sectors are also looking for methodologies that are less disruptive on communities and the surrounding environment.
"Traditional construction methods that involve extensive excavation and disruption are facing challenges due to their impact on communities and the environment," he says. "As pioneers in trenchless technologies, Empipe remains at the forefront of the positive trend toward more efficient and sustainable methods."
Industry Hurdles
With so much potential for growth, are there hurdles that make that growth a challenge? It's old news that the construction labour force needs beefed up. However, this seems to be the most pressing issue facing contractors across Canada. And in the trenchless sector this is more of an issue as many of the technologies in Empipe's toolbox need highly skilled labour to successfully deploy.
"Canada's construction workforce has both strengths and vulnerabilities. While the industry has a skilled and experienced workforce, there remains a significant shortage of new talent. This imbalance requires proactive measures to attract and train the next generation of skilled workers who can maintain the high standards of safety and innovation required by the industry," Mercer says. "As an industry, we need to do a better job of appealing to specifically the younger employee market. We would like to see a push in highlighting construction roles such as, project management and design. Construction careers should appeal to everyone of all levels of education. Society as a whole has to invest in our future talent."
This shortage of skilled workers in the construction industry affects Empipe in several ways. Mercer notes that the No. 1 way is that it limits the company's potential for growth because it can't properly staff new crews and still deliver the high-quality results its clients expect.
Addressing the Challenges
"We invest heavily in training and development to maintain the expertise of our team members," Mercer says. "In addition, we are constantly looking for innovative solutions and technologies to help bridge the workforce gap and enable us to continue to provide superior services to our clients."
On an internal basis, Empipe continually invests in the development of its workforce. This includes internal and external training programs to improve technical skills, safety and industry best practices.
Its contributions go beyond the four walls of its headquarters, as Empipe works with educational institutions and industry-related associations to help promote careers in the construction and mining industries. The hope is that this involvement will inspire the next generation of skilled professionals.
With a bright future ahead for Empipe and the overall underground infrastructure construction industry in Canada, Mercer acknowledges that his company would not be where it is today without its team members, clients and partners.
"I would like to thank our customers, partners and dedicated team members who have played a key role in Empipe's journey of growth and success," he says. "As we continue to innovate and contribute to the development of underground technologies, we remain steadfast in our commitment to excellence, sustainability and improving the underground infrastructure of our communities."
Mike Kezdi is the managing editor of Trenchless Technology Canada.