As a leader in the Smart Growth movement, Arlington, Virginia, subscribes to principles that help it excel in sustainability and transit-oriented development for its 233,000 residents.
A world-class community and tourist destination located just five miles from the heart of the nation's capital, Arlington is the geographically smallest self-governing county in the United States, occupying slightly less than 26 sq miles.
Arlington boasts many vital infrastructures of American government, education, and technology. The Pentagon, Reagan National Airport, Arlington Cemetery, Marymount University, and the Virginia Tech and University of Virginia satellite campuses are all located in Arlington County. Additionally, it is home to industrial giants Boeing and Raytheon and the future site of Amazon's secondary headquarters.
The County aims to use minimally disruptive trenchless technologies to rehabilitate its aging sanitary sewer infrastructure. Utilizing cured-in-place pipe (CIPP) rehabilitation instead of dig-and-replace allows Arlington to limit traffic congestion, protect historic landscapes, and maintain excellent walkability – all goals of "Smart Growth" cities.
County employees perform hours of investigation and produce terabytes of CCTV condition assessment even before the CIPP boiler trucks arrive. The county's sanitary sewer system consists of 465 miles of pipe. Approximately 14 to 17 miles are relined annually. Arlington's weekly lining goal of 2,000 ft is more than many agencies rehabilitate in a year. Managing these assets and performing rehabilitation can be a challenging task. For continuous workflow, Arlington relies on the software trio of Esri, Cartegraph and ITpipes.
Keeping the Monster Fed
An ongoing project this size contains many moving parts that must work synchronously. Arlington's CIPP contractor, AM-Liner, has one full-time crew exclusive to the County. With an entire county of sanitary sewers to inspect, two full-time in-house CCTV inspection crews and one additional CCTV contractor, maximizing productivity is essential. To spend the annual $3 million budget wisely, the County must be selective in its choices concerning asset management, pipe inspection and rehabilitation. A refined workflow process is vital in deciding whether a pipe is in an acceptable condition or requires maintenance, relining, or patching. Seamless software integration is also crucial.
In 2018, the County was using Esri ArcGIS and Cartegraph Asset Management System. The team sought pipe inspection software that would integrate with the existing software — Enter ITpipes. Built on Esri's latest technologies, ITpipes contains Esri's Web Maps. ITpipes also has an automated bi-directional integration with Cartegraph. When data goes into ITpipes, it automatically goes into Cartegraph, and vice-versa. By utilizing ITpipes, Esri, and Cartegraph, Arlington has successfully streamlined their workflow.
Here's an example of a typical workflow session. Jeremy Hassan, P.E., chief operating engineer of sewers and streets, will select an area of the County from the Esri ArcGIS map within Cartegraph and issue work orders for the assets within that selected area. These orders will be automatically pushed to the CCTV inspection vehicle's ITpipes Mobile software. There, operators can see the pipes they are assigned to inspect and the map showing where the pipes are located. Any available asset information is already populated from GIS and Cartegraph. The completed inspection is uploaded from the truck via hotspot. This inspection is now available to all Arlington stakeholders on ITpipes Web, and the Cartegraph work order is marked as complete. ITpipes Web's SmartTabs dynamically filters and selects any pipe inspection that meets Arlington's predetermined criteria. These inspections are placed into a separate list for review.
"We are very focused on maintaining our buried assets in Arlington," says Hassan. "The new workflow has almost eliminated duplicate inspection efforts and allowed us to track pipes that need follow-up, holding a work order open until it's complete. Our previous system was incomplete in that data would be collected but didn't go anywhere. Now, once the data is collected, it is instantly available to all appropriate County staff, so it is hard to ignore issues, taking us from being reactive to becoming predictive."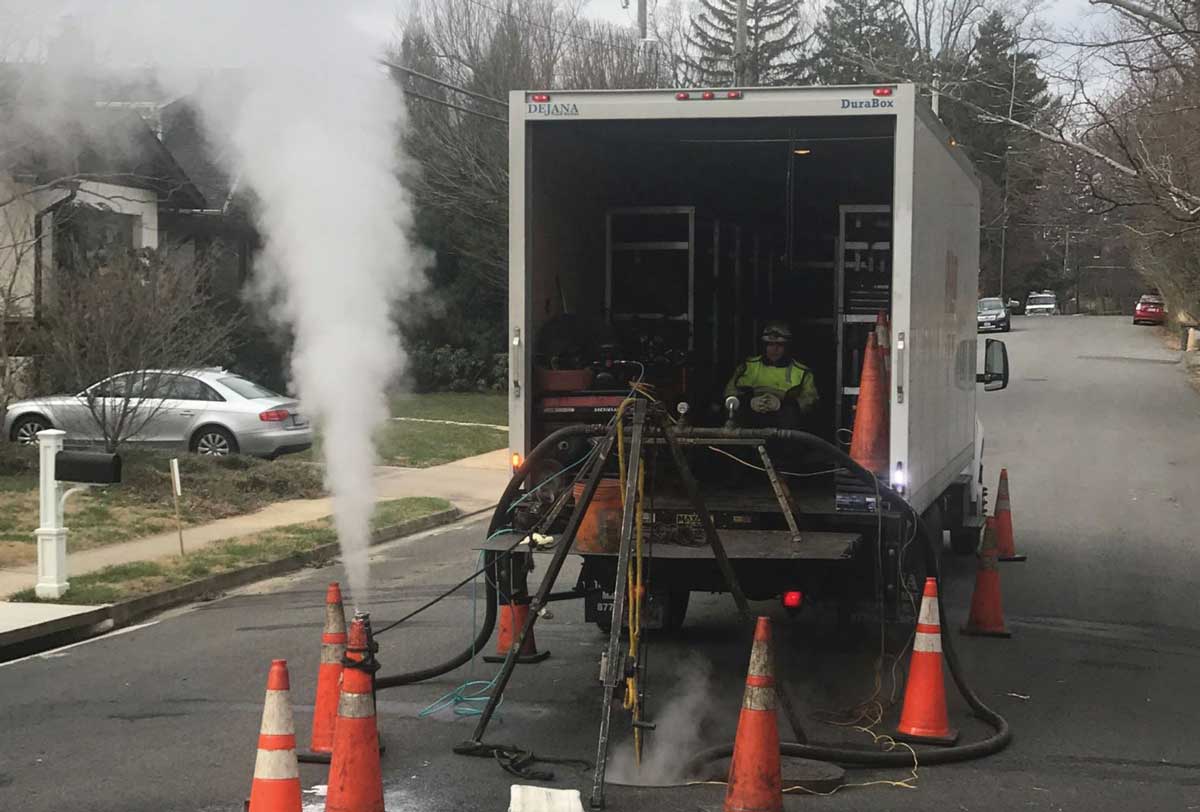 Converting Smart Data to Results
Thanks to the efforts of Jon Lawler, Hisham Wahdan, and Carla Alayon, those issues get addressed. This team is responsible for ongoing sanitary sewer rehabilitation projects within Arlington.
"We look at the pipe assets that were filtered to the SmartTab in ITpipes Web and begin the process of making our decision as to the rehabilitation," says Wahdan, construction manager at Arlington County. "We not only look at the defects observed during the pipe inspection, but we also consider factors like age, location and size, as well as any notes in the Cartegraph work order from the jetting crews. From this info, we decide if it is a candidate for full-length lining or a point repair and put it on the respective SmartTab."
In addition to the 75,000 to 90,000 ft of 8- to 15-in. lining that Arlington performs annually, they tackle at least one large-diameter lining project. This year's large-diameter lining project is a 54-in. sewer main running up to Arlington National Cemetery. The section downstream, inside the Cemetery, has already been relined.
"For our sanitary sewer, we typically use steam-cured felt CIPP, as it has been very successful for us," states Carla Alayon, maintenance contracts supervisor. "Our contractor, AM-Liner, does a great job. However, on the stormwater side, the County is trying out UV-cured fiberglass liners, and it will be great to have options for various rehab scenarios."
It's not just the pipes that are getting rehabilitated with trenchless methods. Arlington takes a holistic approach and also rehabilitates manholes. Curtain grouting is used in conjunction with cementitious and epoxy lining to repair the damaged manholes.
"Even though our population is growing yearly, our plant's flows are decreasing," adds Lawler, who is chief support engineer. "While there may be a few factors at play, we know that much of the decreased flows are thanks to our aggressive, yet strategic, trenchless rehabilitation program."
Hassan adds, "We're not only able to work efficiently, but we can now budget and plan efficiently. With the data we collect in ITpipes and the costs from Cartegraph, we can estimate the money needed, looking forward multiple years. Successful budgeting keeps the rehabilitation on track, and delivers results to our ratepayers."
Mark Grabowski is business development manager at ITpipes.