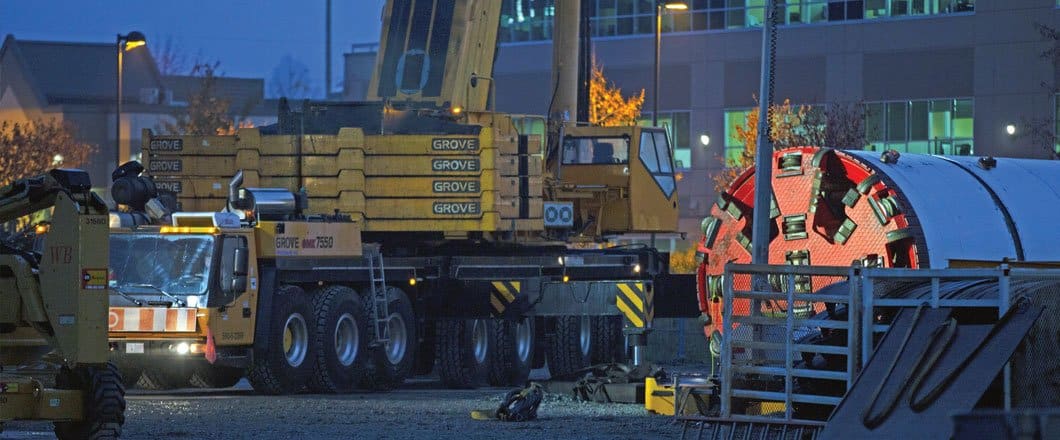 South Surrey Interceptor (SSI) Phase 2 Johnston Road is a twinning project to increase sewer conveyance capacity in Surrey, British Columbia. The SSI collects sewage from South Surrey and Langley, and conveys it to the Annacis Island Wastewater Treatment Plant.

The two-phase, (US)$14 million South Surrey Interceptor (SSI) appears to be the largest diameter microtunnel project completed to date in North America, at a 3.68-m machine diameter. The project illustrates how microtunneling can be successfully used to efficiently complete large diameter curved pipeline installations in urban areas, while minimizing disturbance and environmental impacts.
RELATED: Milestone Project Tests Capabilities of Microtunnelling

Microtunneling was used to install approximately 800 m of 3-m internal diameter reinforced concrete jacking pipe beneath the Panorama, Benchmark, and Fama Business Parks and the busy 152nd Street corridor in Surrey. Phase 2 was designed by Stantec and constructed by Ward & Burke (W&B) for Metro Vancouver. Drive lengths include:


Drive 1 was a curved drive, approximately 370 m long, primarily through Fama Business Park and beneath 54A Avenue,


Drive 2 was 110 m long, proceeding into the Benchmark Business Park


Drive 3 is 40 ms long, repositioning the MTBM within the Benchmark Business Park


Drive 4 was also a curved drive, approximately 285 m long beneath 152nd Street and Panorama Business Park to the reception shaft.


The project was initially designed with a microtunneled length of about 400 m through the Fama and Panorama Business Parks in two drives, with an open-cut segment in between. Upon winning the project, W&B submitted a value engineering proposal to microtunnel all 800 m in four drives. Stantec then finalized design of the project accordingly, with W&B completing final alignment design of the drives with appropriate curvature and shaft locations to suit their jacking pipe design and means and methods, and fit within Metro Vancouver's easements.

There were multiple areas where tunneling was close to existing office buildings and existing utilities and/or cover was fairly low. These factors made slurry pressure and grouting considerations, MTBM guidance, and settlement monitoring critical. W&B managed slurry pressures and grouting pressures closely and used a VMT guidance system to maintain line and grade.
The jacking pipe was designed by W&B and manufactured by Langley Concrete Group (Langley). The jacking pipe included an internal HDPE corrosion protection lining and a wall thickness of 300 mm, for an outside diameter of 3.60 m. The MTBM customized for the project had a maximum diameter of 3.68 m, allowing for an overcut of 40 mm on radius.

RELATED: Vancouver, British Columbia, Adds Trenchless Construction Methods to Its Toolbox
Ground conditions primarily consisted of glacial till, some segments of which were granular while others were more cohesive. The granular components of the till contained gravel and cobbles.

The pipe design and joint configuration combined with the machine overcut enabled pipe jacking through a 400- to 440-m radius reverse curve in Drive 1 and curves ranging from 467- to 1,000-m radii in Drive 4. The use of the curved drives greatly simplified construction by reducing the need for additional easements in Drive 1 and consolidating Drive 4 into a single long drive.

Specific factors that set this project apart from other trenchless projects are as follows:



Largest diameter microtunnel completed to date in North America. The project used a Herrenknecht AVN2500D MTBM that was upsized to 3.68-m diameter.


The projected illustrated the versatility of curved pipe jacking, which facilitated construction through both the Fama and Panorama Business Parks.


The project utilized an innovative contractor-proposed design change post-award to more efficiently complete construction.

The project included several areas where cover above the crown of the jacking pipe was relatively low, such as 2 m at the 152nd Street crossing, or in proximity to existing office buildings and utilities.


Microtunneling greatly reduced construction and environmental impacts.


An environmental assessment of the project identified portions of the project where the ground contained naturally occurring metals above normal disposal limits, requiring additional material handling for disposal. The decision to construct the entire project using microtunneling proved to be prescient in this regard. If the project had been open cut, the amount of material that would have had to be disposed of at an appropriate landfill would have resulted in significantly higher project costs.

---
Project Owner: Metro Vancouver

Engineer: Stantec

Contractor: Ward & Burke

Equipment: Herrenknecht

Value of Trenchless Project (US$): $14 million