In summer 2021, Michels Canada Co. would officially complete what would set a Canadian record for the longest horizontal directional drill (HDD) installation. The 3,532-m crossing would follow along the existing Imperial – Sarnia Products Pipeline (SPPL) path through private rural land including a significant portion being drilled under Burlington, Ontario's top ranked Hidden Lake Golf Club.
The complex drill path, designed in Calgary, Alberta, by the major trenchless group of Houston-based Universal Pegasus International (UPI), with an average depth of 50 m below surface required five horizontal curves, totaling 35 degrees to install the line within Imperial Right Of Way (ROW) boundaries. With limited to no access above the drill path, as well as the peak golf season, Brownline's Drillguide Gyro Steering Tools (GST) were selected to complete the challenging pilot hole via an HDD intersect.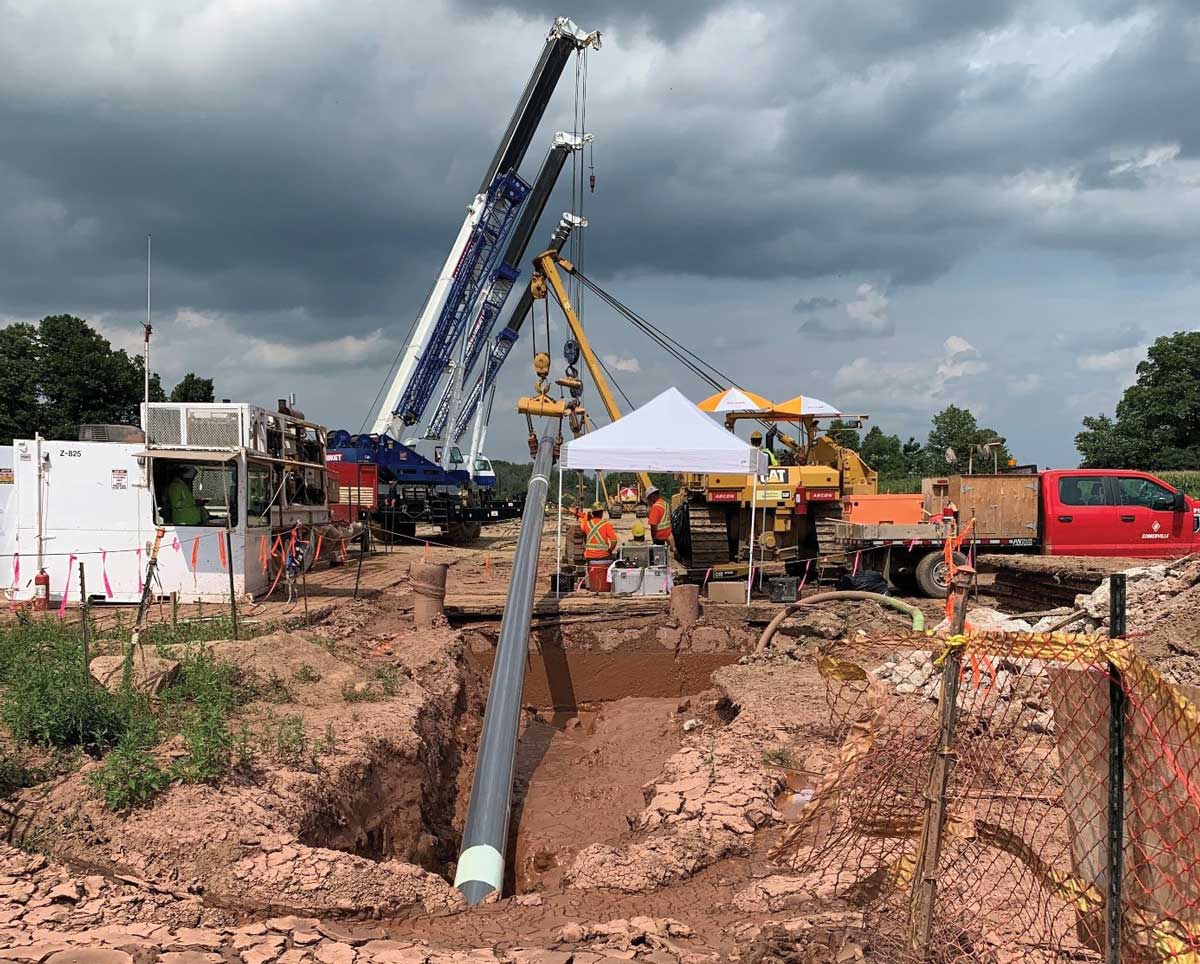 The use of Brownline's proprietary steering software required the input of grid coordinates from each tangent point along the proposed trajectory. This process securely duplicates the exact engineered geometry in the program eliminating any possibilities of misinterpreted data from the final design to the actual construction stages of the crossing. The unique properties of the one-of-a-kind optical gyro steering system allowed for the utmost accuracy despite the tight (ROW) boundaries and existing utilities surrounding the engineered alignment. Not only was the crossing completed successfully and on schedule, there was no disturbances incurred to the properties along the drill path outside of the entry and exit locations.
RELATED: Massive HDD Crossing in Burlington, Ontario
Critical engineering of the crossing including radial specifications and design, along with thoroughly engineered mud density parameters set by UPI, ensured the 12-in. NPS product line was to be installed well below originally anticipated pull forces.
The Project
The record-breaking installation would be one of 35 major HDDs totaling more than 28 km (45 percent) of the proposed 62-km pipeline replacement project. The popular trenchless method of construction would be used for crossings ranging from 255 to 3,532 m in length.
Imperials Waterdown to Finch Project to replace the SPPL, planned to wind its way through six municipalities within the GTHA (Greater Toronto and Hamilton Area) with the better portion of the project moving from Imperials existing ROW to an existing hydro corridor.
The use of HDD and other trenchless methods was crucial as the project advanced from a more rural setting of Hamilton, Burlington and Oakville, Ontario, to the bustling urban areas of Mississauga and Toronto. The proposed pipeline route landscape contained obstacles of every kind. From a multitude of existing utilities, including high voltage overhead powerlines and large diameter oil pipelines, to major highways, quiet parks, and pristine waterways. Designed profiles would be made to avoid existing obstacles along the predetermined pipeline route as well as future infrastructure conflicts including Metrolinx's planned subway tunnel under Eglington Ave and future water mains and utilities throughout.
The use of a Drillguide GST system became an instrumental part of the successful completion of these crossings. With no need for continuous verifications of the drill bit position while drilling, the crossings were executed with minimal disturbance to the busy communities that surrounded the length of the project. With industry leading real-time Measurement While Drilling (MWD) data of pitch, azimuth and annular pressure, drilling activities were executed through challenging ground conditions with utmost confidence. Positional information being received at surface up to 10 times per second, with an accuracy of 0.01 degree in the pitch and 0.04 degree in the azimuth, significantly reduced the severity of deviations from engineered bore plans, while continuous annular pressure monitoring mitigated the risks of inadvertent fluid releases to surface during operations.
RELATED: Addressing Steering Challenges on HDD Crossing in Canada
Optical gyro steering technology would be used to complete two more intersects crossings on the project. One installation under Wood Creek and Centennial Park/Golf Course (2,361 m) and another under Weston Road and Emery Creek (1,310 m) with Michels Canada's HDD division. Both crossings utilized horizontal curve designs to stay within the planned ROW.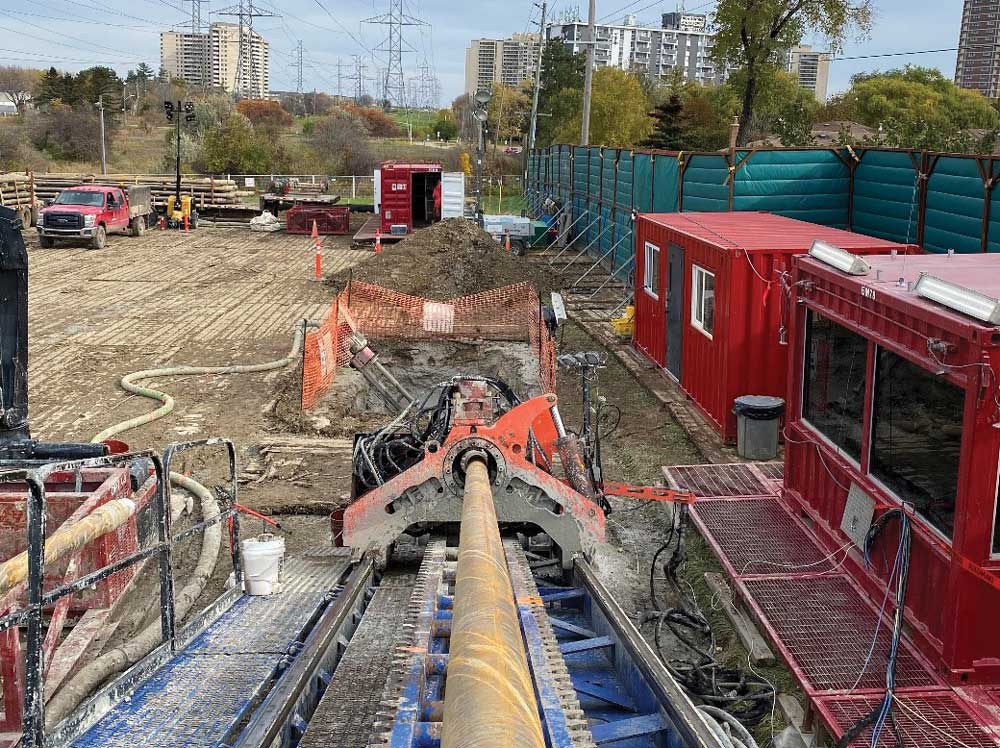 Robert B. Somerville's HDD team would complete 18 other major crossings using Drillguide's GST systems. These included several crossings more than 1,000 m in length, under high traffic roadways and highways, including Tomken Road, Metrolinx Railway, Dixon Road and the Highway 403/407 interchange, to name a few. With tight schedules and narrower workspaces, time management was an integral part to the project's deadline being met. Somerville HDD's seasoned crews with drilling rig set ups of two 440,000 ft/lbs, one – 220,000 ft/lbs and one -185,000 ft/lbs (push/pull force), worked tirelessly on the numerous crossings in succession with great poise and professionalism.
The gyro steering systems allowed for operations to begin when crews and drilling equipment were ready. With no need for time-consuming and intrusive surface coils along the drill path, focus could remain on drilling logistics saving valuable time and resources.
The additional use of Brownline's GPS Tracker unit provided secondary verifications near exit locations while drilling to confirm sufficient cover under existing utilities and also to allow for any minor corrections prior to pilot hole exit. The GPS Tracker unit, a portable surface receiver, can accurately locate and confirm the gyro steering tool's position to a depth of 40 m and can be set up without requiring access outside of the purchased ROW boundaries. The tracking unit made for an accurate exit location every time.
The final as-built data, exported by the Drillguide software in local UTM grid coordinates, completed the service package of each crossing supplied to the client. Northings, Eastings and Elevations of each drilled joint section along the drill path were provided for easier reference of the installed product lines position in the future.
The End Game
Once the installation and commissioning of the new 12-in. NPS SPPL is completed, Imperial will begin a safe deactivation of the original pipeline.
This proactive pipeline replacement project is critical to the continued safe and reliable supply of fuel products to households and businesses including jet fuel for Toronto's Pearson International Airport, as well as gasoline and diesel fuel to support movement of people, goods and services.
RELATED: Thinking Lean
Imperial's commitment to the community and persistence to strive for technological advancements in the trenchless industry has allowed for an enormous project to be completed with minimal disruption to the communities and environment that surrounds it. With the countless advancements made in the pipeline industry since the original SPPL installation, the pipeline is likely to outperform its predecessor.