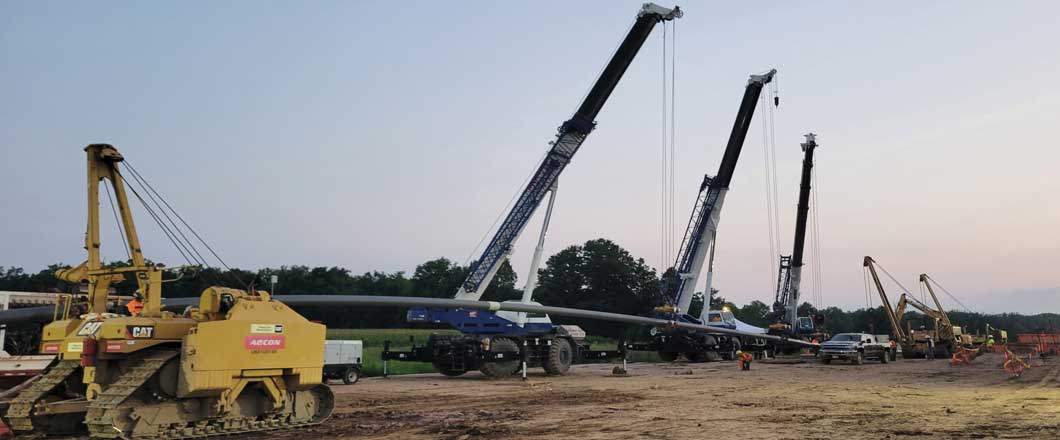 Michels Canada extended the limits of trenchless construction in Canada by using horizontal directional drilling (HDD) to complete a 3,540-m crossing in Burlington, Ontario, under the Hidden Lake Golf Club. The installation is part of Imperial's Waterdown to Finch Project, a proactive replacement of approximately 63-km of the Sarnia Products Pipeline between the Waterdown pump station in rural Hamilton and the storage facility in Toronto's North York area.

Operating safely in the region for many years, the pipeline provides fuel products used by households and businesses across the Greater Toronto and Hamilton Area, including a significant portion of jet fuel for Toronto Pearson International Airport.
The Hidden Lake HDD is the longest successful HDD installation in Canada to date, surpassing the previous record of 2,195 m, also set by Michels Canada. This HDD segment accounted for approximately 5 percent of the total Waterdown to Finch Project Project.

To put the length into perspective, a top professional golf player would need to crush between 10 to 12 drives to cover the distance of the trenchless pipe installation.
For the Waterdown to Finch Project, a 12-in. steel pipe was installed to a maximum depth of 70 m below the surface and pulled into place in three sections over a 40-hour period. The crossing spans along a right-of-way that passes under the Hidden Lake Golf Club and a wetland in the environmentally sensitive Southern Ontario region.
RELATED: Testing a Geopolymer Solution: Michels Canada Tackles Pilot Rehab Project for Region of York

"The completion of record-length trenchless projects like this one demonstrate our capabilities for safe, environmentally sound ways of constructing new or replacing existing utility lines," said Michels Canada vice president-energy Gary Ziehr. "When HDD and other trenchless methods are used to complement traditional open-cut utility construction methods, we are able to support our clients in safely delivering needed energy supplies to their customers."
Due to the length of the crossing, Michels Canada set up full HDD systems on both the entry and exit sides, then deployed rigs from each side of the alignment and utilized the pilot hole intersect method. Operators used the rigs to drill toward one other and then used gyroscopic survey and steering technology to complete the intersection of the two bore holes at a pre-determined location. The hole was enlarged to a diameter of 24 in. before the pipe was pulled into place.

The alignment follows the right-of-way of the original Sarnia pipeline, so the Michels Canada team had to carefully navigate the five horizontal curves along the alignment.

The crew successfully contended with other challenges, including:



Geotechnical formation variables from hard rock to soft, which required multiple tooling designs.


A pilot hole intersection within a karst formation, requiring significant contingency planning, monitoring, and additional resources.


Being located in mixed urban and agricultural areas with significant local traffic, including both recreational and agricultural operations on the roadways.


The implementation of a noise mitigation system around the rigs to allow the complex project to proceed without disturbing neighbors.


Michels Canada utilized resources from its headquarters in Nisku, Alberta, as well as from Brownsville, Wisconsin. Michels Canada has access to one of the largest fleets of large HDD equipment. Much of this equipment is designed and fabricated by an in-house team or is not readily available due to its specific nature. Michels engaged its detailed procedure for deploying necessary replacement or repair parts to its jobsites to allow for quick repairs or replacements instead of waiting for parts to ship or become available. Local rental resources were also used to support the local economy.

RELATED: McLoughlin Point Outfall Project Was a True Team Effort

Projects like this are what have established Michels as one of North America's most accomplished HDD contractors. That experience allowed Michels to train and work safely with local union employees and Indigenous peoples, including those with limited prior HDD experience. The Michels team also worked closely with the project's prime contractor, Somerville Aecon Joint Venture, which provided a well-managed team with safety as a top priority.




Patrick O'Donoghue is Michels Canada's director of HDD and Direct Pipe.