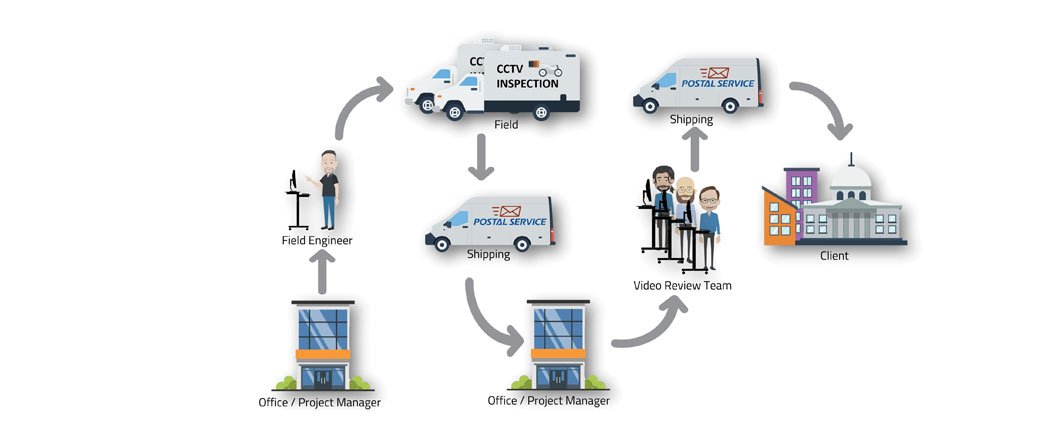 For more than 50 years, Insituform has been rehabilitating pipelines all over the world using its flagship, cured-in-place pipe (CIPP) lining. As the inventors of CIPP, the company takes great pride in delivering a top-notch product and client experience. A finished project means the client not only gets a pipe with restored structural integrity and reduced infiltration but also vital asset management data via videos and reports.
When Insituform's existing CCTV inspection software was no longer planning to meet industry needs, the company began the search for a new software partner. Anyone who has implemented a new software system knows that implementations are akin to the adage of "ripping off a band-aid;" it will be painful but it's best to get it over with. The company wanted a software that was future-ready and would evolve as they explored new technologies and methods.
After much research, Insituform selected ITpipes as their partner. ITpipes not only solved its initial challenge of having a software partner that would be NASSCO PACP V7 certified, but also offered a host of solutions to increase efficiency. Insituform's workflow was started underground. However, with a little effort, it would eventually end up in the cloud.
"We realized the benefits of digitizing these processes and felt confident that our business and our customers would quickly recognize the value: Video Data Integrity – No lost videos, which could lead to crew re-work; Installation/Mobilization Costs – Ability to QC work before a crew relocates to another jobsite; and Efficiency – Reduced data entry for crews and eliminating shipping costs for hard/thumb drives," says vice president of applications at Aegion Tim Bremer.
With a large fleet of trucks and offices across the United States and Canada, Insituform could have hundreds of projects in any given week. That's a significant amount of data. Insituform's existing CCTV inspection software faced a big challenge, and moving the behemoth of pre- and post- CCTV videos of pipe-lining jobs proved to be both laborious and incessant.
"We had multiple people in the CCTV department, and the work never stopped," said Insituform video department manager Billy Loche. "Since every truck was siloed, all the inspections and videos came in via hard drive, typically at the end of the project. This created ebbs and flows in workloads for staff and Insituform wanted to manage the workflow more smoothly."
ITpipes recognized that large ebbs and flows are often common for contractors in the industry. That's why in 2018, ITpipes moved to a SaaS (software as a service) model and rolled out new, efficient tools to help contractors (and municipalities, too) move data much quicker and efficiently.
RELATED: Artificial Intelligence & Condition Assessment
Prior to the new ITpipes platform rollout, the industry-standard looked something like this: Once a job was ready, the office would get a physical list (or spreadsheet) of pipes together, and make sure it was on the CCTV truck(s) in the field. When it came time for an operator to inspect a pipe on the list, he/she would manually enter the asset header information. Often, this would create issues with typos or errors. Once the televising was complete, the video would sit on the truck's PC until it was copied to a physical media device (such as a portable hard drive). Then, it would either be dropped at the office, or mailed in via "snail mail." A team would review the videos, correcting and organizing the files. Once completed, the office would then ship the physical media to the client. From beginning to end, the whole process could take a couple of weeks, or as long as a couple of months.
Insituform has never been a company to settle for "industry standard." As part of Aegion, Insituform is always innovating and looking for ways to refine its product, client experience, and efficiency. Insituform leaves no stone unturned in its on-going dedication to improvement.
ITpipes jumped at the chance to work with Insituform, as they had been working with many other contractors in the industry, and knew they could be of assistance. Together, Insituform and ITpipes team members worked to implement a workflow that would not only be efficient, but sustainable and easy to learn.
"Having worked with many of America's most demanding municipal clients over the years, our products have constantly evolved to expedite data delivery," said ITPipes CEO Cori Criss. "Every client is unique, and Insituform was no exception. We were excited to dig in and see how we could help increase efficiency with such a huge amount of deliverables."
RELATED: Pipeline Inspection Management: Not Just for the Big Cities
The process began with installing ITpipes Mobile on vehicles in the field. ITpipes Mobile features Hotbuttons, automated digital voice-over, automated media controls for snapshot capture, instantly generated reports, notification on continuous defect closure, and more features to simplify operator-required efforts. ITpipes Mobile is PACP and SPICAP compliant. It can also be used with client-configured templates. Operator training was simple and performed online.
Since many of these CCTV vehicles would be on the road for weeks or months at a time, Insituform IT staff worked to get every vehicle online. Stable connectivity was a key part to maximize efficiency. With ITpipes Mobile and Wi-Fi on the trucks, the next step was setting up ITpipes Web and Sync. This would allow the operators in the field to upload their inspections daily or hourly, instead of just at the end of a project. Inspections were no longer siloed on a vehicle's PC. Instead, they were now available on ITpipes Web for immediate reviewing by office staff – anywhere in North America. This process alone increased data delivery efficiency noticeably.
With Insituform's proprietary workflow for scheduling and managing projects, they still needed a way to push the projects into their inspection software. Using ITpipes API, Insituform was able to follow the path of many municipal clients, and integrate the two systems. For municipal clients scheduling in Cityworks, Infor, or similar AMS systems, the ability to assign pipes to inspect by "pushing" the line segment info directly from the supervisor or manager into the selected inspectors CCTV unit. This not only made the assignment of work straightforward, but also eliminates potential errors re typing header info into the field software. Now, the operator just has to click on the work order, and it immediately opens up. With the ITpipes platform configurability, an inspection can now be assigned from the office, completed in the field, and data can arrive back in the office – anywhere in North America – within sometimes less than 30 minutes.
"Now our field engineers do their own reviews. If they need to make a change, such as a missed observation, they do it right there on ITpipes Web, and deliver the project's data to the clients themselves. Being web-based, they can review the videos at the office, at home, or on the road," added Loche.
RELATED: The City of Vancouver, Washington's 5 Core Strategies for Building a Condition Assessment Program
Since ITpipes Web is cloud-based, it allows for electronic client data delivery. Meaning, in lieu of a physical media device or a binder being sent, clients can be sent a hyperlink. They can view their data online in their own secure temporary ITpipes Web platform and can choose to download the videos and data, or subscribe for their own Web license. If they choose to purchase a license, these clients gain access to features like SmartTabs where they can search, sort, and group inspection results that will quickly provide intelligent reporting. Additionally, clients can bring their Esri ArcGIS to Web, or integrate Web bi-directionally into their AMS.
"ITpipes has helped us realize so many efficiencies in the process. With so many competitors in the market, margins can get tight. Reducing errors, office labor hours, and client delivery time has helped us keep that competitive edge," said Insituform Miami senior project manager Frank Kendrix.
Insituform has been able to deliver significant process improvements as a result of all of this, but they don't want to stop there. They hope to continue increasing the number of digital deliveries, as well as, work with more Esri ArcGIS integrations.
Mark Grabowski is the business development manager at ITPipes.