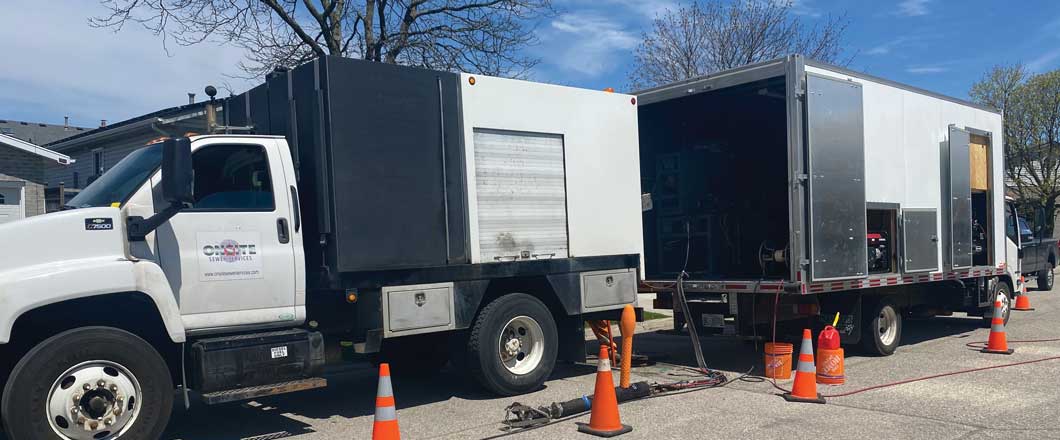 Brighton, Ontario-based Onsite Sewer Services had a busy 2019 and 2020 is shaping up to be much of the same. The bulk of the work that the trenchless rehabilitation contractor completed was in two of Ontario's largest regional municipalities.

Among other projects, the company did a month-long grout project in Newfoundland, worked with Liquiforce on a rehabilitation project for the York Region – which wrapped up last fall – and the company is wrapping up a contract for the Region of Peel.
RELATED: 'Grout First,' Right Answer to Solve Sullivan's Island, S.C., I/I Issues

Started in 2014 by Jon Manners, a second-generation grout truck operator, the company employs 15 team members. The company operates two flusher trucks, two camera trucks and one grout truck and services mostly Ontario.
All of Onsite Sewer Services' grout work is done using Avanti grouts from Wallace Construction Specialties Ltd. And Logiball packers. For spot repairs and CIPP work, Manners says the company relies on Maxliner products.

Wrapped up in July 2019, the York Region project had Onsite Sewer Services grouting joints as part of a larger rehabilitation contract led by Liquiforce a Granite Company.

The focus of this work was trunk sewer rehabilitation with an emphasis on air testing and grouting joints in pipes sized from 525 mm to 1,200 mm. Crews air tested and sealed previously determined joints at various locations throughout the Region of York.
RELATED: Testing a Geopolymer Solution: Michels Canada Tackles Pilot Rehab Project for Region of York

Crews mobilized to the sites for an initial video inspection prior to the test and or repair. They would then air test the joint to determine if the joint would successfully hold air long enough. This is an indicator if a void is present behind the pipe or not. If a positive air test was observed, a record of the data and report was submitted to Liquiforce and the next location was tested.

If the joint failed the air test, crews would install a Logiball packer in the pipe to inject the required amount of grout. Air testing would again be done to verify the void was filled. This process would continue until the void was deemed filled.

"The biggest challenge we faced was working in live flow conditions," says Manners. "Sometimes the sewers would have 20 to 25 per cent flows. There were times we'd install the packer and flows would increase considerably due to a weather event in an upstream section of the pipe. We'd have to deflate the packer, pull out and return to that site later."

Despite these challenges, the crews completed this work at more than 60 locations successfully throughout the Region of York.

For the Region of Peel, Onsite Sewer Services was the prime contractor on a large 400-day rehabilitation contract, which commenced in July 2019.

"Each year, the Region of Peel puts out fairly substantial I&I tenders that are in the millions of dollars. They are stopping ground infiltration through leaking joints with spot repairs, cured-in-place pipe (CIPP), manhole grouting and rehab and it's lumped in one tender," says Manners. "We have a contract [with the region] for 400 days and we should be done in the 300-day mark. The tender is out now for the next 400-day contract."

RELATED: Real Data Results in Real Savings for the Region of Peel

For its part, Onsite Sewer Services completes the prep work – videoing the pipes, cleaning and then another round of videoing to make sure there are no additional defects. If there are additional defects, they will go back to the Region to get the additional repairs approved. The pipes range in diameter from 200 to 600 mm.

Of the contract work for the Region, it is about 60 per cent grouting of laterals and joints, 30 per cent CIPP and the rest is manhole and inspection work.

"Based on its videos, the Region tells us what they want done. Whether they want to grout and CIPP, just use grout or just use CIPP," Manner says. "We've worked with the Region for many years and we have a good relationship with them. When we get the contract, there are a few things where we go back [after videoing] and give them an alternative. For instance, maybe they want six spot repairs, but it's better to go in and do a CIPP at that point."

Manners estimates that, even with COVID-19-related mandates and restrictions, his team should have this contract wrapped up around 300-days. The biggest challenge facing the team on this project has come to the forefront due to the pandemic.

"Right now, is that we are seeing increased sewer flows on projects as people are self-contained to their homes and using their facilities," he says.




Story compiled by Trenchless Technology Canada Staff with information provided by Onsite Sewer Services.