Music is the strongest form of magic — so says Marilyn Manson — and anyone who plays a guitar, the piano or any other instrument would agree.

Turns out the trenchless industry has a strong contingent who play their worries and stresses of the day away by picking up their guitars, saxophones and microphones and belting out original and cover tunes. During our travels to various tradeshows over the years, we've heard about these folks who come out after trenchless hours, playing live gigs in their cities and on the road.
RELATED: Classic Cars & Trenchless Technology

Whether its hard rock, indie or punk rock, folk music, hip hop or classic rock, these guys are as passionate about their music as they are about trenchless. We decided to show this other side of them in this special section.
Quite an eclectic group. Each has their own story as to how they were drawn to their creative hobby and how they balance career vs. hobby, without neglecting either. They offer advice to music aficionados who have yet to take the rock and roll plunge: Do it…but don't give up your day job!

RELATED: Tune Up for Jammin'4Water at WEFTEC 2016!
So, let's hit it, guys!

Joe Talley, Marketing Manager, Kerneos

Chuck Hansen, Founder & Chairman, Electro Scan Inc.

Bryan Gassler, Director of Marketing, Xylem

Jamie Goldsberry, Engineering Geologist, Aldea Services

Ted DeBoda, Executive Director, NASSCO

Jeff Rumer, President/COO, Underground Infrastructure Technologies

Jeff Twardzik, Engineering Supervisor, City of Philadelphia

Mick Helfrich, Project Manager, Langford Engineering

Alan Ambler, President, AM Trenchless

Jason Miller, President, Midwest Mole Inc.

---
Joe Talley — Marketing Manager, Kerneos
Joe Talley plays acoustic guitar and sings in his hours away from his job with Kerneos. He vividly recalls the moment he fell in love with all things music, changing the course of life.

"When I was 12 years old, someone brought a cassette tape of Van Halen's "Van Halen" album to school. That hit me like a ton of bricks and put me on the path to music," he remembers. "That's the summer I got a paper route and bought my first guitar. From that summer on, there was only the guitar. No more sports, no more TV, no more swimming. I came home from school and played guitar until my parents made me stop and go to bed."

Fast forward to 2016. By day, Talley is SewperCoat marketing manager for Kerneos and by night, he plays acoustic guitar in his band Who We Are Not. He describes the Virginia-based band as a blend of different genres, including rock, blues, jazz, folk, funk and soul. Their record label is SoniQual Records, a recording studio Talley is a partner. The band released its debut CD — Just Be — in October 2015 and is getting airplay on stations throughout the United States, as well as being available on iTunes, Amazon, CD Baby, etc.

With weekly gigs on the weekends, it gets tough for Talley to juggle both his trenchless job and his musical outlet but he makes it work. "My job requires considerable travel for sales calls, jobsite visits and tradeshows. My band is regionally active. [Our] recording studio is also very active recording, mixing and mastering area musicians. My schedule is very hectic. My calendar is always full and I rarely have a day off. I wouldn't have it any other way!"

Talley's band is unique in that it can be an acoustic duo, trio, quartet or full band, depending on the need. With live weekly shows, Talley can't get enough of the power of the audience being moved by their music. "It is quite amazing when a room full of people sing along to our music," he says. "We have one song charting with the Americana Music Association. It's awesome when people line up to buy our CD. It's almost surreal to meet famous musicians. Last year, we opened for REO Speedwagon. That was a very cool experience."

The best part of about Talley's musical passion is that he gets to share it with his wife, Pamela Jo Sward, who is also in the band. Together, they write, record and perform. Talley has simple advice for those who have a passion for a hobby such as his. "If you love it, do it. It's fun," he says. "Keep your day job though!"

Fast 5


Favorite Genre:

I love it all: from Miles Davis to P-Funk to Frank Zappa to Dr. John


Musical Influences:

Neil Young, Norah Jones, Zeppelin, Amos Lee, Bob Marley, Pink Floyd, Rage Against the Machine, Dave Brubeck, Stevie Ray Vaughan, James Brown


First Song You Learned to Play:

"Should I Stay or Should I Go" by The Clash


Favorite Equipment You Use:

I have I have artist endorsements from Stonebridge/Furch Guitars, Lampifier Microphones and DI's, InEarz Audio, KAM Instruments Corp., and S.I.T Strings. I am also rather fond of my Composite Acoustics carbon fiber acoustic guitar, my Jerry Jones Neptune electric guitar,

and my Fender Vibro-King amplifier.


What's on Your iPod:

"All Your Favorite Bands," Dawes; Laugh About It, Tedeschi Trucks Band; "Love Is Innocent," Colin Hay; "Bright Lights," Gary Clark Jr.; and "Get There," Who We Are Not


Chuck Hansen — Founder & Chairman of Electro Scan Inc.
Chuck Hansen has a pretty cool life outside of trenchless technology. He has played his saxophone on stage with the likes of Tower of Power, Huey Lewis, Todd Rundgren, to name a few.

His passion for rock n' roll music runs deep — rooted in his childhood and in full bloom as an adult. He plays live music with rock stars, as well as owns a recording studio, where he records his own music (he's recorded 24 CDs) in addition to other artists.

Hansen is known in trenchless circles as the founder and chairman of Electro Scan Inc. (2011) and was founder of Hansen Information Technologies (1983), which developed asset management systems for water and sewer agencies. Electro Scan is an alternative to CCTV cameras to certify a trenchless lining and rehab projects as "leak-free."

He's been playing music for more than 50 years, first learning the clarinet from his brother in the second grade then switching to the big baritone sax in the eighth grade. By high school, he was tabbed to play in the famous Monterey Jazz Festival's All-Star Band competition, allowing him to take the stage with the likes of Dizzy Gilliespe, Louis Belson and Clark Terry. He went on to play in the U.C. Berkeley Jazz Band.

Today, Hansen plays, in addition to the baritone sax, the bass sax and the contrabass sax. His "real world" job sometimes inhibits when he can play but he says he does each with as much passion and gusto as he can; each requires such enthusiasm and commitment to be successful, he says.

"I was lucky enough to convert one of my hobbies into a full-time business, owning The Track Shack recording studio and record label," Hansen says. "I started juggling business music and business early. I bought my first baritone sax when I was in graduate school at UCLA, playing weekend gigs in Los Angeles to help pay for textbooks and beer. Today, I've been to be doing business in London and have my saxophones shipped in to do a weekend show in Paris."

Hansen's talents have led him to jam with some of the most famous folks in music including Tower of Power, Eddy Money, Huey Lewis and the News, Michael Bolton, Todd Rundgren and Micky Dolenz of the Monkees, as well as Alex Ligertwood of Santana, Bobby Kimball of Toto, Jimi Jamison of Survivor, Mark Lindsay of Paul Revere and the Raiders and many others.

Hansen is grateful for his opportunities and the friendships/relationships he's made through music. "The coolest thing about performing? People stop me when I'm traveling for business and tell me they watched me play on YouTube. When I was 10 years old, I rode my bicycle to the Tower Records Store in Sacramento, Calif., to listen to records of my favorite bands, like Blood, Sweat & Tears and Chicago and Tower of Power. Now, at age 60, I get to play with those same bands."

Advice for those interesting in pursuing a similar passion? "Always try and do what you love, but never quit your day job," Hansen says.

Fast 5


Favorite Genre:

R&B


Musical influences:

Blood, Sweat & Tears, Chicago, Tower of Power, James Brown, Weather Report


First song you learned to play:

"What is Hip?"


Favorite equipment you use:

Benedikt Eppelsheim Eb Contrabass,

Selmer Bass Saxophone, Yanigisawa Baritone Sax


What's on your iPod:

"My Type" by Saint Motel,

"Let Go" by Miyavi (Needs a Baritone Sax.); "Life is a Carnival" by The Band;

"Uptown Funk" by Bruno Mars;

"Savoy Truffle" by The Beatles


Bryan Gassler — Director of Marketing, Xylem
Bryan Gassler credits his parents for his early initiation into the world rock music. Growing up, the music of iconic rock bands such as Led Zeppelin and the Talking Heads were always filling the house. What choice did he have?

"From a very young age, music has always been a big part of my life," Gassler says. "My parents molded me well. They played the likes of Led Zeppelin, Black Sabbath, Elvis Costello and the Talking Heads in the house all the time. I was always immersed in music and wanted to play guitar. When I was 18, I made the commitment and never looked back."

Today Gassler is the director of marketing at Xylem, a global market leader in water and wastewater transport and treatment for municipal and industrial customers. But with all of his responsibilities, music is never far from his reach.

For all of his music indoctrination during his youth, Gassler didn't start playing guitar until he was 18. But he made up for lost time and soon found a genre he wanted to explore, which includes 1990s-style indie rock with a touch of punk, also known as second wave emo.

"I was a late bloomer who started playing at 18, but when I was 19, I recorded my first album," he says. "I played all the time back then."

His college band gigs took him all over the United States (46 states), allowing him to take in the sights of the country through window of music. "I have played more than 300 shows since starting out in 1996. In the past two years, I have performed six shows with my band The Jazz June," Gassler says.

It's a balancing act these days to perform between professional and personal responsibilities and music. A lot of times family wins out. "It's gotten harder as my family has grown," Gassler says. "I have three young children and after work, they come first. I wait until they are asleep before I start kicking out the jams.

"Music has also been a retreat for me, it's my little safe place where I can go and forget about everything else in the world. It's a stress reliever these days, a way to escape the professional world for a bit."

The Jazz June released an album in 2014 and have played a handful of shows in New York City, Philadelphia, Washington, D.C., Boston and Austin, Texas to support the CD. The group's lead singer is based in London, so it's been a challenge scheduling shows. But when they do get the opportunity to play before a live audience, Gassler says there's nothing like it.

"Performing to people who love your music is always a joy. It's mind-blowing when people sing along," he says. "To think that your little band has impacted someone's life with the art you have created, never ceases to amaze me."

Gassler says you are never too old to get started in music, if you have the inner desire. "It's never too late to start," he says. "Buy yourself a guitar and learn some power chords. Anyone can play a Ramones' song within the first few weeks of playing."

Fast 5


Favorite Genre:

Indie rock, Punk rock,

Hip Hop, Jazz


Musical Influences:

Dinosaur Jr., Led Zeppelin,

Fugazi, Stephen Malkmus


First song you learned to play:

"Burning Fight" by Inside Out


Favorite Equipment:

Guitar, Gibson SB; Amp,

Fender Hot Rod Deville,

Pedal, Morley Emerald Echo


What's on your iPod:

"Beach Slang," by Punks in a disco bar;

"Superchunck" by Hello Hawk;

"Shellac" by Dude Incredible;

"Modern Baseball" by Just Another Face;

"Built to Spill" by Kicked It In the Sun.


Jamie Goldsberry — Engineering Geologist, Aldea Services
Jamie Goldsberry recently took his passion for music a step further. He's been playing acoustic guitar for about 21 years, first picking it up in high school. For about the past three years, he's picked up mandolin.

Recently, he and his wife, Jen, who plays banjo, decided to make the switch from playing for their enjoyment to forming a band, called The Goldsberrys & Friends, which also includes a violinist and bass player.

"Life gets busy and stressful for everyone, but when you do get a chance to focus on your hobby, whatever that may be, truly focus on it, enjoy it and have fun," he says.

The Goldsberrys & Friends play their own brand of old-timey-style folk music they refer to as Original Jamgrass. They play shows mainly in the Columbus, Ohio, area but also surrounding music festivals. Goldsberry says they incorporated the word "Friends" into the band name because they often play shows on the fly with other artists at least two to thee times per month.

Goldsberry (top photo, far right) is an engineering geologist with Aldea Services LLC, which he considers a fast growing company full of trenchless experts. He oversees geotechnical investigations that turn into designs for underground structures such as tunnels and microtunneling projects. Goldsberry says the balance of work life, family and music is difficult not only in terms of finding time but also because he has a passion for both.

"I am constantly busy and juggling practice, live shows, writing new music, as well as being a father to two young children (who think we are famous) with an extremely busy yet satisfying job," he says. "I could be a multi-millionaire and still be doing the exact same thing. I consider myself very lucky.

"Ironically, the work/life balance theme comes up in many of our songs, especially from Jen's perspective, who also works a full-time job," he continues. "She is sensitive to it and is always focusing on finding the balance. Neither of us has quite found it yet, but we sure like to write songs about it! And those are the tunes that the crowd often identifies with the most since they are balancing life too."

Goldsberry says he has enjoyed the thrill of getting to play live shows, especially alongside his wife, and interacting with the crowd, which he says is just as important as the playing and singing.

"Jen and I are still getting used to being comfortable on stage, and engaging with the audience. I introduced her at one show and said her maiden name. It surprised both of us, especially considering our band name is The Goldsberrys & Friends," he says laughing. "Once playing live gigs and practice stops being fun, that's when I'll know it's time to hang it up, which, I suspect, will be never."

Fast 5


Favorite Genre:

Folk, Old-Timey music. We refer to our music as Original Jamgrass.


Musical Influences:

Tony Rice, Doc Watson, Bill Monroe and John Hartford…to name a few.


First song you learned to play:

"Dirty Deeds Done Dirt Cheap," AC/DC


Favorite Equipment You Use:

Guitar is Martin D18V and mandolin is a Weber Yellowstone F-model


what's On Your ipod:

Right now, all our originals:

"No Wine Til The Weekend,"

"Low and Winded,"

"Can't Be Everything,"

"Don't Know Where It Came From,"

"Ships Cross Tonight."


Ted DeBoda — Executive Director, NASSCO
Ted DeBoda has been singing and playing guitar since the mid-1980s. He got his start singing in a rock band, as well as several church choirs and today plays mostly acoustic-electric guitar. He recalls how he even entered "Presbyterian Tenor" under religious preference on his first dog tags issued when he entered the military, a nod to his tenor singing voice and interest in contemporary Christian music. DeBoda says his influences over the years have derived mainly from classic rock bands like The Who and Hall and Oates.

In the late 1990s and early 2000s, DeBoda started playing contemporary Christian music at church, eventually forming a band called Psalt and Light. They have stayed together and continue to play at coffee houses and churches in Delaware and Maryland.

In the world of trenchless technology, DeBoda is the executive director of the National Association of Sanitary Sewer Companies (NASSCO), which represents contractors, engineers, municipal employees and other groups involved in the assessment and rehabilitation of sewer systems. Although DeBoda's time is heavily consumed leading the association's staff and programs, he says he maintains his interest in music and still gets a high from playing live with other musicians.

"The coolest thing about performing is when everything clicks," he says. "It's hard to explain, but you can be technically correct in all the notes being played at the right time, but other times you can get into 'the zone' where the music clicks, which is far better than being technically accurate."

DeBoda says he recently became involved in Jammin'4Water, an annual jam fest held the Saturday before WEFTEC that raises money for water charities like Water for People, Engineers without Borders, and others. The event draws hundreds of musicians in the water/wastewater industry. "Oddly enough, it's a great way to meet others in the industry with similar interests," he says. "We have developed relationships with other industry professionals that would not have happened if not for Jammin'4Water."

When it comes to music, DeBoda is also passionate about his guitars and has some cool stories about some of the guitars he's had over the years. He also has some advice for aspiring players.

"An 80-plus-year-old woman once gave me a guitar that she received as a present for her 10th birthday. The guitar was a Silvertone purchased at Sears and Roebuck back in the 1930s. The cool part is that I played her one of her favorite songs on her guitar before she passed away," he says.

"If you are interested in picking up an instrument like the guitar, then don't go out and buy the cheapest one out there. It's an investment of your time, so make it worthwhile. That said, don't go buy a $6,000 instrument, but it should hurt the wallet, if only a little bit."

Fast 5


Favorite Genre:

Classic Rock and Contemporary Christian


Musical Influences:

The Who, Grateful Dead,

Hall and Oates, Newsboys


First song you learned to play:

Probably "Wish You Were Here" by Pink Floyd or "Needle and the Damage Done" by Neil Young


Favorite Equipment You Use:

Two favorite guitars are my Taylor 814CE Special Edition (Spruce top with Cocobolo Back and Sides) and Taylor 614CE (Spruce top and Quilted Maple back and sides). I also have a McPherson MG 4.0, Taylor GS, a Takamine (Garth Brooks edition), a RainSong (carbon fiber), the Silvertone mentioned above, and some others. I like to play through a Genz Benz Shenandoah 150 Amp.


what's on Your ipod:

"He Reigns" by Newsboys

"I Can Only Imagine" by Mercy Me

"When the Morning Comes" by Hall and Oates

"Not Fade Away" by Buddy Holly

"Turn Your Lights Down Low" by Bob Marley

"Old Black Water" by The Doobie Brothers


Jeff Rumer — President/COO, Underground Infrastructure Technologies
Jeff Rumer recalls he was about 8 or 9 years old when he was inspired to take up guitar. But it's funny the things that inspire us. "My older brother was a guitar player and he got all the chicks, so of course, I thought I should try it out," he jokes.

But it wasn't long before his experiment turned into his passion, and it has stuck with him throughout his life. "I got serious about it as my interest in music grew later in my teen years," he says. "I noticed the ability of music to remind us of a time or place, or invoke an emotion from a past memory. I also realized a new dimension of expression without the use of words. That intrigued me."

Today, Rumer is president and chief operating officer of Underground Infrastructure Technologies in the greater Denver area. He's also the current Chairman of the National Utility Contractors Association (NUCA). Along with guitar, Rumer plays banjo and mandolin. He is heavily influenced by blues legends like Buddy Guy and Stevie Ray Vaughan and plays anything from blues and jazz to rock. But it's not just playing that's his passion. Rumer also owns Indian Peak String Works, a guitar shop that handcrafts custom instruments in addition to repairing and refurbishing. The shop doubles as a venue for live music where Rumer often performs.

"I really don't consider myself a performer," he says. "I don't play to perform, I play live to share my discovery of music with other musicians and sometimes our instrumental voices combine to create something really cool. The coolest thing is when that all comes together and the audience recognizes it and shares in it."

Rumer admits that while it can be a difficult balance between work and music, the outlet that his music provides is a central part of his life. "I spend my days in tunnels and on projects working with clients to find solutions to their problems, then I get to shut down my right brain and turn on the left side for the evening. The balance works well for me. In a lot of ways, my music and guitar provide that much needed decompression from the challenges and stress of very high paced utility construction."

Rumer says he has always been intrigued by music's ability to connect with people outside of our normal paths of communication. "There is no note you can play that hasn't been played before, however the assembly of those notes, when and where they are played all express our own form of communicating in a different space. Eric Clapton once said 'It's not how many notes you play, it's when and where you play those notes that make something special.'"

Fast 5


Favorite Genre:

Blues, Jazz, Rock


Musical Influences:

Stevie Ray Vaughn, BB King, Buddy Guy, Eric Clapton, Leo Kotke, Jerry Garcia, James Taylor


First song you learned to play:

"Country Boy Can Survive,"

by Hank Williams Jr.


Favorite Equipment You Use:

Custom-made electric and acoustic guitars, as well as custom-made six-string banjo and mandolin, all "Rumer Guitars" made at Indian Peak String Works; Mesa Boogie "Mark iv" and "Lonestar special" amplifiers for electric guitar. Acoustic amp is Fender "Acoustosonic" or direct into the board. For effects, I use a Boss GT-100 and a Roland GR-55 synth unit.


what's On Your ipod:

"Born Under a Bad Sign" by Buddy Guy

"Funny How Time Slips Away" by Al Green

"In Color" by Jamey Johnson

"Into the Mystic" by Gov't Mule

"Jessica" by The Allman Brothers


Jeff Twardzik — Engineering Supervisor, City of Philadelphia
Jeff Twardzik loves to play country music. He loves to play it, sing it and write it — singing country music is by far his favorite.

And he throws in some rock and pop classics from the 1970s to today for good measure.

Twardzik's day job is engineering supervisor for Philadelphia Water in Philadelphia, a city that has embraced the use of trenchless technology to address its infrastructure needs. Twardzik himself has been involved in many of the city's trenchless projects, having been involved in the trenchless industry for 21 years, with 23 total years with Philadelphia Water. Out of the office, he turns to his music, specifically his acoustic guitar.

"I've been singing since I could talk, so [singing] is a lifelong passion," Twardzik says. "But I was extremely shy and would not sing in front of people until my 20s. The guitar was another story. I started learning to play in my 20s. I have been playing guitar for about 19 years."

His love of playing guitar was a natural extension for his love of singing and by combining them, it opened up an avenue to write his own songs. "I wanted to accompany myself and to be more than a singer," Twardzik says. "[Playing the guitar,] allowed me to write my own songs and perform covers and originals anytime."

While he was shy about singing in public initially, Twardzik now plays live in six to 10 shows a year. He has opened for many country stars over the years, including Diamond Rio, Dwight Yoakam, Lee Ann Womack, Patty Loveless, John Michael Montgomery, Phil Vassar and Hal Ketchum. "This was a great honor and an awesome experience to share the stage with them," he says.

His talents have also brought him some professional rewards, as well. He won the South Texas Music Festival songwriting contest, in which each contestant was given a random song title by the judges (his was "Louisiana Low Down Blues") and allotted one hour to write the lyrics.

Music is definitely his go-to activity to wipe away a stressful or hectic day in the office or at home, restoring calm. His wife, Renee, and 4-year-old son, Chase, keep his life pretty busy and interesting outside of work. "I play and practice when I can in my spare time, but it's tough to find a lot of time," Twardzik says. "Most people are surprised to find out that I sing and what I have done in country music. It is a different side of my life when I'm not working on specifications and plans all day. It is a stress reliever and a lot of fun."

Twardzik encourages anyone who loves music and is thinking about taking it up as a hobby to do it. "If you have a passion for it, go for it," he says. "Be prepared to put in some time to get gigs. Just enjoy yourself and it won't feel like work at all."

"I enjoy being able to play any song, and also to plug in and play live," he says.

Fast 5


Favorite Genre:

Country, classic rock, pop, 80's,

and every one hit wonder.


Musical influences (list a few):

Garth Brooks, Kenny Rogers,

the Beatles, AC/DC


First song you learned to play:

On guitar Best of My Love by The Eagles, as a singer it was "You Light up My Life" by Debbie Boone.


Favorite equipment you use:

I use Takamine and Guild acoustic guitars, with electric pickups.


What's on your iPod:

"Humble and Kind," Tim McGraw;

"Think of You," Chris Young;

"Whatever She's Got," David Nail;

"When You Loved Me," Richard Marx;

"My America," Jim Femino


Mick Helfrich — Project Manager, Langford Engineering
When not toiling away as project manager for Houston-based Langford Engineering or keeping up with his homestead, Mick Helfrich, helps keep the rhythm as the bassist in two four-piece bands.

Now in his mid-40s, Helfrich's first foray into the musical world were his teenage years starting with keyboard, guitar and vocals and inspiration from the likes of early 1970s Rush and late 1970s Eagles but more importantly his father, who brought an acoustic guitar home from his time in the Navy. His father's musical tastes spanned classical, folk and all the way to rock and the aforementioned 70s-era bands.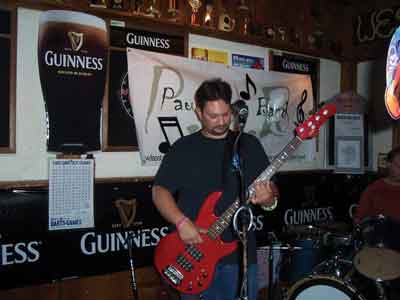 "I picked up a bass guitar in the mid-90s and have been playing that primarily since then," Helfrich says, adding that the bass is an underrated instrument. "It can range from the simplest pedal tone to a virtuosic lead. I especially like point-counterpoint (interactive discussion) between guitar and bass guitar (either rhythmically or tonally)."

Music is meant to be shared, and Helfrich shares it in the form of two four-piece bands. PHD, which plays 50s to current day cover songs, as well as a handful of rock and country originals, has been together since the mid-90s. His other outlet is Feast!, which is billed as a "A cornucopia of musicness!" that covers the 60s to 80s era rock.

Even with three decades of playing under his guitar strap, Helfrich says practice is the key to getting the best reaction from the audience and having the most fun on stage.

Fun for Helfrich and his bandmates include encouraging participation at the family-friendly shows by children in the form of assorted handheld percussion instruments or sit-ins on stage by family and friends alike. Of course, nothing can top the humor of holiday shows that – no matter if the audience members are imbibing or not – lean toward the fun and odd side.

"When Santa Claus makes a stroll-through on a bicycle, a group of Santas crawls through a pub, or you're playing on stage in Halloween costumes it drives audiences up a few notches," Helfrich says.

Because of his 9-5 job and maintaining his acre property, practice at this point is a weekend-only affair. On average, between his two bass guitar gigs, Helfrich plays out about once a month, which he says will increase to two to three times a month in the near future.

"I cherish the balance music gives to the analytic life of work. Rush "Hemispheres" was a big influence in this regard," he says. "Audience participation/feedback is the sole reason we play live. The impact live music has on people is something to be shared, not contained in a garage."

Fast 5


Favorite Genre:

Rock


Musical Influences:

Rush, Eagles, Beatles,

Pink Floyd, Soundgarden


First song you learned to play:

Difficult to say –

possibly "Stairway to Heaven" (guitar)


Equipment you use:

I play a G & L bass guitar through a Fender amplifier and sometimes an Ampeg amplifier. I own Yamaha SM15V monitors, which are usually powered by a Yamaha EMX 640 powered mixer – for rehearsal and some live performances. Other band members have JBL or QSC powered main speakers, which are usually fed through Mackey or Harbinger mixers.


What's on your ipod:

"Voices Carry" ('Til Tuesday),

"How Soon Is Now?" (The Smiths),

"Remedy" (Black Crowes),

"Touch of Grey" (Grateful Dead),

"Under the Milky Way" (The Church)


Alan Ambler — President, AM Trenchless
Alan Ambler is a seasoned engineer by day, rocker by night. And he's been doing it for quite a while – the music part, that is. Ambler started playing guitar when he was 11, playing his first gig by age 14.

"The show was on a Sunday afternoon at a place called 'Club Nowhere,'" he recalls. "My dad had a great time with the name of that place! My band made $11 and we went and bought ice cream with our earnings."

Things have evolved quite a bit since then. Ambler's band, The Honeyslides, released their debut album, "Get In" in 2014. The band plays all original music – a fusion of rock, blues and funk with Joe Cocker-style lead vocals. The Honeyslides have been together for five years and consist of a singer, two guitarists, a keyboardist, bassist and drummer. They carry a 100-song set list although Ambler says they probably only practice about three times a year. The band played about 30 gigs in 2015, mainly in the greater Orlando area.

Ambler is president of AM Trenchless, a trenchless technology firm he started in Central Florida focused on pipe bursting, CIPP lining, spray-on liners, HDD, jack and bore and other trenchless rehab methods. Recently, Amber was the design engineer of record for the largest potable water asbestos cement pipe bursting project in North America, which has rehabbed 35 miles as of 2016.

Amber plays electric and acoustic guitar, and can play lead, rhythm and slide. He also plays bass and a little piano. In addition to The Honeyslides, Ambler also plays smaller acoustic gigs and now plays three to six times per month with a couple other bands, as well.

"I've played in many different bands over the years and the Honeyslides are one of the most professional and easy to work with," he says. "It took me a long time to push the guys in my various bands to look at playing as a 'business' as well as a hobby."

Playing live is something Ambler is no stranger to. He's played live shows consistently throughout his musical career and says he feeds off the crowd, no matter how big it is.

"The coolest thing about playing live is when you allow the band to openly interact with the crowd and feed into what they are digging, the crowd can and always will help make the live show better," he says. "I've played in front of 2,000 people and in front of two people. If the two people are digging the music and dancing, it could be wilder than the 2,000 people!"

Fast 5


Favorite Genre:

All Types


Musical Influences:

Prince, John Scofield, James Brown, Stevie Wonder, Jon Gomm, Tony Rice, Maxwell, The Rolling Stones, The Beatles


First song you learned to play:

"Silent Lucidity" by Queensryche…hard to believe I admitted that. Not long after I think we were playing "Smoke on the Water" with our toes.


Favorite Equipment You Use:

I have 25 guitars, seven amps and multiple cabinets. I am finding the number of small builders is growing substantially in the United States and can often make vastly better guitars/amps than Gibson and Fender currently.


What's on your ipod:

I listen to so much music this is impossible to provide. For intrigued listeners, I offer the following that may push boundaries for some: "Get on the Boat," by Prince; "Papa Dukie and the Mud People" by The Subdudes; "Everything" by Jon Gomm; "Shenandoah" by Tony Rice; and "Beast of Burden" by The Rolling Stones.


Jason Miller — President, Midwest Mole Inc.
As president of one of the leading trenchless contracting firms in the country, Jason Miller doesn't have nearly as much time to pick up his sticks and sit behind his kit or strap on his guitar as he did in in his younger years.

His first exposure to the joys of music was playing trombone in middle school but it was drums – right after high school – that sucked him in. "A year after high school I had heard that a couple of guys I graduated with could play guitar so we got together and began playing," he says. The group grew and learned their instruments together eventually adding a singer and bassist and embarked on an almost decades-long journey.

"It took two years to get the confidence to play out, but once we did there was no turning back," he says. As a band that played mostly original material, one of the best parts of playing live was being able to "connect" with an audience that never heard the music before.

Miller has many stories to tell of his days in a band, but one that sticks out and highlights the connection of the band to the audience involved a wedding party. Nope, Miller and his bandmates weren't playing at a wedding, rather they were playing a bar gig, a wedding party showed up in route to the reception and ending up staying for the band's set instead.

After his time with the band ended, and Miller's public outings became more sporadic due to scheduling until about two years ago when he began playing drums in the praise band at church. Though the venue is different, Miller says that special connection with the audience is still there but instead of original music, he is connecting with worship music.

Playing an instrument, as more than just an in-home hobby, takes time and practice to get better and succeed. Miller's journey – from middle school trombone to being a drummer in a band to playing in church – highlights this.

Despite less time to play, Miller is a drummer through-and-through, "It's kind of like a heartbeat. I am always tapping something out it seems like."

In the end, Miller enjoys sharing his music with those closest to him the most.

"I have guys tell me being in a band or music can be like a curse. There was a time when I understood as it can take a lot of time," he says. "Family is first and then work takes a lot of time, but when I can't make time to get to church, I like jamming with my kids at home."

Fast 5


Favorite Genre:

All types of rock music, blues, jazz, classic country


Musical influences:

The Beatles, Led Zeppelin, Johnny Cash, Elvis Costello


First song you learned to play:

I couldn't say. I never spent a lot of time trying to play other people's songs. If I had to pick one, "Back in Black" by AC/DC


Equipment you use:

I use a Pearl drum set, Zildjian cymbals, ProMark sticks, and some DW hardware. I also play an American Fender Strat (guitar) for fun…my ears only.


what's on your ipod:

I am more of an album guy. It varies wildly from Steely Dan to Third Day