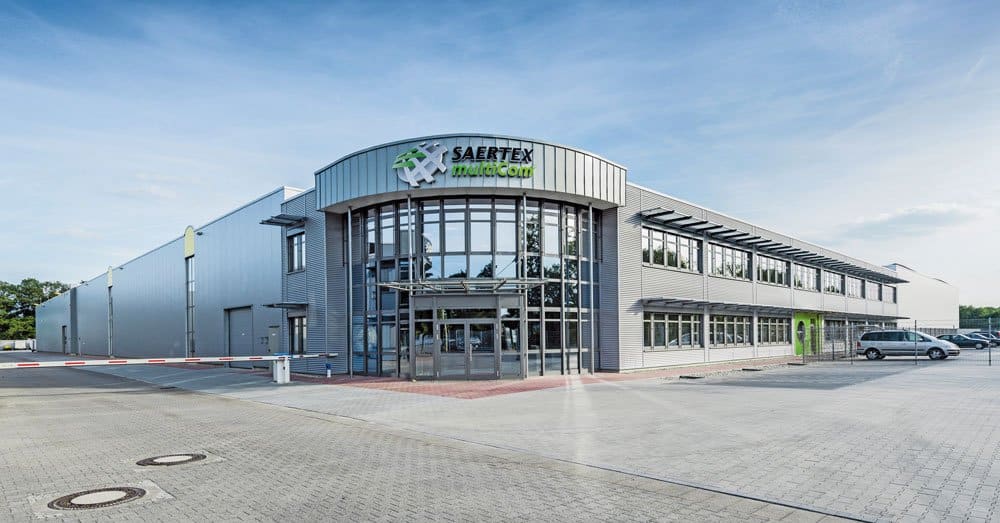 Cured-in-place pipe (CIPP) has dominated the trenchless pipe relining market for more than four decades, in particular steam curing with felt liners. Today, the pipe relining market offers more choices when using the CIPP method, with one using ultra violet light (UV) becoming increasingly popular in recent years.

SAERTEX GmbH —a German manufacturer of glass, carbon and aramid fiber products — took notice of the sewer rehabilitation market some 20 years ago and believed it could push the CIPP sector even further by developing glass fiber-reinforced liners as a better option than felt. It created SAERTEX multiCom in 1994 to lead the way in the manufacture of their liners.
And so, began the company's journey into trenchless technology and UV CIPP lining.

Arriving in North America in 2008, today SAERTEX multiCom manufactures more than a half a million feet of glass fiber-reinforced liners annually from its manufacturing facility in North Carolina; company officials project an even brighter future as the UV CIPP market continues to gain in popularity and acceptance by municipalities and owners.
Leading SAERTEX multiCom is general manager Mark Hallett, who nurtured his respected trenchless roots through his 30-plus years working on the contractor side. He took hold of the subsidiary's reins nearly 10 years ago and has guided it through its growth in North America, as well as South America. He credits the success of the company in North America to the product, of course, but also the leadership of the parent company that brought the SAERTEX-LINER product here.

"Our owner is the spirit of the company. We also have a great senior management group in Europe that oversees SAERTEX globally," says Hallett.
SAERTEX multiCom started out by offering customers two liners designed for small and large diameter pipe. Today, the company touts six lining products, covering pressure pipe, water, gas and laterals. Arriving in 2018 is a new manhole lining system. In 2013, the company partnered with Inliner whereby SAERTEX builds the liner tubes and Inliner handles the impregnation on projects.

To date, SAERTEX has installed more than 10 million ft of SAERTEX-LINER worldwide. Since locating in the United States, SAERTEX multiCom has installed more than 2 million ft.
"When we started nine years ago [in North Carolina], we were producing under 5,000 ft of liner for the United States," Hallett says. "Today, we are producing well over half a million ft annually and we are growing. Not too many people knew about the UV market in the United States in 2009. Today, although there is still a lot of education that needs to be done, we have gone from those early days of 5,000 ft.

"In the last nine years, SAERTEX multiCom has grown fivefold. Impressive considering that most of our growth has taken place in the last five years," Hallett notes.

Company History
SAERTEX multiCom GmbH is a 100 percent subsidiary of the Münsterland family company SAERTEX GmbH & Co. KG. With the use of glass, carbon and aramid fibers, SAERTEX GmbH has become, over the course of its 36-year existence, the world's leading manufacturer of fiberglass and carbon products. Before expanding into the world of trenchless technology, SAERTEX made its mark using these products for various applications in the production of wind energy, shipbuilding, transportation, aerospace and sporting goods (such as skis and snow boards). Headquartered in Saerbeck, Germany, the company has 14 locations in 10 countries in five continents, employing more than 1,400 workers.

During the early 1990s, pipe relining and trenchless technology were not commonly known, let alone talked about. Open-cut was the conventional method used by municipalities and utility owners around the world. Felt liners and CIPP were relative unknowns; UV curing and glass fiber reinforced liner even lesser known options.

But SAERTEX had the vision to develop a liner of glass fiber reinforced material for sewer renovation. There were already some such liners in the market but SAERTEX founder Bruno Lammers believed he could do better and went to work to develop his company's liner.

"Bruno [Lammers] was already curious about this market and decided to use the extensive know-how in the production of glass fiber in the area of sewer rehabilitation and produce a tube of glass fiber liner mats," explains Hallett. "Production of glass fiber and infused liners has been enhanced via independent development of infusion technology, which is still unique in the world today."

SAERTEX dove in to research and development of its glass fiber reinforced liner to exceed the offerings on the market. Due to the success of a subsidiary for the production of SAERTEX-LINER, the present SAERTEX multiCom GmbH was established in 1994, along with a new administration and production building based on the grounds of the parent company in Saerbeck, SAERTEX, like everyone else, made liners for steam cure use and until 1996, were making liners for both steam- and UV-cure relining.

The felt technology and steam cure relining method had been a staple in the trenchless industry since the 1970s when it was introduced to the world by Insituform. After the patents held by Insituform expired, the market really opened up. SAERTEX was one such company to take advantage. "When the glass fiber steam/UV cure was born, [UV technology] started to take market share, albeit a small amount, in Germany, which spread to other parts of Europe," Hallett says. "At one point felt technology was producing and selling and installing more than UV technology and then in about 2002, it started to overtake and UV was stronger in Germany than felt."

SAERTEX multiCom arrived in the United States in 2008, establishing itself first in Littleton, Colorado, and eventually moving its operations to Huntersville, North Carolina, producing liners for the North America and South America markets. Initially just a distribution center for the SAERTEX-LINER, the facility didn't start producing liners itself until 2013. "We were initially producing the liners in Germany, shipping them to North Carolina, and then distributing them from there," Hallett says. "What we were doing was building our business to the point in which the owner of the company said 'Now, I will invest several million dollars to produce liners in the United States."

Hallett came aboard the SAERTEX team in 2009, after working in the trenchless industry for most of his professional career. While he was at Miller Pipeline, which utilizes the gamut of trenchless methods, he began researching UV CIPP technology to add to the company's repertoire of offerings. After two years of researching the various UV technology available, he had decided to partner with SAERTEX multiCom. Then, something surprising was offered to Hallett that he couldn't pass up.

"Both myself and SAERTEX had come to know each quite well given the many meetings leading up to this time. However, I was quite surprised when Bruno Lammers offered me a position with SAERTEX," Hallett says. "SAERTEX realized to be successful in the United States, they needed someone from the United States to build their business. It turned out, I was that person. I had learned so much about SAERTEX and this new technology I knew I had to be a part of it."

Lammers was impressed with Hallett's experience, connections and knowledge of the industry. Hallett helped create the International Pipe Bursting Association through NASSCO and became its first chairman. He also served on the NASSCO board of directors and also served on the NASTT board of directors — two of the key organizations that serve the trenchless technology industry.

"[Lammers] wanted to be in the United States for a few years and had tried to enter the market a few times, managing it from Germany," Hallett says. "But they had challenges. First, they were bringing product to a market that had no idea what it was and, secondly, trying to manage it from Germany."

RELATED: Trenchless Under I-70: ODOT Project Calls for Saertex's Largest UV Liner

The first two liners introduced to the North American market were the SAERTEX-LINER Type M (small diameter) and Type S (large diameter). In the beginning, Hallett and SAERTEX multiCom spent most of its time and energy, educating and introducing the liners to the North American customer. While the UV market was taking off in Europe, little was known of the UV CIPP process and technology in North America, with municipalities and utility owners sticking with either open-cut or the more known felt/steam cure method. Hallett and SAERTEX multiCom knew they had a good product.

"The UV market in North America has grown tenfold since 2009, with most of the growth coming the last five years. It really started gaining traction in 2012," Hallett says. "Up until that point, there was a lot of education being provided. And not just by us but the UV CIPP industry. There were a lot of meetings with engineering firms, PowerPoints, lunch-and-learns and working with municipal professionals and decision-makers."

The UV industry's persistence to bring this technology to the CIPP industry has paid off — and then some. Hallett says that the UV market shows no sign of slowing any time soon. "It's a great technology. I always introduce it as the next generation of lining," he says. "We've had steam and felt liners that have been a staple of the [CIPP] industry for 40-plus years. This is the next generation of liners: they are better, stronger, faster curing, more predictable and a higher quality."

Hallett says the benefits of using UV CIPP and glass fiber-reinforced liners are what is pushing the growth of the UV market. He points to several factors. "When I was with Miller Pipeline and researching UV, I zeroed in on the ability to inspect the liner from the inside before you ever cured it," he says. "This is so beneficial because before you ever cure the liner, you can check it for the fit finish. Since the liner only cures once you turn the UV lights on, if you ever have to make adjustments or, worst case scenario, remove the liner, you can do so because it hasn't been cured."

Hallett also notes the push to educate municipalities and utility owners on the benefits of UV has been aided in recent years with the expansion of the Internet. People can research on the worldwide web for information about the various CIPP methods and technologies available to them. He also attributes UV CIPP's growing acceptance to a stronger focus on the environment and what is put in the ground.

"There is more information made available to people who have never had it before, thus allowing people to make decisions over multiple technologies instead of just one," Hallett says. "In addition, there are a lot environmental concerns, as well as social concerns about the older methods and open-cut. Anytime you open the ground, you expose or create environmental and social concerns. Cities do not want to have open-cut in their communities."

What Stands Out
Hallett loves pointing out the differences between SAERTEX multiCom and his competitors, which are mainly in Germany. He believes them to be night and day apart, having nurtured a trust and respect from their customers over time. "We listen to our customers and try to develop products around their needs," he says. "We are seeing more requests for trenchless solutions for rehabilitating our aging infrastructure than ever before. Engineers and owners are coming to us for ideas on how to solve their specific problems."

RELATED: Winning in the Wasatch: Small Trenchless Rehabilitation Project in Utah Yields BIG Results

He shares a recent project SAERTEX multiCom with a state department of transportation, which involved helping out some special turtle indigenous to that area. I'll let Hallett tell it: "We had a DOT come to us with a problem with our liner, from an environmental aspect. They love the product but told us there was a problem. Most of the culverts that would be lined are actually aquatic transfer locations. They use them as passage. This area happens to have a rare turtle that during migration has to go through the culverts, which have a grade on them. They were fearful that the turtles would get halfway up the grade and slide back down because our finished product is so smooth and slippery. They asked us: Any way you can build something rougher?"

And they did, although Hallett says he cannot share the details of how they solved this dilemma. "We are fortunate to arguably have the best research and development team in the industry," he says. "When our customers come to us with a problem, our R&D team goes to work to develop a solution."

Future Plans
With the UV CIPP marketing moving full throttle, SAERTEX multiCom intends to be a part of the ride — not just as a passenger but as the driver of the glass fiber reinforced liner technology. "We have a tremendous future," Hallett says. "We are fortunate to be owned by a family company that if you bring them a good idea and have proven it, they will invest in it. They have allowed us a lot of freedom. Because of that, we have been able to continue to grow our product line and improve the products we have.

RELATED: Project of The Year 2016 Rehabilitation Honorable Mentions

"The trenchless market is growing more so than ever before," he says. "The UV market is growing at a tremendous rate. It cannot address all applications for liners. There will always be a need for different liners. But for the UV market, that technology is in its infancy right now in North America and we are growing in multiples."

Sharon M. Bueno is managing editor of Trenchless Technology.