"If we touch a project, we own it" is the motto Chris Ward, owner of NWA Fiber Communications, has built his business on. And over the last few years, his 50-plus-person organization has owned many projects. But NWA Fiber Communications isn't a typical utility contractor. The Harrison, Arkansas-based business started designing fiber networks, which remains integral to Ward's success today.
"When I established Northwest Arkansas Communications 20 years ago, my main focus was engineering fiber networks for cable companies," explained Ward. "Eventually, our services were enlisted in other states, including Alabama, Tennessee, Louisiana and Mississippi, so we shortened the name to NWA Fiber Communications. In those early days, our business focused on developing plans for constructing fiber networks. But now we do everything from developing the plan and securing government permits to installing conduit/cables below ground and in the air, blowing in and splicing fiber lines, and splitting fiber nodes."
RELATED The Delta Directional Formula for Success in the Fiber MarketELATED:
Growing from Natural Disaster
About four years ago, the NWA Fiber Communications team was called to help Comcast and C Spire crews restore services after a major storm that damaged lines in Tupelo and Jackson, Mississippi. "We had our bucket trucks working in the areas, helping to string and splice new lines, and we kept getting asked why we didn't do install work," Ward said. "Helping communities recover from natural disaster events led us to the decision that maybe there was more we could offer to utility companies. So, we scaled up our operations to include fiber node splitting, and our services quickly ramped up from there."
As Ward and his team took over more operations on fiber projects, NWA went from a subcontractor to a general contractor on several major fiber network expansion projects. Ward said stepping into this role meant being in charge of every project phase, including planning, mapping and installing.
"We had engineers on staff, splicing and splitting teams, and aerial crews, but did not do anything underground," Ward said. "At first, we subcontracted out horizontal directional drilling (HDD) work, but we didn't have the best of luck with the crews we brought in. They couldn't be there when we needed them and, in some cases, didn't live up to the high standards we built our business on. So, we got into the HDD business ourselves."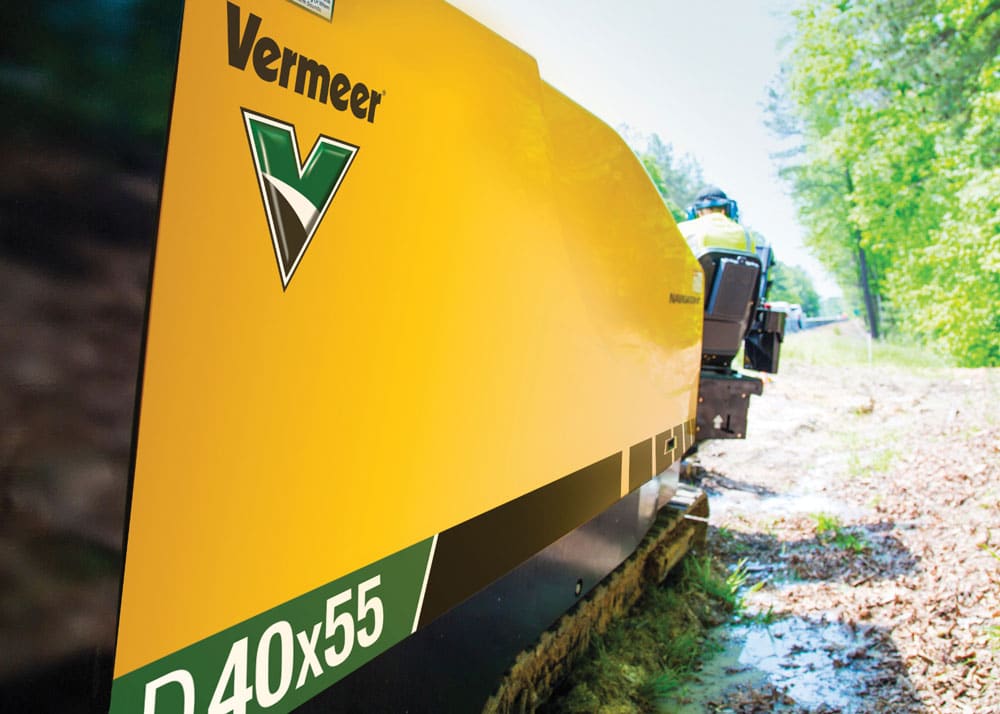 Expanding HDD Operations
Getting into HDD meant adding drill rigs, vacs, mix systems, trucks and trailers. According to Ward, they contacted a nearby HDD dealer to get started. But that wasn't necessarily the right long-term approach for his business. "Those drills purchased right out of the gate seemed okay until we demoed our first Vermeer utility drill," said Ward. "We needed a larger drill for a project we were working on, and the dealer we had been working with didn't have what we needed," Ward continued. "That's when we reached out to the folks at Vermeer MidSouth. They brought out a Vermeer D24x40 S3 HDD, and I think everyone on our crew fell in love with that machine. It felt much more durable, and the controls are intuitive."
NWA Fiber Communication's experience with the D24x40 S3 led them to change direction with their fleet plans. In addition to investing in the D24x40 S3, they have added two Vermeer D20x22 S3 HDDs, a D23x30 S3 HDD and a D40x55 S3 HDD. They also have a Vermeer VX50-500 vac trailer. "We've been slowly selling off our other drills as we ramp up our Vermeer fleet of drills, and honestly, the decision has helped us be more productive on jobs. It's easier to train operators and locators on our current drills than the drills we were operating before, and the service from Vermeer MidSouth has been incredible, no matter where our crews are working," commented Ward.
Drilling on the Job
NWA Fiber Communication directional drilling crews can be found working throughout the region doing small-drop installs in businesses and homes and mainline work and connecting communities together. The company's smaller D20x22 S3 HDDs spend the bulk of their time doing short residential fiber bores, while the D23x30 S3 and D24x40 S3 HDDs perform a lot of mainline fiber shots. Ward said they don't use their larger D40x55 S3 HDD daily, but it plays an essential role for his business. "We use that drill on what our customers call 'specialty shots' — bores that involve installing larger diameter fiber conduit over long distances."
RELATED: Process for Installing Fiber Using Horizontal Directional Drilling
These specialty shots are employed to connect fiber networks across several communities, and when using a vibratory plow or trenching is not an option. "Under roads and railways, as well as environmentally restricted areas, bores have to be longer and, in many cases, deeper," explained Ward. "Our crews use the bigger Vermeer drill for these bores, and most range from 1,000 ft to 1,700 ft with a diameter of 4 in. to 6 in."
On a recent project in Tupelo, Mississippi, NWA Fiber Communications used a Vermeer D40x55 S3 to perform a 900-ft drill shot under a canyon road that reached a depth of 50 ft. "We positioned the drill on the high side of the road and drilled down toward it. Our permits required us to be 20 ft below the surface when we made the crossing, and then we had to come back up on the other side," Ward explained. "
NWA Fiber Communications' HDD crews install thousands of feet of fiber every year, but it's challenging shots they remember most. "With the range of drill models we're running, we have the right sized machine for every job phase — small and large. It's something that I think separates us from other fiber contractors."
Turnkey Operations
Ward has been designing underground infrastructure projects in the area throughout his career and has worked with the department of transportation (DOT), Army Corp of Engineers and all of the utility companies with products on the ground. That knowledge of the land and network of contacts keeps his engineering side of the business busy. In some cases, project engineering may be all that NWA Fiber Communications does on a job. Still, because Ward believes in being as thorough as possible, those plans usually include the GPS location of every road, culvert and any other obstacles that must be addressed during the installation process. So, it makes sense for project owners to enlist NWA Fiber Communications' other services through the rest of the project to help make sure it's done right.
"We've been designing fiber networks for a long time, as well as many other phases of the fiber expansion projects. We may not have been drilling for as long as we've been engineering, but no matter what obstacles we face on any project, we own it. We will see the job through to the end of the construction and be there for any repairs that may be needed in the future. We strive to not only meet customers' expectations but to exceed them with our willingness to go the extra mile. We take pride in all that we do and are looking forward to what the future."
Amy Olsen is a product marketing lead at Vermeer Corp.