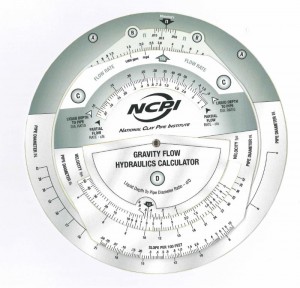 New for 2016, the National Clay Pipe Institute (NCPI) made the wheel version of the Hydraulic Calculator available at its website.
The wheel is is especially in demand among young engineers sitting for the PE exam.
Hyflow online, the original hydraulic wheel calculator, and the new updated version are all based on Manning's Hydraulic Flow Equation. They can be used to solve for pipe diameter, flow rate, flow velocity, depth of flow, slope and capacity.
The NCPI Toolbox can be used to find these values online. Follow this link to the
Hyflow section
.
Requests for a new cardboard hydraulic calculator can be made by following
this link to the NCPI website
. In the last year, NCPI has progress in updating the technical information and tools it provides for the industry.
Also available for download is the updated, 2015 edition of the "Vitrified Clay Pipe Engineering Manual." Available by following
this link, the manual
has received positive reviews among industry professionals.