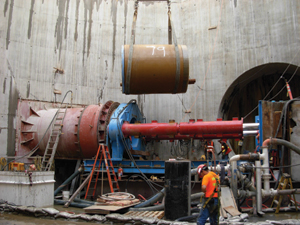 Like the glaciers that carved the landscape of the Pacific Northwest, the population of King County, Wash., has ebbed and flowed. Since the 1960s, however, the population has grown steadily, more than doubling due to the continuing trend of natural increase (births minus deaths) and rising net migration.
Responding to the heavy demand on the existing wastewater infrastructure, which includes two regional treatment plants and 355 miles of conveyance pipeline, King County called for a third regional treatment plant to be online by 2010.
The Brightwater Treatment System will dramatically increase the wastewater treatment capacity of the region. Anticipating growth not only in population, but in users, as septic systems give way and existing residents tie into the sewer system, planning Brightwater required a solution that would reach well into the future. The completed Brightwater system will serve the region for 100 years and beyond.
Brightwater Overview
Comprised of a new 36 million gal-per-day (initial capacity) wastewater treatment plant, a 170 million gal-per-day pump station, 13 miles of conveyance tunnels, several microtunnels, a marine outfall pipeline, two odor-control structures and sampling structures, the Brightwater Treatment System represents an estimated $1.4 billion commitment to the people and to the environment in King County. The conveyance system is expected to account for $435 million of that projected budget, with three separate contracts awarded to construct four tunnels. Planners opted to break up the conveyance tunnel contracts to encourage competition and to ensure on-time delivery of the project. Nearly all of the tunnel construction will employ TBMs between 14.5 and 19.5 ft-diameters, boring between 40 and 440 ft below the surface. In addition to the large-bore tunneling aspect of each contract, each involves microtunneling to varying lengths and purpose. In total, microtunneling will account for approximately 4,500 ft in six segments.
When the above-mentioned glaciers receded, they left two things: breathtaking beauty in the landscape and challenging soil conditions for underground construction. Soil samples discovered deposits from at least three glacial cycles and three non-glacial cycles, resulting in widely varying soil properties in the project area. The tunnel alignment crosses through zones of non-glacial soils, glacial tills, clays, silts and outwash sands and gravels in both overridden and non-overridden deposits. Crossing through both overridden and non-overridden deposits presents a challenge because overridden deposits are typically very dense silty sands and clays, while non-overridden deposits tend to be medium density sands and silts. So challenging is the soil condition that each large bore tunneling contract specifies pressurized man locks and periodic stoppages to inspect and maintained the cutter head and TBM face.
Groundwater presents another design and construction challenge. Another effect of glacial activity in the region is that groundwater conditions vary widely across the alignment and do not necessarily follow the surface profile. As the glaciers advanced and retreated, clays developed and sandwiched between more permeable soils, creating a series of aquifers.
Microtunneling was specified for the influent connectors from the existing trunk sewers in the Swamp Creek Valley and North Creek Valley to portals in the respective valleys in part due to the soil and groundwater conditions previously mentioned. Additionally, while directional drilling and open-cut were considered for the Swamp Creek Valley influent line, space constraints and surface disruption concerns quickly removed these methods from consideration.
East Tunnel Contract
The East Tunnel Contract, awarded to Kenny/Shea/Traylor, a joint venture, in December 2005. It is currently under way and calls for 14,000 lf of 16-ft 8-in minimum ID tunnel containing four pipes and three fiber-optic cables, construction of launch and receiving shafts, pump station excavation and shoring and 2,400 lf of microtunneling.
Woodinville-based Northwest Boring Co. is the subcontractor on the microtunneling portion of the contract. The design specified a 72-in. jacked-in-place pipe to bring wastewater to the new pump station before it is sent to Brightwater for treatment. With the tunnel running 65 ft deep, surface disruption is minimal, only occurring at the jacking pits used to launch and receive the tunneling equipment.
Northwest Boring Co. chose a Soltau RVS800AS for the microtunneling drive. According to Dennis Molvik,vice president of Northwest Boring Co., this machine was used previously on the Tolt Pipeline No. 2, Phase II and III for the City of Seattle, which included a 1,440-lf drive that is believed to have set a microtunneling record in the United States for the volume of material excavated.
The work includes three drives: 912 lf, 1,178 lf and 306 lf. Northwest Boring Co. is installing 72-in. polymer concrete pipe manufactured by Al Watani Factory for Fiberglass Co., Kuwait.
Central Tunnel Contract
The Central Tunnel Contract includes two tunnels approximately 11,600 and 20,100 ft long, piping 3,400 lf of influent sewer (microtunnel and open-cut) and portal structures at the North Kenmore and Ballinger Way portal sites. Vinci Parsons FK, a joint venture, was awarded the contract and began work in 2006.
The microtunneling portion of the job was subcontracted to James W. Fowler Co. of Dallas, Oregon. The microtunnel requires two drives, one 750 lf and the second 830 lf. Fowler is using a Soltau RVS800AS to make way for 60-ID polycrete pipe. A slurry machine such as this is well-suited for the soil conditions described above.
West Tunnel Contract
Jay Dee/Coluccio/Taisei, a joint venture, won the West Tunnel Contract in February 2007 and began work onsite in May. This portion of the project includes construction of 21,100 ft of 13-ft min. ID tunnel, 2,500 ft of which will be secondarily lined, 540 ft of 84-in. microtunneled effluent line, construction of one 35-ft deep portal and a sampling facility.
According to Greg Hauser, project manager for the JV, the microtunneled line will connect the West Tunnel (Brightwater Tunnel 4) to the outfall pipe. Work on the microtunnel is scheduled to start in December using a Lovat MTS 3000 slurry-type MTBM, 88 ID, equipped with soft-ground cutters only.
Mining will be completed in one drive of 500 lf, and the entire run of pipe will be 540 lf. The pipe is specified Hobas 85-in. ID (changed from 60-in. as bid by change order), fiberglass reinforced polymer pipe with flush joints.
While the large bore tunnels have received most of the press on the Brightwater project, enjoying naming and launch ceremonies and so on, microtunneling has and will continue to play a vital role in the overall success of this complex public works project. Boring through the same challenging conditions as their oversized counterparts to connect old to new and everything to the treatment facility, the MTBMs are the unsung heroes of Brightwater.
Greg Thompson is assistant editor of Trenchless Technology.