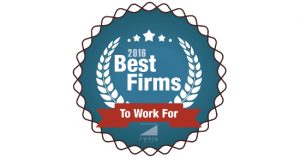 McKim & Creed Inc., a national engineering, geomatics and planning firm, has been included on Zweig Group's 2016 Best Firms to Work For List, which ranks architecture, engineering, environmental and surveying companies on the basis of workplace culture, benefits and employee satisfaction.
"More than one third of our employees participated in the confidential survey, providing insight into what we are doing right as a company and identifying some areas in which we can improve," said Phyllis Elikai, McKim & Creed's chief people officer. "Receiving the employee survey results is the most important aspect of being included in this ranking; it gives us additional feedback to support our intentions to continuously improve and better meet the needs of our employees."
McKim & Creed was recognized in the multi-discipline, civil engineering and surveying categories.
RELATED: Engineering Firm McKim & Creed Expanding in Fort Myers
Firms included in the prestigious ranking are evaluated comprehensively on firm culture, workplace practices, employee benefits, employee retention rates, professional development, and more – both from the management and staff's perspective, according to a news release issued by Zweig Group, a national consulting firm.
McKim & Creed has nearly 400 staff members in 21 offices throughout the United States, including North Carolina, Florida, Virginia, Georgia, Texas and Pennsylvania. For more information, visit the
McKim & Creed website
.