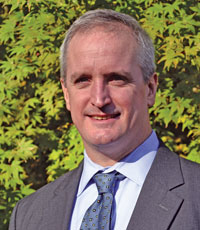 Soon after his initial State of the Union address, President Trump announced plans to introduce a $1.7 trillion infrastructure package to repair the nation's roads, bridges, transit, water and sewer infrastructure.

Weeks later, the infrastructure blueprint was rolled out, including what many considered marginal federal investment while leaving state and local governments responsible for coming up with the bulk of the financing. Importantly, the Trump infrastructure proposal offers ample opportunity for private-sector investment through bonding measures and other financing options.

Recognizing that the White House blueprint is all we've seen in terms of a 'pen to paper' plan, the likelihood of getting an infrastructure package across the finish line in the remaining months of the 115th Congress is not great. However, after decades of water and wastewater systems taking a back seat to other types of infrastructure, "water and sewer" is now included in the same sentence as "roads and bridges," and advocates of increased investment in America's environmental infrastructure are pushing a range of legislative proposals.
RELATED: Point of View: Is 2017 the Year that Infrastructure Trumps All?

"One Agency, One Review" and Increased State Permitting Authority
President Trump's infrastructure proposal would shorten and simplify the approval process for infrastructure projects, starting with a two-year, "one agency, one review" structure for environmental reviews. The plan aims to eliminate redundant and inefficient regulations while still protecting the environment. Firm deadlines would be required to complete environmental reviews and a lead agency would be expected to manage the review process and make a decision within 21 months or a "finding of no significant impact." Other federal agencies with a role in the process would then have an additional three month to weigh in on permits.
While streamlining the permit approval process will offer more for natural gas and oil pipeline projects, updating the permitting process will help get important projects related to a range of infrastructure improvements off the ground.

PABs and Private Investment
Since initial cuts were made to EPA's State Revolving Fund (SRF) programs under the Bush Administration, many water infrastructure advocates have identified and lobbied for more opportunities for private investment in water and sewer infrastructure. Private activity bonds (PABs) have been available for financing a wide range of infrastructure projects, including water and sewer improvements, for a long time. PABs represent a long-standing partnership among federal, state and local governments in building and maintaining the nation's public infrastructure.
PABs for governmental purposes and for qualified private activities provide lower cost capital for infrastructure because of the exempt status of the bond. However, because of the "state volume cap" subject to PABs, these bonds have not reached their potential purchasing power. Based on population, the cap limits the number of PABs that can be issued in a given state. Because most PAB dollars go to public housing or other projects that are considered more politically attractive, water and wastewater projects receive under 2 percent of available PAB resources. Removing the state volume cap on PABs for water and wastewater infrastructure would increase private capital investment and enable more public-private partnerships (P3s), which not only optimize the development, construction and long-term operation of a project, but generally shifts the cost, risk and long-term debt from the public entity (i.e. municipality) to the private investment partner.

RELATED: Industry Associations React to President Trumps' Newly Unveiled $1.5 Trillion Infrastructure Plan

To increase PAB effectiveness, the White House plan would "remove the population-based volume cap applicable to PABs for public purpose infrastructure projects of the types covered by this proposal that have the requisite public attributes would level the playing field between public and private service providers."

The proposal also calls for expanded eligibility of PABs to include several other Infrastructure categories, such as storm water facilities, hydroelectric power generating facilities, and projects to expand rural broadband service. Many Infrastructure advocates have been calling for these policies for a long time.

WIFIA Adjustments
The Water Infrastructure Financing and Innovation Act (WIFIA) established a federal credit program administered by EPA for eligible water and wastewater infrastructure projects. While WIFIA is currently authorized to fund almost any water project, EPA lacks authority for flood mitigation, hurricane and storm damage reduction, navigation, environmental restoration, and other responsibilities. This unnecessarily carves out certain water projects from receiving WIFIA loans. Therefore, the Trump plan would amend the law to to include flood mitigation, navigation and water supply so that EPA can service the full water cycle through WIFIA loans and provide one streamlined and integrated lending process.

Again, the outlook for quick action on an infrastructure package is grim. Although Speaker Paul Ryan (R-Wisc.) indicated the House package would be rolled out in five or six different bills, his subsequent announcement that he would not seek reelection this year only presents more challenges to advance an infrastructure bill. Nonetheless, infrastructure is likely to remain a high-profile issue for the rest of the year as we head to the midterm elections and into the 116th Congress next year.

SRF Appropriations Enjoy Bump in 2018 Appropriations
While the Trump infrastructure plan includes favorable provisions for water infrastructure projects, the FY 2018 White House budget proposal included cuts to EPA's Clean Water and Drinking Water SRF program included in an overall 31 percent slash to the agency's budget. In the end, however, the enormous $1.3 trillion government-wide spending bill enacted last month rejected the president's proposed cuts for water and wastewater improvement projects, and provided $8.1 billion for EPA this year, or level funding to FY 2017.

RELATED: Water Research Foundation Publishes Report on Infrastructure Funding

Included in the EPA appropriation is $2.9 billion for the Clean Water and Drinking Water SRF programs, the primary federal funding source to assist state and local governments fund water and sewer infrastructure projects. Another $63 million was provided for the WIFIA program this year.

While the jury is still out on how effective the Trump Administration and the will be in addressing America's dilapidated infrastructure, his rollback of many Obama-era regulations, as well as significant adjustments proposed to update the project permitting process, have to been considered by many as positive developments. While Congress has taken marginal steps to increase resources available for infrastructure improvements, a tremendous amount of work remains to come up with a plan to finance a trillion-plus dollar infrastructure bill.