April is National Safe Digging Month – a time dedicated to emphasizing the importance of excavation safety while on the job site.

Join us in spreading awareness by sharing some safety best practices:
Locate Underground Utilities
On the forefront of safe excavation projects is knowing the location of underground assets. Using one-call services such as 811 is key, as is verifying location information with additional utility locating efforts such as using electromagnetic locators.

RELATED: PRO Tips & Product Showcase – Utility Locators
Follow Trenching Protocol
Per the General Requirements Section of OSHA's Subpart P, it is important to remove/support surface encumbrances, follow safe access and egress practices, wear proper PPE, stay clear of equipment loads, provide mobile equipment warning systems, do not expose crews to hazardous atmospheres, control water to prevent cave-ins, protect operators from loose rock, keep emergency rescue equipment on hand, and more.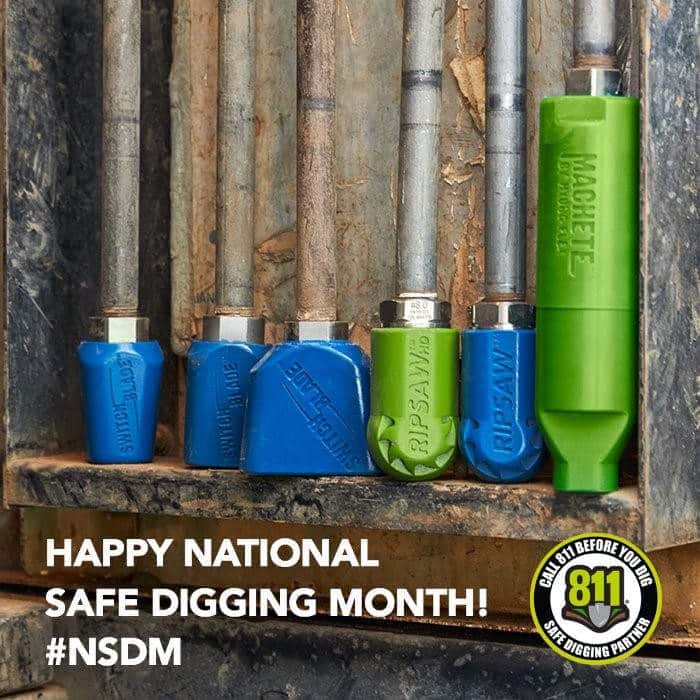 Collapse Education
While the goal of trench safety is to avoid trench collapses altogether, it is imperative that crews are educated on how to respond in the event of a collapse. Ensure to hold a safety training session with your crew to put an emergency plan in place.

RELATED: Cutting vs. Cleaning – Selecting the Proper Nozzle for the Job
Equipment Technology
There have been many equipment advancements in the industry to help with safety in recent years, including new nozzle innovations. Nozzles such as the Ripsaw, Switchblade and Machete were designed with safety and efficiency in mind.

Having these three nozzle types (rotating, static and oscillating) on hand will allow you to always choose the right nozzle for the job, avoid damaging underground assets, stay within water pressure limits, and be protected from utilities with the protective coatings – all while digging faster and saving water.

RELATED: PROduct Showcase – Hydra-Flex Introduces the Marksman

Learn more about these nozzles at hydraflexinc.com or visit the Hydra-Flex YouTube page to see them in action.