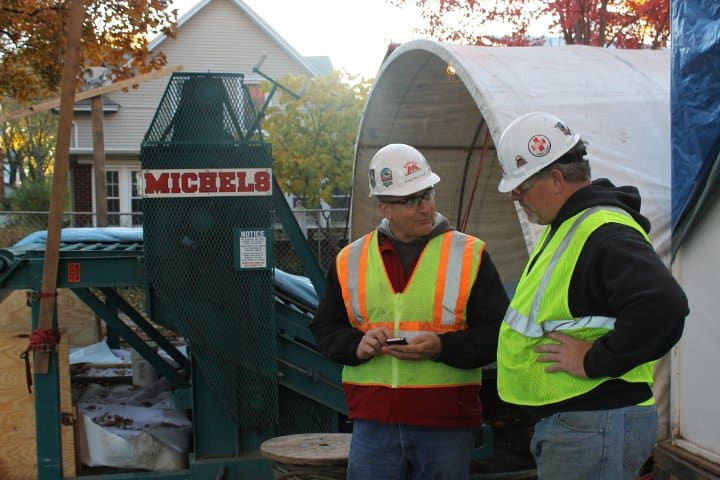 One company acutely familiar to the trenchless market is Michels Corp. The Brownsville, Wisconsin-based company has an active military recruiting program and 3.24 percent of its workforce reported being active duty or a veteran. It is important to note that number could be greater, as the reporting category is voluntary.
"We partner with our local Veterans Employer Representative and Workforce Development Centers to communicate vacancies and ask for referrals throughout the year," says Karen Wuest, vice president, human resources at Michels Corp. Annually, the company attends career events at Camp Lejeune, Camp Pendleton and Fort Hood. Michels Corp. also attends local veteran and military events throughout the states of Wisconsin and Minnesota.

RELATED: Hiring Veterans Into the Construction Industry
One of those Michels Corp. employees who found a career in construction following his service to the country is Pat Herzog, vice president of Michels Pipe Services. Before joining Michels, Herzog served as an engineer officer in the U.S. Marine Corps for more than 20 years of combined active and reserve duty. He's been at Michels Corp. since 2005.

"Speaking from my experience as a veteran, I find great similarities between my time in the Marine Corps and at Michels, including the sense of purpose, common goals and, most importantly, the team work, sense of family and the willingness to work together to achieve a common goal," Herzog says. "Like the military, construction crews rely on teamwork, integrity and loyalty. Our crews work closely together toward a common goal, which is similar to a military unit. Military service also teaches people how to commit to their jobs and their organization; those principles are part of Michels' fabric, too. In addition, many branches of the military are involved in construction and engineering projects, which provides specific training for our industry."
One of the keys to getting veterans to these jobs, as Michels does, is participating in veteran career fairs. Another is to invite the veterans to industry courses to network with companies. With that idea in mind, in 2017 the Microtunneling Short Course organizers established a scholarship program dedicated to U.S. military veterans who are attending college at University of Colorado Boulder (CU) following their service.

RELATED: Salute to Veterans in the Trenchless Industry
Helping the men and women who served in the United States military successfully return to civilian life is near and dear to course organizers Timothy Coss, president of Microtunneling Inc. (U.S. Air Force, retired) and Bernard P. Krzys, CEO Benjamin Media Inc. (U.S. Army, retired).

In 2017, in conjunction with Stewart Elliott (U.S. Navy, retired), Director of the University of Colorado Boulder's Office of Veterans Services, three $1,000 scholarships were presented to veterans and current CU students Bryce Armknecht, Richard Barnitz and Kyle Matheny.

"After their military service and finding their way into college, important decisions need to be made by the veteran and their family concerning their future career path. It's a hard thing to do," says Coss. "Part of what we do at the course is teach members of our [trenchless] community how better to perform for their personal edification and career advancement. This is our way to say thanks to the veterans for the sacrifice's they have made, and open up doors to an industry that they might not have considered."

To help continue this effort, course organizers will once again team up with the Office of Veterans Services at the University of Colorado Boulder to offer up to 10 scholarships for full "course attendance" to the 25th Annual Microtunneling Short Course and Awards Banquet. For more information, visit microtunnelingshortcourse.com/veteran-scholarships.