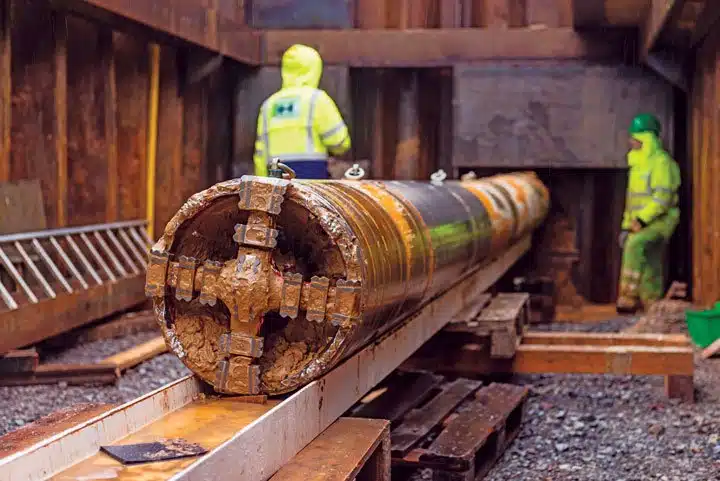 Anyone who has been around underground construction for any length of time is no doubt familiar with Herrenknecht AG. The company and its familiar green equipment can be seen operating in all corners of the globe on projects that include anything from world record-breaking highway tunnels to small-diameter cable installations.
Herrenknecht, headquartered in Schwanau, Germany, made its mark in the underground construction market with its large-diameter tunnel boring machines. In fact, the company leads the way with more than 3,700 completed projects around the world, from sewer and water tunnels to transit and highway tunnels.

Achievements in the tunneling sector include providing the world's largest TBM (a 57.74-ft diameter configuration under the Pearl River Delta in Hong Kong); providing the first-ever variable density TBMs, (in use in Kuala Lumpur); and supplying machines for the Gotthard Base Tunnel, the world's longest tunnel, which was recently built in hard rock deep beneath the Alps.

On the strength of its experience in that sector, Herrenknecht began expanding its product base, first to microtunneling and then to horizontal directional drilling (HDD). As experience in these markets grew, the company began to launch new products to help contractors deal with difficult jobs and meet specific challenges. The products include Direct Pipe, Pipe Express and E-Power Pipe.
Company Background
Herrenknecht AG was founded by Martin Herrenknecht, a mechanical engineer with a background in the design of earth-moving equipment. A 1964 graduate of the University of Konstanz, Herrenknecht became immersed in the tunneling industry when he was hired to help direct a tunneling job in the central Alps, beneath Switzerland's Seelisberg. Over the course of the project, Herrenknecht worked alongside the tunnel boring machine on a daily basis.

When the project was completed in 1975, Herrenknecht returned to Germany and launched his own company, Engineering Service Company Martin Herrenknecht, in Lahr, about 10 miles from his hometown of Schwanau, Germany. After developing machines for mechanical pipe jacking in loose soil, Herrenknecht founded Herrenknecht GmbH in 1977 to focus on equipment manufacturing. In 1980, the company relocated to its present headquarters in Schwanau and, in 1998, became a joint-stock company (AG).
From its humble beginnings, Herrenknecht AG today is a €1.2 billion euro (US$1.4 billion) equipment manufacturer with approximately 5,000 employees working around the globe. The company's equipment line now includes a full range of tools for underground construction, including hard- and soft-ground tunneling equipment, auger drilling, horizontal directional drills, direct-jack pipeline equipment, mining equipment and vertical shaft boring or exploration equipment. Herrenknecht's equipment can be seen operating throughout the world, boring holes in the earth from 4 in. to nearly 60 ft in diameter.

Microtunneling
Herrenknecht's entry into the microtunneling market came in 1985 with the help of a government-sponsored 500,000 DM (deutsche mark) research and development program for microtunneling, followed by the sale of its first microtunnel boring machine (MTBM) – an AVN 600 – in West Berlin, which at the time was the largest microtunneling market outside of Japan. By 1997, Herrenknecht had sold 50 microtunneling systems in Berlin alone and upward of 70 in Germany.
This success led the company to expand outside Germany, eventually leading to the establishment of a U.S. branch. In the last several years, U.S. contractors have used Herrenknecht equipment for noteworthy projects including the U.S. record-setting 3,000-ft drive completed in 2008 by Kiewit as part of the East Side CSO project in Portland, Oregon, and the first curved drive in the United States, a 600-ft drive completed in 2010 by Northeast Remsco in Hartford, Connecticut.

More recently, Ward & Burke Tunneling completed a 2,722-ft multiple-curve drive for the Kingsbury Run Culvert Repair project in Cleveland, Ohio, setting a new record for a curved drive in North America.

RELATED: Ward and Burke Completes Longest Curve Microtunnel in North America

"Microtunneling has been established as the preferred method for installations in urban environments," said Gerhard Lang, business development manager-utility division at Herrenknecht AG. "Now we are seeing more of a demand for longer drives and longer curved drives."

"Initially there was some hesitancy in using and designing curved drives in the United States, but since we have successful examples, they are becoming more and more popular. Curved drives provide tremendous benefits in allowing the alignment to stay in the most favorable ground conditions, avoid settlement-sensitive buildings and structures, and stay within easements and rights of way."

One of the keys to achieving longer drives, Lang says, is keeping jacking forces at a minimum. "Pipe jacking is all about properly lubricating the annulus around the pipe," he said. "We had a major focus in R&D over the last few years to minimize frictional loads, and we designed a soil adjusted bentonite lubrication system through which the operator can optimize the lubrication system according to the current soil conditions."

Additionally, advances in guidance systems have helped improve the accuracy of the machines as they span longer distances. "We have seen incredible improvement in guidance systems, especially in smaller diameters," Lang said. "Larger diameter tunnels are more accessible so crews can go in and manually double-check and calibrate the guidance. But in smaller diameters that is not possible."

One recent innovation is an optical gyro navigation system developed by VMT (a Herrenknecht subsidiary), which allows high accuracy for small- diameter, non-manned entry tunnels.

To help cope with a need for longer drives, the company is continuing to find ways to reduce jacking loads to help minimize the use of intermediate jacking stations, which add cost to a project and reduce efficiency. Additionally, improved cutting tools will help contractors cope with the wider range of ground conditions that come with longer drives.

Horizontal Directional Drilling
Horizontal directional drilling was originally developed in the 1970s in the United States, and spread throughout the world based on its ability to accurately install underground utilities with minimal surface disruption. Given Herrenknecht's niche in the underground construction business, entering into the HDD market seemed a logical step.

Since it entered into the market, focusing on the maxi and mega rig sector with pull forces between 60 and 600 tonnes, Herrenknecht has developed new tools to help push the industry forward. One tool is the Pipe Thruster, a clamp-like device that was developed for longer drives to provide an extra push to prevent the pipe string from getting stuck in the ground.

More recent is the new HDD Full Face Hole Opener that enables the HDD contractor to ream from pilot bore to the final diameter in one single step, even through the hardest formations. The Full Face Hole Openers can be easily redressed in the field with various types of cutters for different geological conditions.

It is also well known that one of the major challenges in HDD is to transport the cuttings from the bit or reamer through a long horizontal section by using the borehole as a pressure line. The existing problems with remaining cuttings left in the borehole led to large overcut dimensions to avoid pipes getting stuck during pullback. Excessive pumping of mud can lead to frac-outs due to the high pumping pressure inside the borehole.

RELATED: Herrenknecht's New Full Face Hole Opener in Theory and Practice

The newly developed Downhole Jet-pump system (DHJP) enables the transport of cuttings inside the drill string, instead of using the borehole, directly to the separation plant. Thereby not only the cutting sizes and the rate of penetration can be maximized, but also the risk of frac-out is minimized with much less requirements for the overall mud system.

The new generation of HDD tooling will reduce the environmental impact, drilling costs and project duration, while widening the application range for the HDD technology on pipeline crossing projects.

"These innovations have helped make the HDD process more effective," said Michael Lubberger, Herrenknecht senior product manager for pipelines. "What we are seeing next is a push for reduced emissions and reduced noise. As a result, we are developing a hybrid HDD rig that can run off electrical power to make them quieter and emission-free."

New Technologies
Through its work with microtunneling and HDD, Herrenknecht has been able to use its developments in those fields in new ways. Specifically, the company has introduced new products that were borne out of other product lines, including Direct Pipe, Pipe Express and E-Power Pipe.

Direct Pipe
Direct Pipe is a new installation process developed by Herrenknecht that combines microtunneling and directional drilling. The excavation is done using an AVN microtunneling head in combination with a pipe thruster from the surface vs. a shaft-launched pipe jacking unit. The steel casing behind the microtunneling head means that slurry is contained and the risk of frac-outs is minimal.

The first project was completed in 2007 under the Rhine River, and then the technology was brought to the United States in 2010, where REM Directional Inc. used it successfully to cross Highway 70 in Florida. Since then, almost half of the Direct Pipe projects worldwide (about 40 of 90) have been completed in North America, including a world-record installation of nearly 5,000 ft of 42-in. pipeline recently completed by Laney. In addition to the record length, the project included a sea outfall in the Gulf of Mexico.

"The Direct Pipe method fits nicely between microtunneling and HDD where you have highly permeable soils that have a high probability of frac-out," Lang said. "As a result, Direct Pipe has become well established in North America." In fact, the method was approved by the U.S. Army Corps of Engineers for use on and under its levies.

Like the microtunneling market, Herrenknecht sees a future need for smaller diameters and longer distances to help facilitate the growth of Direct Pipe.

RELATED: First Direct Pipe Project Completed in Poland

Pipe Express
While not exactly trenchless, the Pipe Express method certainly equates to less trench. Pipe Express is designed for near-surface installation of pipelines. Pipelines of up to 2,000 m (6,500 ft) in length and with diameters of 900 to 1,500 mm (36 to 60 in.) can be installed in a single-step procedure. Again, it combines existing technologies to create a new approach.

With Pipe Express, a microtunneling machine loosens the soil that is then directly conveyed aboveground using a milling unit that is carried along. At the same time, the pipeline is installed underground.

The significantly narrower route enables the earthwork to be reduced to a minimum with this construction method and no groundwater lowering is necessary. This means that Pipe Express has a far lower impact on the environment compared with the conventional open-cut construction method.

"There is a lot of interest in Pipe Express currently, particularly related to the Trans Mountain Expansion pipeline project in western Canada," Lang said. "They have challenging ground and tight easements that are well suited to the Pipe Express method."

E-Power Pipe
E-Power Pipe is closing a gap in the technological range and allows the installation of very small diameter pipes (excavation diameter of 505 mm/20 in.) over long distances (more than 1,000 m/3,300 ft). Advances in microtunneling guidance systems in combination with the jet pump first developed for HDD are key to making the E-Power Pipe process a reality.

Also instrumental to the development of E-Power Pipe is the German government's decision to eliminate nuclear power by 2025. As a result, there is a need to transport power from wind farms in the northern part of Germany to the southern part.

New features necessary to achieve this include:



Muck removal integration of a jet pump as a slurry pump. This proprietary development from Herrenknecht AG facilitates a conveying capacity of 1,000 l/min while simultaneously requiring very little space. The use of a jet pump for the handling of the excavated material means it is now possible to achieve up to 10 times longer drive lengths in the small diameter range than before.

The hydraulic unit integrated in the tunneling machine itself eliminates the coupling of hydraulic lines otherwise typical at this construction size, along with the associated losses of performance.


A measurement system for precisely maintaining the bore alignment. This continually determines the position, direction and tilt of the tunneling machine. The measurement system aims toward a magnetic field generated on the surface level, and is thus also suitable for very long drives. It had to be located at some distance to the cutterhead and now is supplemented by a gyro system in order to additionally receive data from the very front of the machine in order to be able to react very fast to any change of the direction.


The development of new, extended jacking pipes that allow a practically continuous advance. Also the handling of the coupling and de-coupling/pairing of these jacking pipes had been in the focus: the faster it is, the faster the whole method would be. Herrenknecht also developed an appropriate jacking frame especially for these jacking pipes with a 10-m stroke and a thrust force of 350 tonnes.

Herrenknecht successfully completed a pilot project in Borken, Germany, in 2017, with the installation of three parallel 1,000-ft bores. Currently another pilot project is under way with a third planned for February 2018.


Teamwork
Of course, developing technical solutions is only part of the equation. Without teamwork and the willingness to provide support to customers, the best technologies can fail.

"Herrenknect works with us to design and adapt equipment to meet the ever-changing needs of the oil and gas industry," said Matt Smith, Direct Pipe manager, Michels Corp. "Their products have allowed us to push the limits of technology and develop new means and methods for using Direct Pipe."

And support doesn't stop at the point of sale, according to Jwala Raj Sharma, Senior Project Engineer for Mears Group Inc. "During project execution, Herrenknecht provides their most experienced personnel including operators and electricians. We draw on their experience to execute the projects in smoothest way possible, as well as training our in-house personnel. They have been integral part of planning our projects. During execution, they bring in greatest value in setting up and testing equipment."

Ward & Burke Tunneling, based in Toronto, was instrumental in re-introducing microtunneling to the Canadian market and has also been on the leading edge of curved drives in North America. The company relies on Herrenknecht machines for its projects.

"At present, they are the industry leader in equipment technology," said John Grennan, Director, Ward & Burke Tunneling. "For example, the current products, through advanced communication systems, provide extensive data on every operating function of the equipment. This allows the site team to continuously analyze the performance during construction vs. what was anticipated at design. Immediate correction of tunneling parameters can take place if discrepancies are found in the data to prevent construction problems. Huge advancements in integrated automated lubrication systems have allowed the construction of long microtunnels at very low jacking forces."

As the need to replace and build new infrastructure will continue over time, so will the need to find improved methods of building them. And you can bet the engineers at Herrenknecht are already thinking about the next big innovation.