When infrastructure across the country is concerned, there's always room for improvement. The Environmental Protection Agency estimates that there are more than 20 million sanitary sewer manholes in the United States, with approximately 4 to 5 million of these structures in poor condition and requiring some sort of immediate repair. With staggering numbers like those, companies are eager to fill the need for a solution — flooding the market with options.
"The manhole rehab market is very competitive," says Sims Rhyne, president of SpectraShield, a multi-layered manhole lining system. "The Trenchless Technology Center at Louisiana Tech University currently lists more than 40 products and techniques available for manhole rehabilitation. These products fall in four primary categories — cementitious coatings, polymer coatings, cured-in-place liners and preformed units."  
Since there are many players in the market and the need for repair is high, standing out from the pack is important. It takes a strong product with even stronger benefits to distinguish itself in an industry swamped with competitors. Rhyne, who joined the company in 2001, notes that the uniqueness of the SpectraShield Liner System is in the many benefits it has to offer customers. With its quick and easy application, the system supplies a convenient solution to a growing problem facing municipalities.
But creating the SpectraShield system didn't happen overnight. The multi-layered liner system has a rich history built on the need to restore and protect manholes in a timely and cost-effective way. Before municipalities could take advantage of this rehab solution, the founder of SpectraShield — both the product and company — actively sought out the technology to successfully resolve manhole deterioration.  
Developing a Solution
The development of the SpectraShield system began more than two decades ago with Jamie Hume, the company's founder. Hume, who grew up in the coatings business under his father's guidance, went on to work for an underground utility contractor in 1980. While working on a particular project for the company, Hume was motivated to discover a product suitable for manhole rehabilitation.
After seeing the damage done, Hume came to the conclusion that there had to be a better way to preserve and repair manholes. In an attempt to rectify the problem, Hume formed a company called Concrete Conservation Inc. in 1989, to develop a unique coating system specifically to address the problems associated with manhole rehabilitation and restoration.
From 1989 to 1993, Concrete Conservation worked as a subcontractor doing various coating projects around the Southeast, while Hume continued to develop the technology that would lead to the SpectraShield Liner System.
Hume designed and created the SpectraShield Liner System — a multi-layered liner system — specifically for trenchless application to wastewater structures. The multiple layering process eliminates groundwater intrusion, restores a structure's profile and prevents corrosion to the structure, notes Rhyne. In February 1993, SpectraShield was used to coat its first structure, and now 16 years later, more than 2 million sq ft of the product has been applied.
"Rather than taking an existing technology and making it fit as a trenchless solution, SpectraShield was developed solely to address the problems found in wastewater structures," says Rhyne. "The first patent was issued for the SpectraShield system in 1997."
SpectraShield has set up shop at its corporate headquarters in Jacksonville, Fla. For its first several years of business, activity was focused on Florida and southern Georgia. In 2003, an aggressive expansion plan began and resulted in operational centers in Houston and Denver, as well as Jacksonville, along with a network of eight licensed application companies. Today, SpectraShield is being applied in 29 states, Europe and Australia.
"For the most part, our customer base is comprised of municipal utilities, although we do have some private utility and industrial customers," says Rhyne. "Our U.S. installers are strategically positioned in 10 cities across the country for ease of project mobilization. The entire continental United States can be accessed within a day's drive from one of our locations."
SpectraShield is also used in parts of Europe and Australia. In 2007, the lining system was targeted and requested to be brought overseas. Currently, SpectraShield has an installer based out of Germany to cover parts of Western Europe and an installer in Australia. Then, in 2008, SpectraShield signed an agreement with Insituform Technologies, making the company the exclusive independent sales representative for SpectraShield Liner Systems.
"SpectraShield is a unique system that no one else can install except for our applicators," says Rhyne. "The system is chosen since it not only repairs the damaged manholes, but it also prevents any further corrosion and water infiltration."
With a proven system and licensed applicators, promoting the product and industry are especially important. Even though the United States is experiencing difficult economic times, SpectraShield works to continuously better its lining system through research and development, as well as make municipalities aware of how the product could benefit their infrastructure.
Promoting Trenchless
Although manhole rehab is a pressing issue for most municipalities, funding is a definite challenge for the market — both today and in the past. With the economy still in a downturn, the main obstacle facing the market is providing municipal owners with a quality product to meet their rehab needs for the best economic value.
"Most municipal budgets are driven through a combination of tax dollars and water and sewer rates to generate their revenues," says Rhyne. "With this ailing economy, property tax values are down therefore tax revenues are down for many municipalities. Budgets have been tightened and they've been squeezed in a lot of places. Contractors across the United States are facing the reality that budgets are tighter this year more than they have been in the past."
As for the economy bouncing back, Rhyne notes that it's too early to make any predictions on when the industry will experience a surge. "No one really knows at this point," he says. "It's different from geography to geography and market to market. But until people in the industry see revenues rebound and maintain a consistent pattern of growth, I don't think anyone can really predict when the economy will start looking up."
One advantage SpectraShield has in this challenging time is that using trenchless offers customers a more convenient and less expensive option — a must when budgets are cut. Quick turnaround, low cost and effective results are all characteristics of choosing this particular rehabilitation method.
"In almost all cases, it is less expensive to use a trenchless repair method," says Rhyne. "Dig-and-replace is expensive and inconvenient to the customer, surrounding businesses and neighborhoods. It's also a much longer process, whereas trenchless methods for pipes and manholes are generally pretty quick. The downtime, inconvenience and cost to the customer are all brought to a minimum."
One main focus of SpectraShield has been listening to its customers and thoroughly communicating throughout the sales process. Rhyne explains that SpectraShield places high value on customer relationships. Making sales calls and providing excellent customer service are imperative to maintaining a successful company. When introducing SpectraShield to a potential client, the company finds it incredibly important to describe its uses and benefits.
"There are a lot of products out there and if you don't distinguish yourself from the competition, you're not going to be successful," says Rhyne. "It doesn't matter how good your product is, if you're not out there promoting it, success just doesn't happen."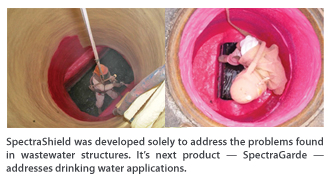 Another important aspect of SpectraShield and its namesake product has been research and development. To stay on top of the latest trends and technologies, the company is constantly allocating money every year on R&D, which it feels is important to effectively serve customers who are "looking for better and more cost-effective solutions," says Rhyne. SpectraShield also has its own laboratory and test area where it is able to test new products and technologies.
"Because the company's heritage is based on patented technology, it has continued to pursue improvements, enhancements and new product development," says Rhyne. "Jamie Hume has been awarded a total of five patents related to trenchless or coating technology.  It's really quite simple — everybody wants the best available product at the lowest possible cost. Our research and development effort is focused on methodologies and product developments that make the SpectraShield Liner System more valued by more customers."
The intensive R&D process has also led SpectraShield to its latest product. To accommodate a wider range of customers, the company is releasing SpectraGarde, a new potable water coating system that is suitable for drinking water applications. SpectraShield will be introducing the new system at this year's WEFTEC show in Orlando — a venue it finds useful in networking with past and potential clients.
"As a company, we think tradeshows are very beneficial," explains Rhyne. "From larger shows like
WEFTEC to statewide WEF shows, these are great venues to see existing customers, exhibit your product and make it aware to people who may not have heard about it. We do over two dozen shows a year all across the country."
With the need for repair high and municipalities searching for a quality product at a low price, there's plenty of competition in the manhole rehab market. Through continuous R&D and product promotion, SpectraShield answers the call for a budget-friendly and effective solution. By developing a patented lining system, the company is able to fill the needs of its customers and successfully help restore and protect manholes from corrosion and water infiltration.
"Manhole rehabilitation excellence is our goal at SpectraShield," adds Rhyne. "Anything else is unacceptable."
Pam Stask is an assistant editor of Trenchless Technology.