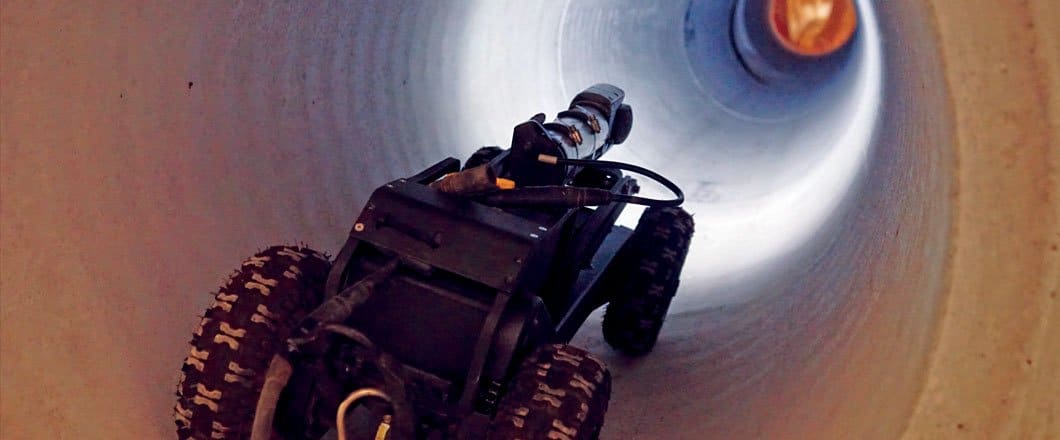 It would stand to reason that the four steps to a successful trenchless rehabilitation project are clean, inspect, assess and repair. Some might flip the cleaning and inspection component, but that's for a different article.

For assessing the underground systems – whether storm, sanitary or water – using crawler robots with cameras is the leading methodology. These eyes underground, are a necessity of the industry because the system owners – whether municipal, public or private utility – need to see what is going on in the system before effectively repairing, or trenchlessly-replacing, the pipe. And the systems are needed at the end of the project to verify that the work was done properly and to industry standards.
RELATED: Pennsylvania City Turns to Sewer Inspection Software to Upgrade its GIS Department

And it's not just the big owners. There is such a variety of inspection equipment available that small- to large-sized contractor and system owners can build a package to suit their needs.
Long gone are the days of black and white systems rolling footage to tape and even burning the data to DVD is on its way out. Today's systems boast an array of full-color technologies that early inspection system designers couldn't even imagine. In the last decade the industry has seen the rise of panoramic camera systems, high-efficiency LED lighting, laser profiling and underground mapping capabilities and lateral launching to name a few.
"In general, the equipment has become more lightweight, compact, easier to control and better picture quality," says Cloud Zhang, P.Eng., andrews.engineer, an Ontario, Canada-based engineering company that specializes in sewer asset management. "The addition of pan-and-tilt and steerable capability has significantly improved inspection quality and details. Newer cameras with high definition (HD) capability captures more detail than before."

These advancements and many others are giving the owners a better idea of what is going on below ground.
Improved Technologies
"Yes, the technology has changed, but so has the equipment durability. The expectation is there that the equipment not only has to be better, but more durable," says Kevin Kelly, regional sales representative, Jack Doheny Companies. "When this equipment was first used, there was almost an expectation – because you were taking sensitive electronic equipment into a harsh environment – that the equipment would suffer some downtime."

RELATED: Up to the Task: Andrews.engineer Empowers the Industry Via New Toronto Training Centre

Kelly, who has worked in the sewer inspection end of the industry for more than two decades – first on the contracting side and now with Jack Doheny Companies – notes that one of the biggest drivers for technology change in the last decade has been from German manufacturer IBAK. "The IBAK Panoramo was launched in Europe in 2000 and brought to North America in 2004. It's a paradigm shift in technology that can be compared to Google Streetview for the pipes," he says. "The operator's job changes to data collection. They pilot the camera down a pipe and it captures a series of pictures and stiches it together."

Bob Taylor, director of Langley, British Columbia, Canada-based, Mar-Tech Underground Services, concurs with Kelly. He notes that, in the last decade, the addition of panoramic view, point cloud and laser technology are the greatest advancements in the sewer inspection field.

All of these changes, Taylor says, have been driven by industry demand. Once the camera technology got to a certain point, contractors and system owners began asking what else could be done. Or, in some cases, the technologies migrated from other fields.

Another offshoot of these advancements is that there are more products available in the marketplace offering a wider variety of packages for contractors and system owners to choose from. Someone who may have shied away from purchasing a system due to cost can now find something the right-size for their inspection needs.

"I think what we see now is there are more options for different needs. You can pick your packages," says Dave Glisic, SSMO supervisor, Northeast Ohio Regional Sewer District (NEORSD). "These changes have allowed smaller municipalities to acquire systems that meet their needs. In some instances, they are purchasing smaller camera systems to inspect the laterals in-house."

The NEORSD manages 318 miles of sewers – ranging from 8-in. to 25 ft in diameter – in Cleveland and its surrounding suburbs. The District uses crawler-mounted camera systems on its lines 66-in. and smaller. In the time since Glisic arrived at the NEORSD, he has seen first-hand the shift at both the District and in the smaller community where he lives, noting that the latter has added its own CCTV truck to inspect its sewers.

The Importance of Inspection
"The whole goal of an inspection is to better allocate the public's resources. We are not going to 'poke and hope,' or clean a basin just to clean it anymore," Kelly says. "We can stick our head in the pipe, take a look, and see where and how we can best allocate our resources. By using these cameras, we are being much more efficient with tax dollars."

While it is great that the cameras traversing North America's, underground infrastructure are producing data that is more defined, offering a clearer image of what's below, that does not mean much if the software hasn't made comparable changes.

"Software provides functions that save time for the operators and improve the quality of the data collected," says Zhang. "For example, pipe attribute data can be pre-loaded so that the operators don't have to type everything in. Inspection standards have been adopted and integrated into various software platforms to reduce errors. And GIS integration and cloud technology have also been incorporated in some inspection software."

For Michael Zapior, SSMO manager for the NEORSD, that means more user-friendly software that is integrated with GIS. Software integrated with GIS allows the operator to view additional infrastructure details that can be included in the inspection videos and reports. At NEORSD, these inspection videos and reports are now available through the Enterprise GIS applications for stakeholders to access. Even 10 years ago, those reviewing the inspections would need to pull reports and videos from multiple storage directories and devices manually.

"Ten years ago, an operator would burn the video and report to a data disk and it would stay in a filing cabinet somewhere until someone needed to review it. Today, videos and reports are integrated into our enterprise GIS system within a couple of days or sooner," Zapior says. "We have the ability to view data in real time using LTE [wireless broadband] services and share it with our engineering department and other stakeholders."

RELATED: Ask the Experts: What is Project Clean Lake?

Thanks to advancements in technology, the reports are more thorough thanks to more accurate and detailed images captured. "All of these improvements have led to the availability of more data," Taylor says. "The more data that an engineer has, the better the finished product will be."

Software and Certification
And in North America. Many of those employees and engineers reviewing the data are doing so using NASSCO's Pipeline Assessment Certification Program (PACP), Manhole Assessment Certification Program (MACP) and Lateral Assessment Certification Program (LACP) standards.

"There are at least five local vendors who offer PACP training and when you have that many vendors that offer training, there is definite interest in the area," says Zapior. "Inspection observations at NEORSD must be coded using NASSCO PACP, MACP or LACP. We want the operators making the observations in the field to be consistent. When our employees complete the NASSCO training, they are obtaining a certification that is valid for three years. I want to make sure that when I say apples, we are all talking about apples.

The adoption of NASSCO PACP provides a universal language between system owners, contractors, engineers and other agencies. All agree that the whole industry has benefited from this common language. The standards are also integrated into all of the major inspection software in use in North America.

"PACP is able to implement more rules on the software level, significantly reducing the amount of human errors," Zhang says. "The standardized database format also helps with data transfer. Regardless of the software used, as log as it is PACP-certified, the inspection results are all generated in the same format."

Taylor whole-heartedly agrees that having everyone speaking the same language is key to a quality project. Adding that in British Columbia, he has found some holdouts who have not gone through PACP training and certification, but often times those communities are hiring engineers with the certification. From what he has seen, Taylor believes that those who are using PACP when assessing sewers are designing better and more accurate projects.

"If the system owner can go in and camera this stuff and start to categorize their own line, the software gives them grades as long as they are doing a PACP condition assessment. The software will give the pipe a construction grade and a maintenances grade," Kelly says. "This allows system owners to focus their money on the pipes that need it the most. This data will help us do that. That is the point of this whole inspection thing."

Is there room for growth in this sector of the trenchless market? All agree that yes, there is room for growth. Especially in light of North America's aging and failing infrastructure and owners looking beyond the trunk lines to laterals to address inflow and infiltration concerns.

"The sewer inspection industry has been relatively slow in adopting new technologies. However, there has been rapid development in recent years due to the increased demand for sewer inspections," Zhang says. "We are sure there will be more excitement to come in this industry in the near future."

Because of this potential for growth, the days of the latest technologies beginning in Europe and matriculating over a two- to three-year space to Canada and the United States has greatly decreased.

"That gap between Europe and North America has closed quite a bit. We [North America] have become a big part of the European manufacturers' sales," says Kelly. "They have moved what works well there over to us at a much faster pace. The new technologies are coming over here in more real time."