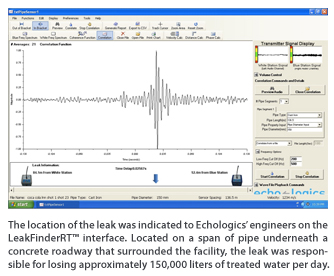 A global leader in the beverage industry had a bottling plant in Shanyang, China, that was losing approximately 150,000 liters of treated water per day through a leak in its water system. The facility's water system was fed by the city's water supply through a 300-mm service lateral, which provided water for the plant's operations, employees and fire protection system.
Service crews had been searching for the leak for several months, however, their efforts were unsuccessful due to the location of the pipes, which were buried fairly deep —1.5 m — under a concrete roadway. Machinery used for the plant's operations also created a large amount of background noise, which typically makes finding leaks in industrial facilities extremely difficult.
The plant turned to Mississauga, Ontario, Canada-based Echologics Engi¬neering Inc., a leading developer of advanced acoustic-based technologies for water loss management, leak detection and pipe condition assessment, for its non-intrusive leak detection expertise and services.
A subsidiary of Mueller Water Products, Inc., a leading North American manufacturer and marketer of products and services that are used in the transmission and distribution of safe, clean drinking water and in water treatment facilities, Echologics works with municipalities across North America, and in Europe, South Africa, Singapore and Australia to isolate "silent" leaks that other technologies fail to find. Its proprietary sensor and signal conditioning technologies substantially reduce both electronic "white" noise, as well as ambient background noise often created by running water, traffic or pumps, and it works exceptionally well on all pipes irrespective of diameter, geom¬etry, material, etc.
Data collection is non-invasive, using standard pipe appurte¬nances such as hydrants, valves, or direct attachments to the pipe's outer wall. The system also has the ability to assess the structural condition of transmission mains and distri¬bution pipelines, including a unique solution for Asbestos Cement pipe.
Project Results
Echologics surveyed the plant's water system in less than one day and successfully detected and pinpointed the leak, which was located on a span of pipe underneath a section of the concrete roadway that surrounded the facility. In order to conduct the acoustic-based survey, engineers placed two hydrophones on valves and fire hydrants that were connected to selected sections of the system. Once the hydrophones were in place, a correlator listened for variations of acoustic signals induced in the pipe by any of several means: flowing water from hydrants, physically tapping on appurtenances such as valves, or by attaching vibro-mechanical shakers to the system. Changes in the acoustic signals enabled Echologics to quickly pinpoint the leak without breaking ground or disrupting service.
Once the leak was located, service crews quickly excavated the site and re¬paired the leak, preventing further water loss that threatened the facility's operations.
Impressed with Echologics' ability to accurately and efficient¬ly locate the leak, the company purchased Echologics' Windows-based leak detection system — Leakfinder — for its service crews. Leakfinder uses proprietary acoustic-based technology to non-invasively detect leaks and assess the structural condi¬tion of selected pipes. LeakFinder's unique ability to accu¬rately detect leaks on PVC and metallic pipes is a result of an enhanced correlation function, which dramatically improves its ability to accurately identify and locate narrow-band leak noise, a capability that is ideal for plastic pipes, multiple leak situations, and scenarios where there is a large amount of background noise or where leak sensors have to be closely spaced. Since purchasing Leakfinder, the organization's service crews have located several leaks in its other bottling plants throughout China.
"Traditionally, locating leaks in industrial facilities has been challenging because excessive noise that tends to characterize these environments makes it difficult to locate leaks without excavating sections of the pipe or temporarily shutting down operations," said Marc Bracken, vice president and general manager for Echologics. "Fortunately, the non-invasive detec¬tion and location of leaks in industrial areas is now possible as a result of our acoustic leak detection advancements, which can be used to quickly and efficiently mitigate potentially damaging leaks and cost-effectively prioritize capital spending for repairs and replacement."

This article was submitted by  Mueller Water Products, Inc., the parent company of Echologics Engineering Inc.