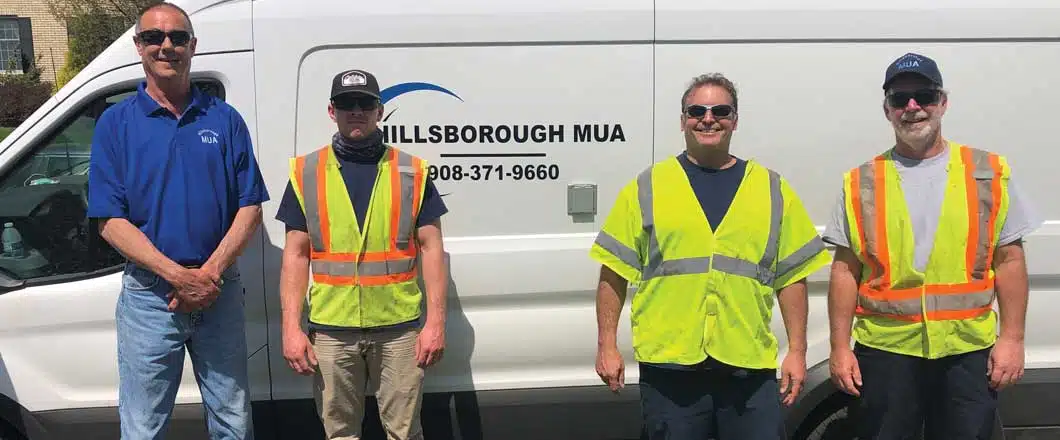 Hillsborough Township is rated one of the nicest places to live in New Jersey — some going so far as to say the entire country. The township 60 miles northeast of Philadelphia within the greater New York City metropolitan area — one of the world's densest urban populations. Yet Hillsborough residents enjoy a more suburban atmosphere than many of their neighboring communities.
The Hillsborough Municipal Utilities Authority (Hillsborough MUA) is committed to keeping the pleasant environment clean and comfortable without raising cost for its 40,000 residents. A large part of that mission is correcting inflow and infiltration problems in the sanitary sewerage system. Inflow and Infiltration (I&I) has a direct impact on wastewater treatment cost, since any rainwater or groundwater entering the system must go through the same wastewater processing as sewage.
Two years ago, Hillsborough MUA hired Randy Smith to take on a newly created position, I&I Coordinator. Smith knew from the start it would be a daunting task. As a construction contractor with more than 35 years of experience, Smith said he and his three-person crew had no problem finding problems in routine inspections of the mainlines. "That was easy. We'd see water pouring in from lateral after lateral," said Smith.
The frustrating part was not having a timely, cost-effective solution for fixing them once they identified them.
RELATED: Chattanooga Contractor an Early Adopter of LED CIPP Technology
Low-cost, Permanent Solution
Smith had been researching solutions on his own without much luck for eight months when he came across just what he was looking for by chance. He was training on a new Subsite Electronics inspection camera system with Subsite Rep Mike Cannon. Smith posed the problem to him. "Surely there's got to be someone out there with a way to repair 4-in. laterals without having to dig up every property in the township," Smith said.
Cannon reached out to HammerHead Trenchless rep Gregg Conklin to learn about HammerHead point repair solutions, a trenchless cured-in-place method to structurally rehabilitate sections of pipe.
When Conklin demonstrated a HammerHead point repair boxed solution on a Hillsborough Township project, Smith and his crew were sold. "It was a great process," Smith said. "The other guys and I agreed it was perfect for our needs." HammerHead provided training for Smith and his team, who now perform point repairs as part of their ordinary maintenance routine.
Purpose-equipped Vehicles
Smith's I&I crew works from three vehicles, depending on the day's agenda. For instance, one truck is set up primarily for video inspection of the mains and laterals, "while another guy is out popping manholes, inspecting them for leaks," Smith said. A third vehicle is set up just for point repair.
Smith prefers "just a standard van" as the designated repair vehicle. "Everything we need fits nicely inside it," he said. The equipment includes a boxed solution point repair kit, inflatable packer, air compressor, generator, air regulator and hoses, as well as a Picote Mini Miller.
Having task-dedicated vehicles means the crew of three can work independently as needed. But Smith said he wants all hands-on deck, when it comes to performing a point repair.
The HammerHead point repair boxed solutions give Smith's crew the longest working time, or "pot" time, of any resin on the market and comes in several different resin blends, each optimally engineered for a given range of ambient temperatures. "Once we mix the resin, we have maybe 15 minutes, or a little longer in cold weather, maybe 20 to 25 minutes, before it sets," Smith said.
All in the Box
Each HammerHead point repair boxed solution contains everything required to do the repair: pre-measured, pre-cut fiberglass mat; pre-measured resin and hardener; packer protection sleeves; roll-up ties; spreading spatula – even a disposable work surface and gloves. Since materials are already precisely cut and measured, the installers save time both while performing the repair and while cleaning up.
RELATED: How to use CIPP Point Repairs to Fix Damaged Sections of Pipe
The odorless resins pose no threat to personnel or the environment since they contain no styrene or volatile organic compounds (VOC). In the HammerHead boxed solutions that Smith uses, the resin and hardener come pre-measured in one ready-to-mix bag, Smith said, further distinguishing the HammerHead repair boxed solutions from competing point repair systems.
Typical Hillsborough CIPP Point Repair Job
Smith said pipe repairs with the kit most often can be completed the same day that an end-user gives consent to do the work. The crew even completes some of its jobs the very day that a problem is discovered.
Smith said the crew runs its inspection camera down the cleanout, using a bit of tape on the line for reference to mark the exact location of the repair. "If roots are in the pipe, we use our Picote Mini Miller to clear them," he said. The Mini Miller is a rotary tool system ideal for use in 4-in. pipe with 65 ft of cable. The unit's lightweight size (150 lbs) makes it easy for the crew to carry along with them from site to site.
With the packer centered at the leak, the crew inflates the packer and lets it cure. Cleanup is a cinch. An hour and a half to two hours later (depending on temperature), the crew returns to remove the packer and visually verify the repair has been accurately installed.
Leaking Tees
During their routine inspections, Smith's crew was discovering an exceptional number of leaking lateral tees along the main. They continue to find more. The failing tees have contributed heavily to the township's I&I problem. Smith suspects a "whole gamut" of reasons as the cause, including faulty installation. "Maybe they didn't use glue. Maybe the pipe bed or backfill was not properly compacted," he said. The joints can come apart as ground shifts around them.
The leaking tees are simple to correct with the point repair solutions. The system is not limited to straight runs. It is designed for use in tees and even 90-degree elbows, as well. At present Smith knows of at least one hundred tees that will need his crew's attention.
Increasing Efficiency
Comfortable with the point repair process, Smith's next step is to increase efficiency. "We have been able to do up to two repairs a day with just a single setup," Smith said. They will now add a second packer, compressor, regulator, and generator.
Yet, leaking tees aside, Smith said, dealing with I&I is a never-ending job in any city's wastewater system. He recalled something an engineer told him.
"When groundwater is high, you might be able to reduce I&I by 40 percent. In dry times, maybe as much as 60. But you'll never solve it 100 percent," Smith said. "You'll always have it to deal with. Where you plug a leak today, that water just doesn't go away. It just follows your pipes, finding another place to get into the system farther down."
RELATED: ClearWater Plumbers Adds Trenchless Solutions
Bottom Line
Although the HammerHead point repair purchase took place in February 2020, COVID-19 restrictions prevented Smith and his crew from being trained in the system until that September. Yet between fixing manholes and repairing the leaky laterals, Smith's year-end report determined that his I&I crew reduced wastewater system infiltration by 91,454,400 gallons per year — a savings of $236,319 in annual treatment costs.
The savings isn't just for this year, however, but year after year. Smith pointed out that HammerHead point repair solutions can add up to 50 years of service life. That means each repair he and his crew make will continue saving the township money long into the future.
Smith said in addition to the savings in treatment costs, a boxed solution costs just a mere fraction of a traditional, open-cut repair/replacement. For cost comparison, Smith said, "Our sewer pipes are typically 6 to 9 ft deep. You'd have to dig a hole that deep right in someone's lawn, wide enough to set a trench box. It is very time-consuming and very expensive.
There was an outfit out there that quoted a price of $9,600 just to dig up and replace one 10-ft section of pipe."
A point repair, on the other hand, costs just a couple hundred dollars. And since Hillsborough MUA is making the repairs in-house, they completely bypass the time and cost of drawing up job specifications and putting them up for bid.
Lauren Carroll is the marketing coordinator at HammerHead Trenchless.