The 17th annual Microtunneling Short Course was held at the Colorado School of Mines, Golden, Colo., Feb. 10-12. A one-day Pilot Tube Microtunneling seminar was featured on Feb. 9. The course was well attended with 120 registrants.
Course organizers Levent Ozdemir, professor emeritus at CSM, and Tim Coss, Microtunneling Inc., joined with Trenchless Technology in presenting the course. Microtunneling has established a firm position in North America and the strong continued interest in the course is a testimony to that. Also, there was good representation internationally as reflected by registrants from Mexico, India, Japan, Ireland, Germany and England. At the pilot tube seminar, ICON and Akkerman displayed their equipment. The sponsors included: Brierley Associates, Akkerman, Hayward Baker, Herrenknecht, Mission Clay Products, Derrick Equipment Company, MWH and Moretrench.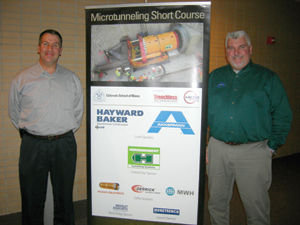 A range of presentations included "Project Design Considerations" by Tracy Lyman, Lyman Henn (which became part of Brierley Associates in January), a fascinating case study covering a comprehensive project in Aurora Colo., presented by Brenden Tippits, BT Construction, "Site Investigation" by Greg Raines, MWH, "Bidding and Planning" by Don Bergman, Frank Coluccio Construction, and "Sharp Curve Microtunneling" by Ando Tado and Noboru Kiyota, Rasa Industries. The guest speaker at the Thursday night banquet was Buck Bergstrom, BT Construction.
The 2011 Microtunneling Short Course will again be held in February, specific dates will be announced soon. Be sure to tune in to TT TV on the Web at: www.trenchlesstechnology.com for a report on "Microtunneling in India" and "Slurry Separation Technology."