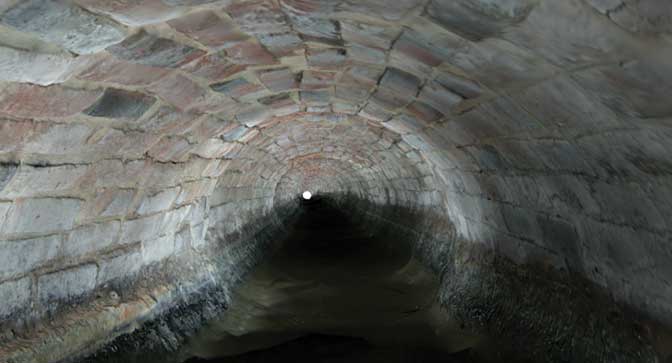 Imagine a large, metropolitan, North American city initiating or updating its master plan to study its wastewater collection system. A key component of any master plan is the condition assessment and rehabilitation prioritization of associated assets.
During the early stages of the study, the importance of understanding the structural condition of the city sewers was realized when a 60-in. diameter section of reinforced-concrete main trunk line collapsed. Evidence appeared to indicate that hydrogen sulfide corrosion led to the failure. The original pipe wall thickness was estimated to be approximately 5 in.; however, some sections showed thicknesses of less than 1 in. at the crown of the pipe, with a complete absence of steel reinforcement. One of the main challenges this city faced was how to collect meaningful data to complement their CCTV inspections, which did not provide adequate information to quantify the problem and help them become more predictive and prescriptive with the risk of having another larger diameter pipe failure.
In larger conveyance systems that include interceptors, it is not uncommon to encounter pipes 12 ft in diameter and larger, many of which have never been inspected or located. In order to cost-effectively protect these capital investments, improve performance and prolong their remaining useful life, it is important to adopt best management practices that start with condition assessment. Not all technologies are the same, making it crucial to pick the right tool from the toolbox, especially when assessing the condition of our nation's large diameter wastewater interceptors.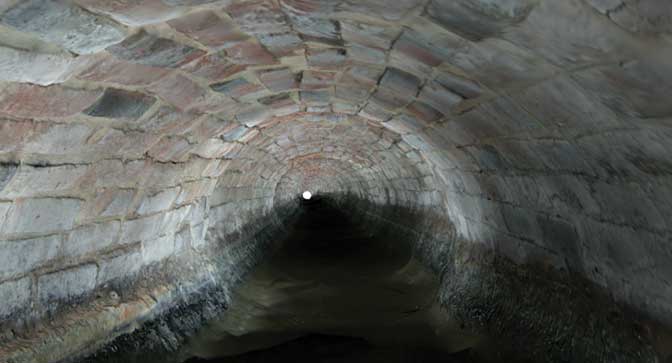 Many utility owners and engineers are challenged with making rehabilitation decisions based on incomplete information and limited budgets. As a result, condition assessment technologies are the cornerstone of any asset management or master plan. This is where deploying multiple sensors on a single platform is important. One of the most cost-effective condition-assessment technologies is to use multiple sensors, simultaneously, on a single platform, deployed over long stretches.
Nearly 20 years ago, RedZone Robotics pioneered multi-sensor inspection (MSI) technology for assessment of large diameter gravity sewers. For the first time ever, commercial tools were available to finally overcome many of the obstacles that were previously encountered while inspecting large diameter interceptors. There are countless combinations of collection system materials, sizes, shapes, and conditions that require innovative inspection technologies.
Every year, more engineers and utility owners are utilizing these technologies to make more informed, cost-effective rehabilitation decisions. While inspection costs are a mere fraction of total rehabilitation costs, the condition assessment provides invaluable information in the design process. However, different rehabilitation methods require unique types of data to make informed design decisions. At the advent of MSI, the technology included closed-circuit television (CCTV) cameras and a variety of sensors for above-water and below-water data collection. When all of these data sensors are contained on a single platform, inspections can be economically performed in a single inspection run.
More recently, MSI has taken on different meanings from its initial conception depending on the application and context. It is important to ask key questions before embarking on MSI assessment, such as: What sensors do I need? What is the difference between traditional CCTV and HD CCTV? Do I need 2D or 3D laser data? What are the different types of sonar technologies? Do I need to measure gases and temperature in the pipe? What does an inertial measurement unit (IMU) or inclinometer tell me? What are MSI deliverables? There is no "one size fits all" when it comes to MSI technologies, so it's important to understand the basic mechanics of different sensors and how the collected information will benefit the utility owner and design engineer.
Sensors that were once considered advanced are now becoming commodities. Apple includes a LiDAR sensor on the latest iPhone. GoPro cameras with 4K resolution are readily available for $500. At the advent of MSI technology, sensors were at the forefront because they were new and novel. Now, when it comes to MSI, the focus should be on sensor fusion and data output. With modern advances in imaging technology, highly accurate photogrammetric models can be produced with cameras only. Continuous scanning 3D LiDAR sensors are more commonplace and capture better 3D data without the need for stop-scanning.
What Is the Difference Between Photogrammetry and LiDAR?
Both technologies can yield highly accurate digital twins with absolute accuracy. The main difference between the two technologies is how they capture data. LiDAR relies on time of flight of light photons to determine a direct measurement between two points. Photogrammetry uses images captured by cameras to build highly accurate 3D models that can be used for measurements. LiDAR produces a point-cloud image, whereas photogrammetry uses real photos to recreate a 3D visual model of the actual environment in which it is deployed.
Photogrammetry and advancements in LiDAR are just two of the new sensors being leveraged on MSI platforms for condition assessment of large diameter gravity sewers. Just a few months ago RedZone launched a new fully integrated MSI system, Profiler 3D, for assessment of 18-in. to 204-plus in. diameter pipes. Profiler 3D includes multiple HD cameras to support processing of photogrammetric models, as well as continuous scanning 3D LiDAR and sonar on the same trusted Profiler suite of floating platforms. This system offers clarity like no other sewer assessment technology and is the most advanced, next generation MSI payload in the industry. With advances in computing power, Profiler 3D can provide photorealistic 3D models to augment MSI data.
What Are the Benefits of a MSI Sewer Assessment?
Here's a breakdown:
Better image quality in large diameter pipes.
Quantification of pipe wall loss due to corrosion.
Determination of debris depths and volumes.
Long-distance inspection runs from a single set-up.
Sensor fusion and rich data sets for digital twins and modeling.
Although portions of the millions of miles of wastewater collection systems are televised each year, larger interceptors that carry significant flow are often ignored for a variety of reasons. Some of those reasons include limited accessibility, safety concerns, insufficient illumination, high costs, lack of redundancy, vague asset information, and the difficulty and cost of dewatering. Each of those obstacles prevents inspection of these important system assets. Not only are sensor technologies becoming more commoditized and available, but the combined processing, or fusion, of MSI data allows for more accurate condition assessments, which, only a few years ago, were impractical.
The real power of collecting MSI data is the ability to process it into a single, comprehensive and easily interpreted report, including HD 3D videos and highly accurate virtual models. With all of the new, innovative sensors and technologies in the market today, it's important to understand the combined benefits – not necessarily the features – of MSI assessment.
Jeffrey Griffiths is the vice president of marketing at RedZone Robotics.