Across North America vacuum excavators of the truck and trailer-mounted variety can be found on horizontal directional drilling (HDD) sites sucking slurry, potholing, utility locating and more.

What was once an oilfield-centric industry, vacuum excavation has quickly blossomed into all sectors of construction. Much of this is due to an increased focus on safe digging, coupled with the need to repair existing – and install new – underground infrastructure in a crowded subterranean right of way.
In this post you will find some of the latest offerings, from some of the top manufacturers, in this ever-growing industry.

ELASTEC
The ELASTEC PACS Municipal Vacuum Trailers are extremely durable, easy to use vacuum trailer systems designed for municipal use. Two models of the PACS Municipal Vacuum Trailer (PACS 920 and the PACS 2000) are currently available. The center-mounted controls enable operation from both sides of the unit to keep workers away from traffic. The optional boom arm and water jetter allow for potholing and hydro-excavation jobs. Considerable time can be saved by using hydro-excavation while inspecting lines with minimal ground disturbance. Easy to tow and maneuver in congested work spaces, these rugged vacuum systems are purpose-built to clean up oil, liquids, solids, and sludge. Our trailer mounted vacuum systems are designed to go where large vacuum trucks can't and for jobs where vac trucks are not cost-effective.
JOE JOHNSON EQUIPMENT
TRUVAC by Vactor Mfg. Inc. and Westech Vac Systems has introduced a unique solution for a challenge many contractors face when tackling large volume hydro-excavation, directional drilling and sewer cleaning jobs; capacity. Capacity issues are resolved efficiently with the TRUVAC Hydrovac Support Trailer. The support trailer is compatible with virtually any hydrovac or sewer cleaner that has trailer towing capability. The support trailer offers a game-changing legal payload of debris, 1,500 gallons of freshwater storage an onboard transfer pump and an onboard heating system to prevent freeze-ups in cold weather. It allows the vacuum truck to maximize jobsite time and efficiency by providing debris transfer from the truck to the trailer and pumping fresh water back to the truck so they can keep working.
OX EQUIPMENT
The clear advantage of being purpose built for dry and safe non-destructive excavation. With the recent introduction of advanced dry suction excavation to North America, utility owners and service providers are realizing why advanced dry suction excavation is being used extensively across the globe. Although hydro vacs have historically been the more popular choice for soft-digging, the demand for dry excavation processes have prompted hydro vac manufacturers to try and adapt their equipment to be able to dig without water. Not only does this solidify the fact that digging dry is the safer option when excavating within a tolerance zone, but it also affirms that equipment built from the ground up, specifically to dig dry – like the MTS Dino Series – will always be better than equipment that was altered from its original purposes and methods of excavation, in order to meet the needs of the industry. It's time to equate digging safe with digging dry.
PACIFIC TEK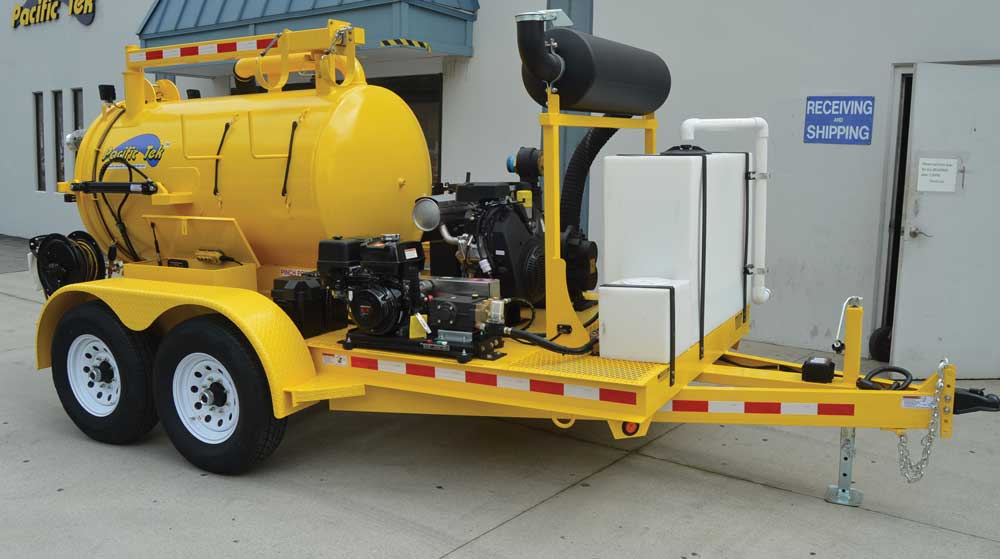 Pacific Tek is an industry leader in the manufacturer and sales of high-quality vacuum excavators and water valve exercisers since 1993. We are known as the "Original manufacturer of Angled Tank series POWER VACS." Pacific Tek manufactures nine different sizes of "Power Vacs" used widely in the construction, utilities, and rehabilitation/remediation industries. Models PV66 up to PV1200 can be supplied as skid-mounted, trailer- or truck bed-mounted complete systems with vacuum, high-pressure washing, sewer jetter skids, manual or hydraulic vacuum hose support booms, and custom safety lighting. Power drives include standard output gas engines to propane or hydraulic motors to diesel high output models. Low profile skid and trailer models available for large parking structure maintenance and mining dewatering applications ("sump sucker").

RING-O-MATIC
The Ring-O-Matic 850 VX is a perfect machine for contractors or municipalities that do numerous locates per day or require fluid management in support of a horizontal directional drill. The 850 VX offers a choice of power options with CAT or KUBOTA tier 4f engines. The 850VX offers a manual swing or hydraulic actuated boom options, for easy jobsite operation. The 850 VX is designed to handle rough conditions built with a 10-in. C-Channel frame and combined with the largest axle capacity in its class, the 850VX can handle the most demanding jobsite obstacles. The Ring-O-Matic 850VX is designed with a choice of 600 or 1,000 cfm positive displacement blowers and a powerful 6 gpm water pump. The 850VX is offered in a trailer, truck and skid mount configuration, with 500 gallons of fresh water to keep you working longer.

RIVAL HYDROVAC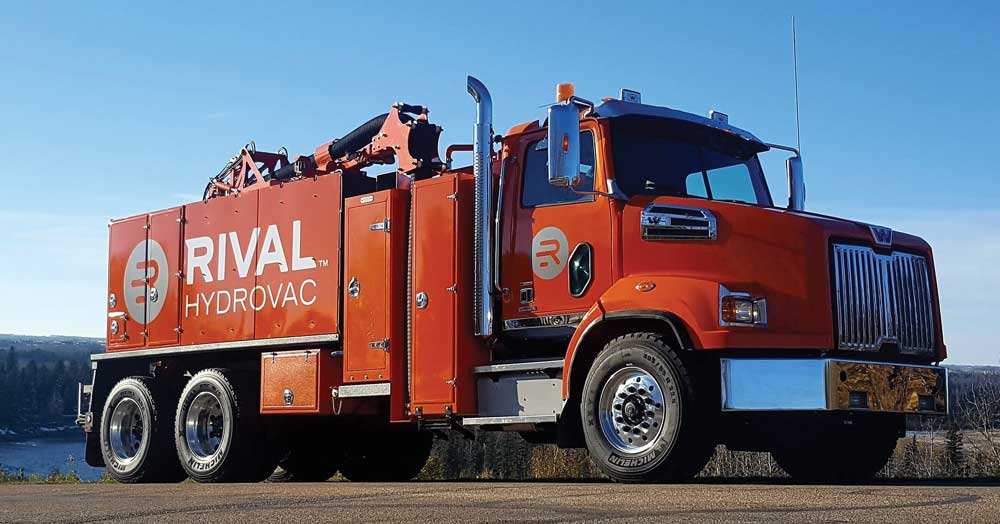 Rival Hydrovac Inc., a Canadian based supplier of cost-effective, efficient and lightweight Hydrovac vehicles has grown quickly since 2016, primarily servicing the HDD industry. The reason for this growth has been a move towards weight enforcement of these types of vehicles. The Rival T7 tandem was designed primarily to be a unit that could be loaded with debris and drive within legislated road limits with most types of debris on board. Additionally, the unit comes standard with a scale that reads real time weights both in the cab and on the wireless remote to confirm weights prior to travel. The Rival is operator friendly and the operating system is engaged through one PTO switch. The remainder of the operator occurs from the rear panel or the wireless remote. The components used in this truck are high performance in nature and the unit will dig at levels competitive to large units.

RAMVAC by Sewer Equipment
RAMVAC by Sewer Equipment brings you the AX Series air excavator, a non-CDL machine. This truck series offers a simple, single engine design with 12-volt electrical controls and manual hand valves for ease of use, while also providing operators the ability to excavate with both air and water effectively using only one truck. This series offers payload capacities from 5,000 to 12,000 lbs, while the hydraulic rear door allows operators to dump spoils quickly and easily. The AX allows you to customize your blower to achieve the results you need in any applications, with capacities of 18- or 27- hg, 1,400 or 3,000 CFM and hose diameter of 6 or 4 in. All water systems are contained within a single heated enclosure for cold weather applications, while also offering the most cubic feet of standard tool storage on the market.

SchellVac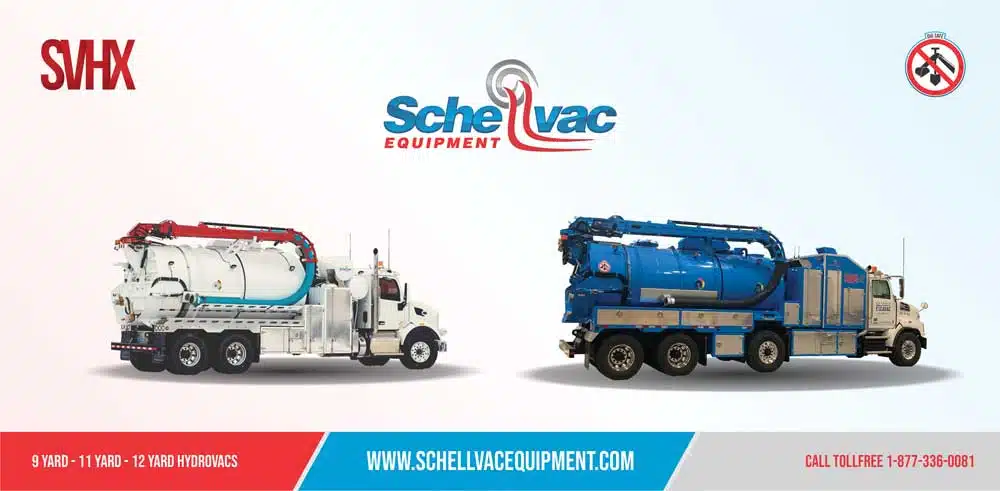 The focus of the SVHX line lies on efficiency and performance. To achieve this SchellVac designed each unit to perform to its maximum when it comes to payload capacities, blower cfm and storage space, as well as being operator and maintenance friendly at the same time. The SVHX9 and the SVHX11 are versatile Hydrovacs that are primarily used in urban settings to expose utilities or support HDD crews. Powerful PD blower options in the 3,800 cfm range, an effective silencing system, and the overall smaller tandem axle layout make it more maneuverable compared to tridrive alternatives. The bigger SVHX12 system offers more customization, thus is a great unit for specialized jobs or could be setup as an all-rounder to work in nearly every environment. Powerful PD blowers with up to 6,400 cfm, an additional acoustic enclosure, much more storage and payload capacity make this unit a true performer in every setting.

SUPER PRODUCTS
Super Products' Mud Dog Vacuum Excavator provides a safe and efficient alternative to traditional digging. The Mud Dog is designed for operator convenience and consistent performance even in the harshest environments. Units come standard as hydro excavators with an optional air excavation package, which allows an operator to always choose the best application, water or air, for the job. The Mud Dog is available with 12 yard or 16 yard debris capacity and has 1,500- to 2,000-gallon water tank capacity. Each model comes standard with tilt ejection unloading, the industry's' safest dumping solution. The Mud Dog is equipped with a rear mounted boom that reaches 27 ft, has 335-degree rotation and can move in a 45-degree upward and 25-degree downward pivot. This allows for versatility within dig areas so that units do not need to be constantly readjusted into position.

TORNADO GLOBAL HYDROVACS
Through decades of research and development, Tornado Global Hydrovacs have consistently built "The World's Best Hydrovac." We're proud that over the years, our efforts have always led to design innovations redefining industry performance and reliability each year. But It's not the awards that drive our ambition. It's for the contractors, service companies and municipalities that depend on our trucks to get the job done. With no two job sites alike, we offer a variety of Hydrovacs tailored precisely to your needs. Whether you're looking to increase operating efficiency with fewer hauls or require increased mobility for urban centers, we have a small, medium and large F3, F4 and F5 ECO-LITE options for you. We're also proud to introduce our newly designed T70 Twister. A modular trailer or skid unit offering increased mobility and substantial cost savings.

VACUUM TRUCK RENTALS
As an industry leader in the hydro excavation space, the Vacall AllExcavate lineup combines power and hydro technology for efficient excavation in sensitive areas. Hydro excavation is the gold standard for safe, fast, precise and economical work since it greatly reduces the risks of damage to buried lines and reduces the environmental impact. The AllExcavate boasts positive displacement blowers ranging from 16 to 27 in., 8 ft 6-in. boom, 1,000 to 1,300 gallon water tanks and much more. The AllExcavate lineup also includes the AllExcavate oil and gas and high dump. Other features and benefits include: high pressure water system; rugged debris body; optimized performance in cold weather; lifetime warranty on water tanks; double-cyclone filtration; high-dump option; and three boom/hose options.

VAC-CON
The All-New X-Cavator Hydrovac by Vac-Con is designed to meet the demands of operators in the oil and gas, heavy construction and telecommunications industries. This new unit is a game-changer for the industry as one of the most trusted industrial vacuum brands in the world moves to redefine their hydrovac product line. The X-Cavator boasts significant features such as a cold weather enclosure for water systems, control panel and an interior area for operator seating and workspace. Unit filtration is based off of the Titan combination machine with a single cyclone design and final cartridge style filter. The redesigned boom is lightweight and flexible with the ability to rotate 310 degrees around the unit and +45/-22 degrees vertically. The durable rubber hose material can withstand the harsh environments in which a hydrovac must operate and has a reach of 26 ft.

VERMEER
The Vermeer XR2 vacuum excavator is the industry's first vacuum excavator equipped with a shaker deck that separates liquids and solids to allow contractors to stay on the jobsite longer, work efficiently and reduce disposal expenses. Material excavated with the XR2 is fed through an onboard deceleration tank that exits through an airlock onto a shaker deck where solids and liquids are then separated. The solid material is moved by conveyor toward the rear of the machine where it is discharged and can be carried away or left on the jobsite, depending on the material. Used, slurry water is pumped into one of the four XR2 holding tanks for disposal. This new concept in vacuum excavation allows contractors to carry 1,500 gallons of water to the job, work longer on the jobsite and can reduce hydro-excavator transport weights.