Dr. Sam Ariaratnam, Ph.D., P.E., carries the message of trenchless technology all across the world. However, his footprint on the industry isn't through a manufacturer or contractor. He has made his mark through his passionate service in trenchless academia, research and leadership through professional associations.
From the earliest years of his professional career, Ariaratnam — Dr. Sam to all who know him — has devoted his energy to studying the benefits of trenchless technology and serving the industry to promote it. He has also been instrumental in educating and mentoring the next generation of trenchless engineers at the university level, as well industry professionals through his teaching of NASTT courses on HDD Good Practices and Pipe Bursting Good Practices.
His research, education and service to the trenchless technology industry are what make him the 2012 Trenchless Technology Person of the Year.
Humbled by this honor, Ariaratnam reflected on those who came before him, many who guided and mentored him along the way — such as colleagues Dr. David Bennett, Frank Canon, Dr. Ray Sterling and Dr. Tom Iseley. The first Canadian honoree, Ariaratnam is just the third academic recipient of this award and the first since 2001, when Sterling was awarded.
"It's such a tremendous honor and I'm so humbled particularly when I look at the past recipients of this award," Ariaratnam says. "I'm very proud to be the first Canadian and just the third academic, following Dr. Ray Sterling and Dr. Tom Iseley, who are both icons in this industry. I know I won't be the last academic. There are so many top academics out there who are doing yeoman's work in promoting trenchless technology through research and education.
"I owe everything to this industry," he continues. "The industry has been very supportive in both my research and education programs."
Ariaratnam is in the second year of a three-year term as ISTT chairman and has actively participated in its affiliated society, NASTT, since the mid-1990s at all levels, including its student chapter where he has mentored and advised engineering students in the trenchless disciplines.
He gets excited when talking about the state of the trenchless industry — notably horizontal directional drilling (HDD) and other trenchless new installation techniques — in North America and beyond, as well as when discussing the research being done by former and current students. He beams with pride seeing his former graduate students now forging their own way in the trenchless community, including Dr. Erez Allouche, technical director at the Trenchless Technology Center at Louisiana Tech University, Dr. Dan Koo, assistant professor at IUPUI, and Dr. Jason Lueke, assistant professor in the Del E. Webb School of Construction at Arizona State University and a NASTT board member.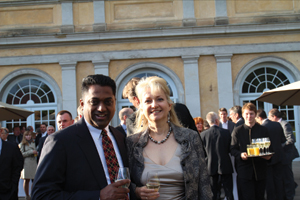 His primary area of research interest lies in underground infrastructure management and rehabilitation. His research in this area has focused on the development of new technologies in construction engineering and applications of underground trenchless construction techniques, including HDD and trenchless pipe replacement, namely pipe bursting.  He has published more than 200 technical papers and reports, co-authored five textbooks and is a co-holder of three patents.
Vermeer Corp. CEO Mary Andringa has experienced firsthand the passion that Ariaratnam has for research as he has worked with her company over the years on several research projects. "Dr. Sam's efforts have helped grow and sustain trenchless as a globally preferred installation method," she says. "His progressive research fuels the culture in this industry to continually improve and evolve for the better."
Dr. Dave Bennett, Ph.D., P.E., is a colleague, friend and mentor of Ariaratnam's and offered these words on him being named Person of the Year: "To capture in a short sound-bite Sam's real value to his chosen profession, I would say it is in the practical lessons he imparts to his students. Sam's trenchless construction experience, and particularly his experience in construction claims, has afforded him keen insights into the problems that can occur on trenchless construction projects, and the causes of the problems.
"I think Sam would agree 'the devil is in the details,' is one important lesson to impart to his students. To be truly effective in teaching this lesson, or teaching construction engineering in general, you must gain experience and some of that experience will involve projects where some of the details were overlooked and led to costly problems. None of us live long enough to learn everything from our own mistakes. Sam's students benefit enormously from the lessons he has collected from his claims evaluation experience and passes along to these future industry leaders."
Introduced to Trenchless
Ariaratnam earned a bachelor of applied science in civil engineering in 1989 from the University of Waterloo. He went on to earn a master of science and a Ph.D. in civil engineering, specializing in construction engineering and management, in 1991 and 1994, respectively, from the University of Illinois at Urbana-Campaign.
He served as a visiting professor at the U.S. Air Force Academy in Colorado Springs, Colo., from 1995-96, giving him the opportunity to teach civil engineering, particularly the construction aspects of the field. But it was an assistant professor position at the University of Alberta that started him on a road in trenchless technology.
"Before I got involved with trenchless, I concentrated on infrastructure related to construction," Ariaratnam says. "I knew of trenchless technology through the magazine Trenchless Technology, but didn't know a whole lot about it. When I started there, a local HDD contractor, Casey Como, came to the University and said that he wanted to get involved with the school."
Intrigued by his offer and the technology, Ariaratnam says he and a few of his graduate students began doing research with Como involving directional drilling. "That is where it started for me," he says. "Alberta is a hotbed for directional drilling and the directional drilling industry."
While at the University of Alberta, Ariaratnam initiated and headed up the trenchless technology research, focusing on directional drilling and pipe bursting. "Those were the two that really piqued my interest," he says. "At the time, HDD and pipe bursting weren't as accepted as they are today. But that has been part of the journey…being part of that and all the people who have been involved and worked to get more acceptance of these technologies. At that time, the industry was really dominated by rehab and now it has shifted a little more."
During this period, Ariaratnam began his affiliation with NASTT, becoming a founding member of its Northwest Regional Chapter. "At the same time, we were getting involved at the University of Alberta, the community of Edmonton started getting involved with NASTT," Ariaratnam says. "At the time, the chapter covered Alberta, British Colombia and Washington state. I owe a lot to the trenchless community in Edmonton because they were a huge supporter of me and my program."
A new opportunity brought Ariaratnam to the United States, with the chance to explore trenchless technology even further. He was recruited by Arizona State University (ASU) to join its Del E. Webb School of Construction. He joined the staff in 2001 and is now a full professor. But what would make him leave his native Canada for a trek across the United States? To say the great Southwest weather had something to do with it is not far off.
"I really thought that the Southwest [United States] and Arizona in particular would be a really good launching point to help promote and spread the word about trenchless technology," he says. "ASU was a really great fit. It was fertile ground and with the weather here, you have year-round construction and more opportunities."
Part of the plan in relocating to ASU was to start an educational and research program in trenchless technology — which he has done. ASU is not the only university to incorporate more trenchless into its engineering curriculum these days — across the country, college-level coursework in now part of engineering studies. In addition, NASTT student chapters have popped up, which delights Ariaratnam.
"In North America, we have 12 student chapters and that's really grown and is wonderful to see because it provides great exposure to the students," he says.
Ariaratnam can't say enough about the importance research and education has played in the expansive growth and acceptance of trenchless technology. Research and education have been critical in finding out just what trenchless can and cannot do, he says.
"Research has become more and more important," he says. "Trenchless technology is a science and academia provides a lot of the benefits in terms of research on various engineering aspects of the trenchless industry. That helps with specifications and understanding the capabilities and limitations of the technology. Much of that has to come from academia."
NASTT Involvement
Ariaratnam joined NASTT at the local and regional levels, when he helped to found the Northwest Chapter. When he made the move to ASU in 2001, he also became a founding member of the Western Chapter, which includes Arizona, California, New Mexico and Hawaii. Along the way, he has worked closely with the NASTT student chapters as well.
"To me, it's important when I look at where I'm at today as ISTT chairman," he says. "It's been a long road, but a road I can appreciate from so many different levels. I started out in the grassroots, at the local level of the regional chapters. Then I moved to the NASTT board of directors, including one year as its secretary. I went on to the international side when I joined the Executive Sub-Committee of ISTT in 2005, becoming vice chairman and now chairman. I really appreciate the local, regional, national and international levels and the work they do."
The HDD Good Practices Guidelines is an industry guide that Ariaratnam co-authored with Bennett and Como in 2001. The book was born out of the HDD Consortium that was formed in 2000 to address HDD contractor practices at the height of the fiber-optic installation boom. The Consortium comprised a cross-section of contractors, manufacturers, suppliers and trade organizations, including NASTT. Since its 2001 publication, The HDD Good Practices Guidelines has been revised twice — in 2004 and 2008 — to reflect the growth, changes and evolution of the HDD industry.
Always the teacher, Ariaratnam has been a key part of NASTT's HDD Good Practices training course since its inception in 2000. The course, based on the book, combines two areas of the industry that Ariaratnam loves: education and HDD. Offered in the United States and Canada, the objective of the course is to provide comprehensive training and guidance for contractors, public works, engineers and whoever is involved with HDD.
"We have trained thousands of people in the HDD industry over the last 10 years," Ariaratnam says. "It's been a very successful course and it has helped promote the HDD industry. We have reached a really broad audience and it continues to be one of the more popular courses that NASTT offers."
ISTT Work
Through his service as ISTT chairman, Ariaratnam has a front-row seat to the expansion and use of trenchless technology around the globe. As ISTT chairman, Ariaratnam is to support the 26 affiliated societies of ISTT by attending their conferences, meeting with their members, and expand trenchless into more countries. Since taking the ISTT chairman reins in Singapore in November 2010, Ariaratnam has logged thousands of miles around the world, carrying the ISTT message — a position he enthusiastically embraces.
"I have met so many people around the world, as well as government personnel in many countries," Ariaratnam says. "As ISTT chairman, I am an ambassador for trenchless technology on a global scale. We are working to create new [affiliated] societies and are on the cusp right now to announcing a few new ones around the world that will increase the number of our 26 [affiliated] societies, covering 32 countries that will have a global presence of trenchless."
Ariaratnam says the growth of trenchless technology on a worldwide scale is tremendous, particularly in China and India, where it has exploded in use in recent years. Another growth area is South America, most notably in Brazil and Colombia. ISTT is also spreading the awareness of trenchless through partnerships with other international organizations, such as the International Water Association.
As trenchless has become more accepted around the world, the importance of ISTT and its affiliated societies has never been more critical. Ariaratnam notes the strength of NASTT and its regional chapters and how they have affected the acceptance of trenchless around North America thorough its courses, programs and No-Dig Show. "NASTT has excellent leadership and support from its members and No-Dig is the premier show in the trenchless industry," he says. "NASTT has really put a lot of strength in its regional chapters. Likewise, ISTT is a very good conduit and is all about education and training. That's why our affiliated societies are so important — without them, we are not going to grow these emerging markets."
Ariaratnam is so excited about the future of trenchless technology, saying that it hasn't scratched the surface of what it can do. But he's even more gratified to see the fruits of his labor become a part of the trenchless community: his students.
"From an academic side, what brings the biggest source of accomplishment is when I see former students of mine in the industry. That's what it's all about for me," he says. "The ability to take research and teaching and be able to pass that information on to young students … they are the future engineers and construction managers of the trenchless industry."
Sharon M. Bueno is managing editor of Trenchless Technology.