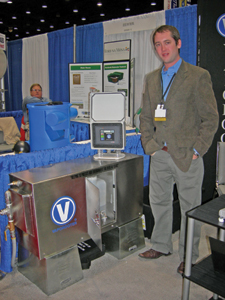 The 30th annual Pumper & Cleaner Environmental Expo, held Feb. 24-27 in Louisville, Ky., drew approximately 8,700 attendees and nearly 500 exhibitors to the Kentucky Exposition Center (photos on pg. 11).
The show is for municipal water and sewer system managers, industrial maintenance and cleaning contractors, as well as drain and sewer cleaning and repair contractors, septic system installation and service contractors and portable restroom operators.
Many trenchless professionals exhibit and attend this exhibition, including Vaporooter, POSM, Easy Liner, Plug-It Products, Perma-Liner Industries, LMK Enterprises, Nozzteq, TT Technologies, Vacall, StoneAge Tools, Cobra Technologies, Ditch Witch, Godwin Pumps, Jack Doheny Supplies, Sprayroq, MaxLiner, Bowman Tools, Logiball, Vermeer, Sauereisen, Sealing Systems, SealGuard, and de neef Construction Chemicals, among others.
The four-day show combines educational sessions, exhibits and social networking at the Kentucky Exposition Center. The 2011 Pumper & Cleaner show is slated for March 2-5 in Louisville.