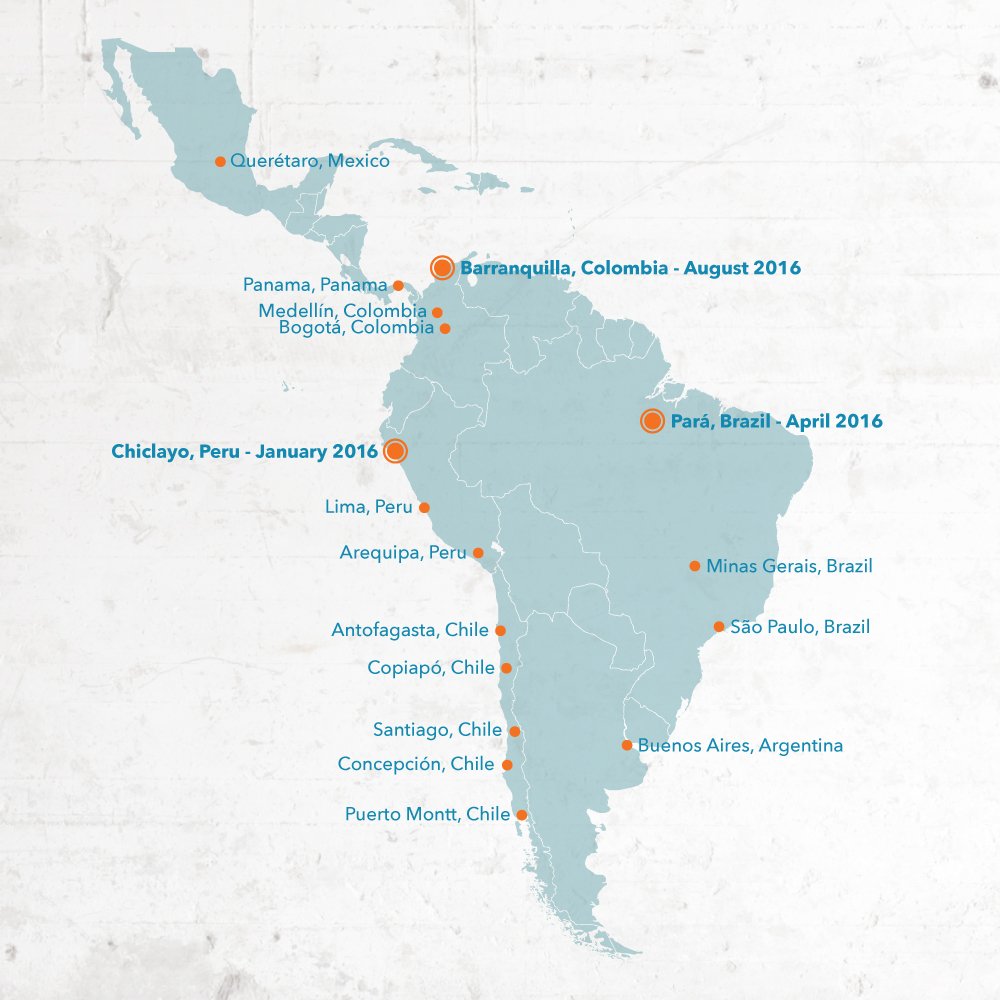 Xylem Inc. is expanding its dewatering pump rental and service capabilities across Latin America with the opening of three new hubs in the region in 2016.
In August, the company opened its newest dewatering pump rental facility in Barranquilla, Colombia. In April 2016, Xylem opened a new rental hub in Pará, Brazil while another was opened in Chiclayo, Peru in January 2016. These new hubs are in addition to six dewatering pump rental hubs that Xylem has opened in the region over the past six years as part of a multi-million dollar (USD) investment in Latin America.
RELATED: Xylem's Godwin Pumps Fill New Panama Canal Lock Basins
| | |
| --- | --- |
| Location: | Opened: |
| Barranquilla, Colombia | August 2016 |
| Pará, Brazil | April 2016 |
| Chiclayo, Peru | January 2016 |
| Arequipa, Peru | 2015 |
| Medellín, Colombia | 2015 |
| Puerto Montt, Chile | 2014 |
| Panama City, Panama | 2013 |
| Copiapó, Chile | 2013 |
| Antofagasta, Chile | 2012 |
| Bogotá, Colombia | 2012 |
| São Paulo, Brazil | 2011 |
| Minas Gerais, Brazil | 2011 |
| Buenos Aires, Argentina | 2011 |
| Concepción, Chile | 2011 |
| Santiago, Chile | 2011 |
| Lima, Peru | 2011 |
| Querétaro, Mexico | 2011 |
"We continue to experience increased rental demand in Latin America as more and more customers recognize the value of our rental capabilities – a quick and cost-effective way to tackle water removal challenges supported by Xylem's deep water transfer expertise," said David Flinton, senior vice president and president, Xylem Dewatering, "This significant investment will expand our footprint to a total of 17 dewatering rental locations across the region, enabling us to better meet local customers' needs with timely, turn-key solutions from a single source."
Xylem's new hub in Barranquilla, Colombia is already catering to rental customers having recently won a significant contract to deliver 14 HL260M Godwin high-head diesel dewatering pumps to a mine in northern Colombia. The pumps will be used at the mine in anticipation of the La Niña weather pattern bringing significantly increased rainfall to Colombia from August this year to spring 2017. The pumps will be interspersed throughout the mine at 250 meter elevations, continuously pumping to keep the mine water free and in operation.
RELATED: Xylem Unveils New Flygt YouTube Channel
"Xylem's expanded rental hub network across Latin America will allow us to quickly address our customers' water challenges, moving large, powerful rental pumps and equipment to wherever they are needed across the region," said Osvaldo Greco, managing director,
Xylem Latin America
, "Customers also have access to our global fleet of pumps and technology. We offer a powerful service model by combining a strong local presence with global capabilities. One recent example of this in action is our support of the Panama Canal Expansion Program; a significant water transfer project that we catered to seamlessly with our U.S. and Latin America-based teams working together."
RELATED: Xylem Celebrates 4 Million Flygt Wastewater Pumps Milestone
The expansion supports Xylem's global strategy to help build resilient communities that are more prepared to minimise the impact of, respond to and recover from extreme weather events.
In December 2015, vast areas in Paraguay, Argentina, Uruguay and Brazil were hit by the worst flooding in 50 years. Days of heavy rains brought on by the El Niño weather phenomenon caused three major rivers to swell, forcing the evacuation of more than 150,000 people. With these new locations Xylem's market-leading pumps and dewatering expertise will be able to serve customer demand for temporary and long-term rental solutions, as well as emergency response to flooding and weather-related catastrophes.