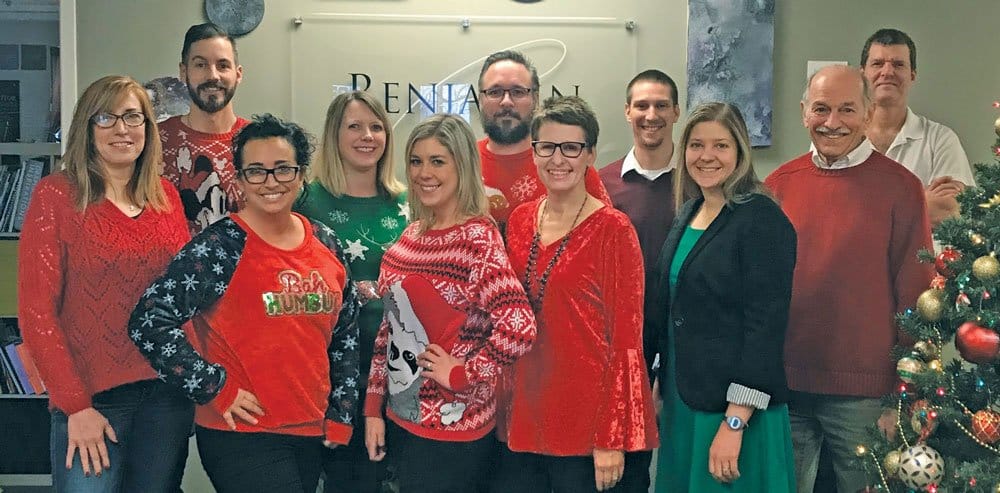 It has been a great year for the trenchless industry.

The trenchless method of utility construction is now widely accepted. Amazingly, the products in the marketplace keep improving and new trenchless systems are being introduced. The industry is also gaining the notice of multi-billion-dollar companies and investment and venture capital firms.
I am hopeful that our young men and women can appreciate the high tech aspects of trenchless construction vs. the old image of contractors digging ditches. We desperately need more young people to embrace working in the construction arena, and trenchless is an excellent way to get this done. To see how much more accepted trenchless is becoming there are now 19 NASTT Student Chapters across North America; whereas five years ago there were 13. All of this is a truly Merry Christmas for the trenchless industry.
From all of our staff at Trenchless Technology, we wish you a fantastic Christmas.

Kelly Dadich, Associate Publisher
We are pleased to announce that Kelly Dadich is now the Associate Publisher of Trenchless Technology. Kelly has been with the magazine for 22 years — essentially from the start-up of the publication. Her leadership skills and knowledge of the industry is widely known. She has been a constant personality at all the No-Dig Shows and many other industry events. Kelly is a really important part of our organization. As you see Kelly out in the industry, please join us in offering her congratulations.
Barberas Recognized
It was so nice to see Leo and Jim Barbera recognized with lifetime achievement awards recently by the Trenchless Technology Center at Louisiana Tech. These brothers have made a great contribution to the industry. Leo founded American Augers in the 1970s and Jim founded Barbco in 1989.

Leo took to auger boring with gusto. He was forever coming up with new ideas for the auger boring machines that American Augers produced. He pioneered pipe jacking. He brought American Augers into the HDD market with the production of the first rack and pinion directional drill rig. His imaginative auger boring schools every winter in Phoenix were the first in the industry. There was a flare about him that always served the company well with customers.
Jim worked with Leo for a number of years before establishing Barbco. With his auger boring machines, he introduced new safety features and greatly expanded the efficiency and productivity of auger boring. He likewise moved the company into directional drill rigs and has developed some very creative products that are an offshoot of auger boring, HDD and even microtunneling. Barbco is a wonderful family-owned business with all three of Jim's sons involved in operating the company.

I am especially grateful to Leo and Jim for their introduction of me into the trenchless industry. As an alumnus of American Augers, I learned so much from these two men. They passed their enthusiasm for the industry on to me such that I founded Trenchless Technology. They also showed me how important family is in business such that my son Rob has been with me in our business for more than 25 years and is now our president; his daughter Meghan has joined our company — Benjamin Media Inc. — in marketing.

Thank you, Leo and Jim, for all that you have done for me.

Top 50 Trenchless Engineers
Once again, we present our list of Top 50 Trenchless Engineering Firms in the December issue. The data presented is a reflection of how strong the trenchless technology has become. When you look at the dollar volume of the trenchless work presented, keep in mind that it is based on the billings in the year and not the total value of contracts signed. It is somewhat debated what percentage the engineering value of a contract is vs. the total contract value. The engineering work is generally understood to be 10 to 15 percent of the contract value. So, let's split the difference and say it is 12.5 percent. This tells us that the trenchless market in our most recent year of reported billings (2017) is a huge number at well more than $11 billion!

In the most recent year, trenchless billings grew by 6 percent. Jacobs jumped up to the first spot from No. 8 considering its acquisition of CH2M. Further down the list is Laney Engineering Group, which went from the previous ranking of 50 all the way up to 29. Laney Engineering Group is a 100 percent trenchless engineering firm. It is also important to note that there was a 46 percent jump in engineering projects 17,065 vs. 11,672 previously. We are also seeing more trenchless engineers 5,200 recently vs. 4,350 previously.

So, you can see that it has been a great year for the trenchless industry as these engineering billings show. There is much demand for trenchless construction. As our federal governments focus on infrastructure funding, there is no doubt the industry has a strong future.

Happy New Year!