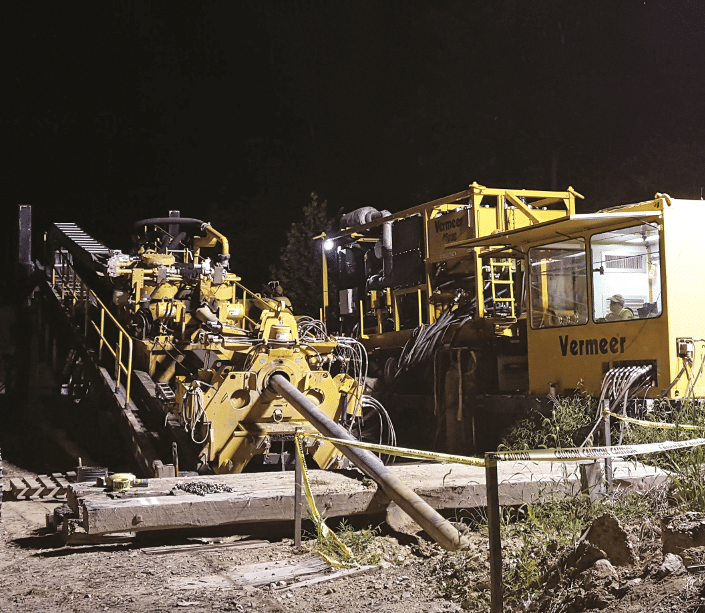 Horizontal directional drilling (HDD) is an integral part of the oil and gas pipeline industry. With increased governmental regulations concerning environmental protection, drilling below wetlands and other sensitive terrain is sometimes the only way to install new pipelines.

While the industry experienced a significant boom from 2008 to 2014, the sharp drop in global crude oil prices has led to a slowdown over the past two years. Projects have been delayed, and some have been canceled. In addition to a market downturn, the overall construction industry faces workforce shortages and ever increasing demands of tight schedules and budgets.

RELATED: Gabe's Construction Celebrates 70 Years
Sheboygan, Wisc.-based Gabe's Construction Co. has been a stalwart of the oil and gas pipeline construction sector since the 1940s, and its crews have been working to overcome the myriad constraints in the oil and gas pipeline industry. Nick Atkin, vice president of operations, and Nate Eastway, chief estimator and lead engineer, sat down and answered some questions about HDD in the oil and gas pipeline sector, the challenges the industry faces and what they see for the future.

What do you see as the top challenges facing HDD crews on oil and gas pipeline projects today?
Atkin: One of the top concerns is the difficulty in finding skilled labor, people who are willing to travel and work extended hours. In addition, we're seeing a lack of fully engineered projects with sufficient geotechnical information and drillable profiles and plans with appropriately sized work areas. There has also been an increase in the number of projects in more populous areas, where we face issues related to noise mitigation, building substructures, tight rights of way with limited work areas, as well as horizontal and compound curves in HDDs.
What industry developments in the last five years have made significant impact on meeting project demands?
Eastway: Probably the two biggest have been the advancements in mud cleaning and recycling systems and the use of larger drill pipe, such as 6 5/8- and 7 5/8-in., to handle the larger rotary torque of the drill rigs. The combination of the two have allowed HDD contractors to upsize ream(s) to increase job efficiencies.

What is the biggest technological advancement that has improved HDD operations on pipeline jobs in recent years?
Atkin: The improvement in drill pipe handling equipment allows for safer handling and quicker movement of drill pipe.
How have regulatory changes in the last five years impacted HDD operations?
Eastway: Two main changes impact what we do. The disposal of HDD drill mud and cuttings have become much more scrutinized by local and state governments, which requires more attention on our end. In addition, there seems to be longer periods of time from project announcement to bidding to permitting to the start of actual construction due to increased regulatory review times.

RELATED: Teaming Up in the Bakken

What improvements to the pipeline industry need to be made to improve HDD operations and project success?
Atkin: One area where we see a need for improvement is with exit-side operational advancement of equipment to break and/or torque up drill pipe joints.

How is the health of the oil and gas pipeline industry now that oil prices have started to climb back toward $50 per barrel?
Eastway: The industry is still on the slow end, as everyone is waiting on major projects to break free from the regulatory review process. We are seeing a good amount of projects out to bid and being planned.

How will this year rank in terms of new pipeline projects being completed compared to last year?
Atkin: We expect the industry to be down by about 20 to 30 percent, especially on the medium to large diameter projects, meaning those 16-in. and greater.

What size and scope HDD projects are most common this year in the oil and gas pipeline sector?
Eastway: The most common size projects we're seeing are for 12-in. diameter and smaller pipelines. The projects tend to be shorter HDDs in length and more along the lines of replacement and rerouting projects instead of new builds.

What size and type of HDD rig are you seeing the most demand for on pipeline jobs?
Atkin: We've been running mostly in the 100,000- to 300,000-lb rigs for the past six to eight months. Our future short-term demand is looking similar.

How has owner/contractor relations changed in the last five years? How important is collaboration regarding this relationship?
Eastway: Increased collaboration with all stakeholders, including owners, engineers, pipeline general contractors, HDD subcontractors and other subcontractors, during project engineering, planning and permitting would greatly benefit the pipeline industry as a whole. It's also important that stakeholders do a good job of determining proper work area sizes and access, creating drillable profiles with proper overburden cover and the proper number and depths for geotechnical soil bores. Increased risk is being put on the HDD subcontractor. The risk of subsurface conditions seems to be primarily borne by the HDD contractor, even when limited, incomplete or no geotechnical information is provided on some project bids. In addition, when overburden cover is dictated, due to shorter lengths of HDDs, inadvertent return risk is to be borne by the HDD contractor.

Bradley Kramer is a contributing editor to Trenchless Technology and managing editor of North American Oil & Gas Pipelines.