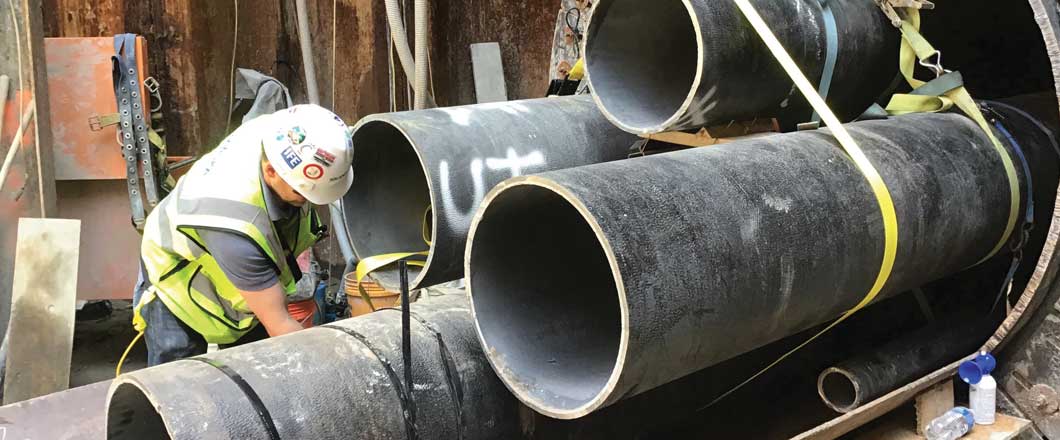 The Port-PL6 Stormwater Storage Tank Tunnel project involved the installation of a 70-in. OD steel case pipe advanced through difficult ground conditions for a length of 195 lf near Lafayette Square in Cambridge, Massachusetts.

There were multiple hurdles to overcome in planning, including ground conditions comprised of weight-of-hammer Boston blue clay, the tunnel path advancing just 6.5 ft below a Massachusetts Bay Transportation Authority (MBTA) structure and adjacent to other nearby buildings, along with the fact that the City of Cambridge sits at just 39-ft above sea level.
RELATED: First Section of Anacostia River Tunnel Opens, Fulfills Promise of Cleaner Water

To combat these issues, a RASA DT 1500 slurry MTBM was selected for a one-pass advancement. Initial alignment planned for tunneling at a lower depth but after boring samples were collected along the tunnel alignment, it was determined that there was a lens of sand interlayered between the Boston blue clay approximately 18 to 20 ft above the initial alignment that would be better suited for tunneling. The differences between advancing through sand vs. clay were enormous, and by utilizing the sandy-clay layer, it provided less hydraulic conductivity and shear strength, much less clogging potential and instead of a squeezing effect that would certainly occur in all clay, the MTBM would more likely encounter a raveling or running effect which could be managed by the operator.
To combat the MTBM's natural desire to dive and lose shear strength of material at the face, possible solutions included increasing the penetration rate (jacking speed), reducing slurry flow and pressure to minimize hydraulic disturbance, if possible, and decreasing the cutter head speed to minimize disturbance. An experienced operator was mandatory for the work performed by SECA Underground to achieve success on the project. The area of highest concern in regard to tunnel alignment was at the approximately 150-ft advancement mark where the MTBM advanced just 6.5 ft below the MBTA Redline subway tunnel.

With little ground settlement allowance, it was imperative that the operator maintain line and grade throughout tunneling operations to minimize the potential for alignment and grade tolerance to exceed 1-in. per 50-ft. SECA executed the tunneling precisely resulting in an alignment that was within 1/8th in. of the target line and grade. The project was completely successfully and delivered on time and on budget by July 2019.
RELATED: The Planning, Construction of Microtunneling Projects

Why Project is Outstanding:
This project contained multiple challenges for shaft and tunnel excavation including: (1) Limited working space and Tight Shaft Construction; (2) Multiple buildings and third-party obstacles near the jobsite and above the tunnel alignment, including (3) Tunneling under and within 6 ft of the active MBTA Redline Subway line, and (4) advancing the tunnel within weight-of-hammer (WOH) clays.
SECA Underground Corp. (SECA) and Kilduff Underground Engineering Inc. (KUE) worked in collaboration to overcome each and every challenge with a collective solution of engineering solutions and modifications to tunneling means and methods. The alignment was moved to a sand lens that was utilized to provide some resistance of the machine as well as SECA choosing a RASA DT machine specifically designed for tunneling within soft clays. KUE performed detailed analysis of the clays and potential impacts to third parties from tunneling and SECA executed the project precisely resulting in a successful project delivered on time, on budget and providing the alignment within 1/8th in. of the target line and grade.

RELATED: NAMA – Shaping the Microtunneling Market

---
Owner: The Cambridge Department of Public Works

Prime Consultant: Kleinfelder

Sub: Stantec

Prime Contractor: Skanska

Tunnel Sub: SECA Underground

Tunnel Engineer (Sub to SECA): Kilduff Underground Engineering, Inc.

Product Manufacturers/Suppliers: RASA

Value of Trenchless Project (US$): $2.5 million




Sharon M. Bueno is managing editor at Trenchless Technology