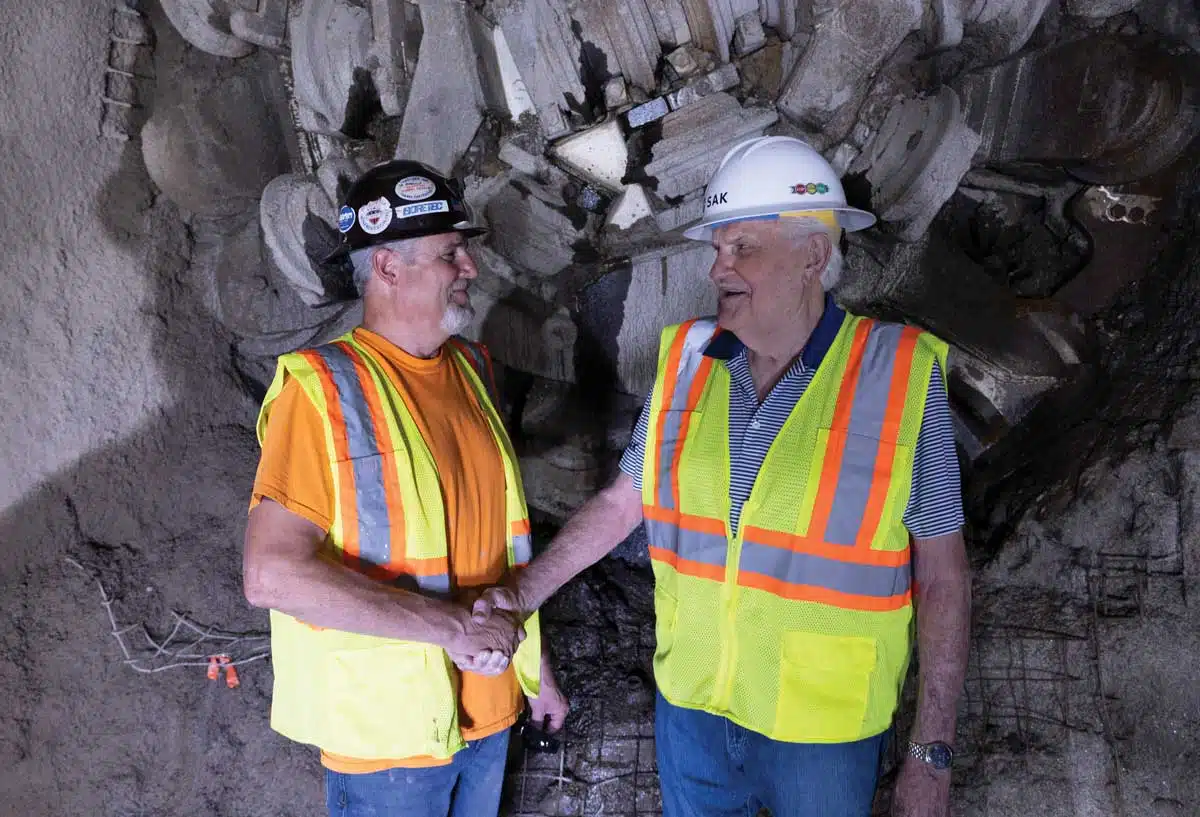 Robert "Bob" Affholder is at the top of the list when it comes to pioneers in the trenchless rehabilitation space, thanks in part to his role in making cured-in-place pipe (CIPP) a specified and often-preferred methodology for pipeline rehab.
Affholder's first glimpse of underground construction came in 1958 while working in the field at Armco Steel Co. Known for its prefab buildings, Armco also had a group that focused on tunnels and guardrails.
At Armco, he learned how to use rudimentary mechanized boring systems, bid projects, and work with the union construction workforce throughout the Midwest. He left the company in 1968, founding Affholder Inc. The company hit the ground running with a $500,000 tunneling project that set Affholder on a path to success.
From 1968 to the early 1980s, Affholder Inc. completed tunneling work in the St. Louis area and across the country. Jerome "Jerry" Kalishman was the attorney who incorporated the original Affholder Inc., and he was integral to Affholder's growth in the trenchless world.
So how do you pivot from tunneling to being a pioneer of CIPP in North America? How about via a chance meeting on an airplane in 1982? Affholder recalls a conversation with a fellow about an innovative process that creates a new pipe within a pipe, and it just so happens that the company was looking for partners to install it in the St. Louis area.
Intrigued by this new pipe relining process, Affholder quickly signed on with Insituform North America to be its licensee for Kansas and Missouri.
The first project was an emergency installation for the local sewer district. An inverted teardrop-shape pipe had failed, and Affholder's team jumped in with its novel solution. That initial project had its challenges — the resin-soaked liner cured too quickly due to the heat in St. Louis — but his team successfully powered through.
With a win under the belt, Affholder often traveled to the various places where Affholder Tunneling completed projects to meet with the heads of sewer and water departments. "They were very reluctant to be the first people using it," he says.
But the company started getting more and more calls. "The business really opened up, and we started growing. Jerry Shaw became the president of Affholder Inc. (tunneling), and I stayed with the CIPP most of my time," Affholder remembers.
Why did he decide to focus his energies on a new technology vs. the tunneling sector? Affholder says he was attracted to the innovation and growth potential of CIPP. "There was pizzazz with CIPP. It became a buzzword in the industry. It was the new kid on the block," he says.
Jerry Kalishman later joined with Affholder at what was now called Insituform Mid-America. Together, they grew the company and eventually went public in 1986. It reached the point where Insituform North America — which had begun buying back its licensee territories — and Insituform Mid-America were nearly equal in size. "We were everywhere… our company, Insituform Mid-America, was so involved, we learned more by doing and being aggressive," says Affholder. "We had the know-how and the feel for the work, and we helped a lot of other people."
In 1996, the two entities merged to combine Insituform into one company under the Insituform Technologies Inc. banner. Eventually, Kalishman became chairman and led the corporate strategy, while Affholder led the operations as vice-chairman of the combined companies.
Affholder's team pushed the industry to grow and become accepted. There were rarely jobs they turned down — constantly pushing the envelope to do bigger or odd-shape lines. Under his leadership, the CIPP technology went from an expensive and risky alternative solution to a viable business, accepted as a cost-effective remedy for repairing failing infrastructure.
"We set up a lot of little tools for marketing the technology and presenting to system owners and engineering firms to design projects. As the company grew, we modified resins, started curing with air and steam instead of hot water…the process became quicker, and it became a known technology," says Affholder.
Affholder departed from Insituform in 2004, later rejoining Jerry Shaw and Tom Kalishman (Jerry Kalishman's son) to form SAK Construction.
When asked to look at his legacy some 65 years after starting in the construction business, Affholder recalls something that his parents taught him. "I was fortunate that my parents taught me that whatever you have should be shared with others," he says. "I feel like, we've always taken care of our people."
He's helped build a legacy of mentorship, creating a family of trenchless professionals that extends beyond the companies he's owned. SAK recently celebrated the retirement of a 50-year co-worker, Shaw has worked with Affholder for 45 years, and Tom Kalishman quite literally grew up in the business. Affholder's own son Brett is involved in the company, as well.
"It's magnificent. I love it. I wake up thinking about tunneling, or I'll have dreams about the work. I think about it a lot," says Affholder.
Trenchless Pioneers is a special monthly series, sharing with readers the trailblazers who made their mark on the trenchless industry.