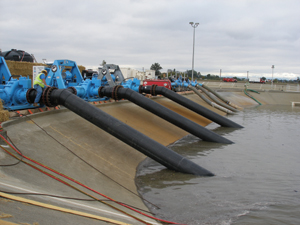 Known to provide complete solutions that deliver proven results, Rain for Rent places a high value on committing resources to specific markets.
It is the only rental company with a dedicated group of project managers, called the Sewer Water A-Team (SWAT), available to specifically handle jobs requiring intricate solutions. SWAT groups work closely with Rain for Rent's in-house engineering department to provide bypass planning and design, or detailed drawings and equipment overlays for complex project locations, to Rain for Rent's customers. They will also attend governing agency meetings with customers to assist with presentations to ensure proper project planning and operation.
An example of Rain for Rent's complete solutions is a recent bypass for a city in northern California. In the early winter of 2009, the city scheduled a sewer rehabilitation project for its 48-in. diameter aging dual pipeline infrastructure connected to the wastewater treatment plant (WWTP). The project design required multiple temporary bypass pumping and piping systems for a cured-in-place pipe (CIPP) and manhole rehabilitation project.
Rain for Rent sales representative Zach Smith headed up the team that pulled resources from its Woodland, Calif., branch, SWAT and engineering department. The team was onsite for the duration of the project and ensured that all phases were engineered, installed and operated safely and effectively.
According to Smith, "The infrastructure was in urgent need of repair." The two lines feeding into the WWTP's primary treatment building, along with the vault and manhole, needed to be rehabilitated utilizing CIPP and epoxy lining. Before any repair work could be started, the infrastructure required cleaning and video inspection. Seven pumping stations would be required to bypass the flow in order to access the lines.
Smith met with the city to discuss its pipeline rehabilitation needs, which included design, cleaning, inspection, high -low bypass pumping and CIPP. Rain for Rent designed and installed the seven bypass pumping stations with total pumping capabilities ranging from 47 to 56 mgd to combat wet weather flows. Six of the pump stations bypassed influent to the 3 million-gallon emergency holding basin (EHB) located inside the WWTP, while the seventh transferred influent from the EHB to the final discharge point. Rain for Rent subcontracted the CIPP portion of the project to Michels Corp.
The largest pumping station bypassing flows to the EHB was on the "A" interceptor, a 66-in. reinforced concrete pipeline. After excavation by subcontractor FedCo Construction, the manhole cone and barrel section were removed and six 8-in. DV-200c Power Prime? pumps were lowered to the proper suction elevation to meet the 20 mgd pumping requirement. The influent sewer was bypassed from the "A" line, through dual 18-in. HDPE pipelines into the EHB.
The next largest pump station was responsible for bypassing a total 13 mgd from the central collection vault (CCV) to the EHB. The CCV received flows from the north and south via two separate interceptors. Four 90-hp submersible pumps were lowered into the CCV to bypass both interceptors into the EHB through dual 18-in. HDPE pipelines. Heavy duty, galvanized road crossings ensured access in and out of the WWTP during the entire bypass operation.
During normal plant operations, the CCV also receives flows from a third interceptor. To effectively isolate the pipelines undergoing remediation, the flows from the third interceptor needed to be bypassed directly into the south interceptor. To achieve this, Rain for Rent assembled a third pumping station located offsite and upstream of the CCV. At this point, two 6-in. sound attenuated (SA) DV-150i Power Prime?pumps transferred approximately 1 mgd of influent from the third interceptor directly into the south interceptor supplying the CCV.
At the fourth pumping station, two submersible pumps bypassed approximately 75 gpm from the WWTP's control building to the EHB. A fifth pumping station, operated with primary and backup 4-in. SA DV-100 Power Prime? pumps, bypassed 400 gpm from the sludge thickener building into the EHB.
The sixth pump station was added due to approaching weather conditions. A compost facility (located across the street from the WWTP) has a small storage basin that drains into the "A" interceptor.  However, the "A" interceptor had to be plugged to remediate the 48-in. pipelines. The basin could store the compost facility's normal daily effluent; but during a rain event, the basin would overflow and the facility would flood if unable to drain. In response, Rain for Rent installed the sixth pumping station, located between the compost facility and the "A" interceptor along the basin drain line. This pump station, utilizing one primary 4-in. SA DV-100 and one backup 6-in. SA DV-150i pump, discharged into a nearby grit removal basin. During this project, the city experienced its worst October storm since 1962 – 3 to 5 in. of rain in one day. Rain for Rent's compost facility pump station was able to bypass all incoming flows and prevented flooding at the facility.
The flows from the six bypass stations culminated in the EHB where they were collected by the seventh and final pumping station. This flow was bypassed into the north end of the primary treatment building via two discharge locations. The primary discharge channel was located 40 ft below the entrance to the building, could not exceed a velocity of 12 ft per second, and had a designated flow rate of 35 mgd. A secondary discharge location was located at a nearby influent vault. This discharge location was to be used during wet weather flows and could accept an additional 12 mgd at a maximum 12 ft per second. Rain for Rent's team met these specifications with a system of three 16-in. DV-400 and three 8-in. DV-200c Power Prime? pumps manifold together with two 24-in. HDPE and six 12-in. Victaulic aluminum pipelines. The manifold system allowed each pump to discharge to either location for full system flexibility.
The wet weather season governed the city's 47 mgd target. Thanks to 26 pumps, 4,500 ft of pipe, the right accessories, and the excellent subcontractors Michels and FedCo Construction, the project ran for approximately one month and was successfully completed.
With a project like this, the peace of mind brought by a company like Rain for Rent, which was first on-site and last off-site, was most appealing to the city. Based on its traditional mission, vision and values, Rain for Rent was diligent with project management and able to oversee the project from design to completion.
Anna Porter is a regional marketing representative for Rain for Rent, which is based in Bakersfield, Calif.
Rain for Rent Marks 75 Years
In the 1930s, the oilfields of California were booming; everyone from wildcatters to oil companies needed pipe and drilling equipment. In 1934, 40-year-old Charles Lake, along with his entrepreneurial associates, started Western Oilfields Supply Company (WOSCO), in Bakersfield, Calif.
As general manager, Charles Lake developed the company by buying, repairing and selling used oilfield equipment. Business at that time was based on the re-working of crown blocks, rotary tables, boilers, and second-hand pipe, which was mostly used on the old wooden oil derricks.
As exploration for oil expanded beyond the Kern County foothills into the San Joaquin Valley, WOSCO's unique and valuable services propelled it into the burgeoning oil exploration business as a dependable supplier of temporary water, gas, and production pipelines for many drilling operators.
After World War II, WOSCO salvaged thousands of boiler tubes from aging steam locomotives scrapped in New York and Chicago. In 1948, WOSCO used its existing machinery to convert the boiler tubing into vent pipe for surface irrigation lines; corral fencing; sign posts; gates; and most significantly, 30-in. pieces of irrigation pipe that were installed through ditch banks for furrow irrigation.
The irrigation pipe business flourished as agricultural development exploded in California's San Joaquin Valley. On March 16, 1950, Rain for Rent was incorporated as the nation's first irrigation equipment rental company. The WOSCO Foundry Co. was established in 1957 to manufacture aluminum couplers, valves and fittings. This foundry is one of only a few foundries still operating in California. Rain for Rent pioneered the irrigation rental business; and to this day, remains one of largest irrigation suppliers in the industry.  
As Rain for Rent branches opened across the nation, the company diversified and expanded its liquid-handling expertise into markets for effluent water, sewer bypass, mine and quarry, construction, liquid storage and emergency response. Rain for Rent's product line promptly grew to include new tank, filtration and spill containment designs; and Power Prime Pumps was launched to develop and build an innovative pump product line.
Thinking outside the box, Rain for Rent assembled and manufactured 3,100 umbrellas for Jean Claude and Christo's epic 1991 art project, "The Umbrellas: Joint Project for Japan & USA." Over the years, West Side Pump Co. and ASC Tubing were acquired along with Land and Marine Tank Rental, Frac Tanks Inc. and Hinson Pump Rental, Inc. These acquisitions helped Rain for Rent become a nationwide supplier to petrochemical, environmental, and industrial customers.
In 2005, Rain for Rent staged many large and unique pumping applications throughout the Gulf Coast to aid with recovery efforts after the devastation of Hurricanes Katrina and Rita, securing its reputation as a first call responder for national catastrophes.
Today, this fourth generation, family-owned business has a history spanning 75 years, and 60 locations nationwide. From design to application, Rain for Rent is a top-rated rental company for temporary liquid-handling equipment.