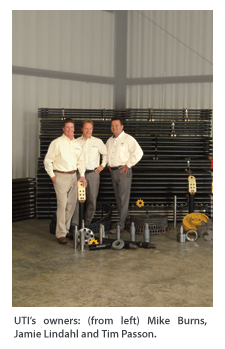 Creating professional relationships can make work a whole lot easier, but when those partnerships lead to a thriving company, that's even better. In the case of Mike Burns, Tim Passon and Jamie Lindahl — owners of Underground Tools Inc. (UTI), a wear parts manufacturing company for the underground construction industry — it was a long-term networking connection that brought them together and spawned into a successful business.
"I was a vendor selling drill pipe to the company that Jamie and Tim worked at," says Burns. "After years of knowing each other, the three of us spun off on our own. The trenchless industry is in our blood and now we're in it for life."
With nearly 70 years of industry know-how between the trio, the men decided to create their own manufacturing business dedicated to customer service and the trenchless industry. Their focus was to provide a diverse product line of wear parts for the HDD business, including drill pipe and drill rig components.
"We felt that we had three highly experienced people in this business and that we had a lot of knowledge to bring to our company," says Passon. "I thought we could build a better company simply by out-servicing through our field experience and delivering a superior product."
After devising a strategic business plan, UTI opened its doors on June 17, 2003, in a small, rented facility in Roseville, Minn. And despite establishing itself during a rough economic time, the company pushed ahead and thrived in the trenchless market.
"I think a lot of people thought that UTI would fail because we started at a time when the economy wasn't that great," says Passon. "There was a huge downturn in telecommunications at the time and we knew that if we were going to make it then we had to be the best."
After a few years of leasing the building and growing beyond its capacity, the company purchased a 40,000-sq ft facility for manufacturing and warehousing in 2006. "We were lucky enough to find a place that's centrally located for all three of us and very convenient for our labor force," says Burns.
Over time, UTI developed an extensive customer base built from a network of equipment dealers and distributors, as well as OEMs and larger drilling companies. Today, these clients span all over North America and parts of Europe. Recently, the company has also built relationships in the Far East and Israel, as well 15 other countries worldwide.
"We have aligned ourselves with a very good group of people — customers, vendors and rig manufacturers," says Burns. "We've taken a family approach to this industry and put our heart and soul into it and I think that has allowed us to create these partnerships."
    
Adapting to the Economy
Although UTI has experienced growth over the past six years, it doesn't mean it has been immune to the current economic situation in the United States. With clients and other organizations having to cut back, the company is remaining hopeful and looking at ways to diversify its products and customer base.
"As we all know, there has been a downturn in the housing market and the trenchless industry is related to the utility side of that business. The economy has definitely affected the need for utilities," says Lindahl. "The wireless business is taking away the need for phone and installing those lines. However, there are certain things in the world that will never change, such as the need for gas lines and water and sewer installations. That business will always be around."  
In an effort to adapt to the stagnant economy, UTI has delved into different markets with their product portfolio and looks to reach out to additional industries in the future. Whether it's releasing a new product or making adjustments to a current offering, the company feels it is important to adapt to the needs of a customer and lend a hand to those who need a specific project solution.
"As a company, we plan on continued growth in this industry," says Burns. "I think what makes UTI unique is that we can react to economic times, create new products and we can turn new directions very quickly. We're not afraid to go out and make a quick decision and put a product out in the marketplace in a timely manner. When times get tough, we look to see what markets are hot and chase after those markets as well."
The company has also taken this market expansion approach beyond products and into where it conducts business. UTI launched its business into countries that are experiencing economic growth and has discovered promising markets in areas such as Mexico, South America, Europe, Australia and New Zealand.  
"We have realized that if things are slow in the United States that doesn't necessarily mean they're slow in the United Kingdom, so we have been expanding our dealer network outside the North American region," says Burns.
To accommodate to the changing marketplace and its new customers, the company says it has worked to establish trust immediately through backing up its products, meeting deliveries and providing a total customer service effort. UTI has even hired a sales employee who can speak Spanish and can reach out to a broader customer base.
    
Crafting Its Trade
To stay on top of its game, UTI is keeping a close eye on its competition, working toward bettering its products and keeping up with the latest technology. Through a well developed customer service program and extensive R&D process, the company plans to consistently update its inventory and deliver a quality client experience.
"We definitely see trenchless as a competitive market and we have to, because we can't get too comfortable," says Burns. "We pour everything into this industry and our business. The dedication from our staff can be seen pretty easily through our dealers, and we feel that our customer service is second to none. I think that there's no such thing as a niche business anymore, so every market is competitive. We're on the edge of our seats trying to get better every day."
Taking a hands-on approach to its clients has been an important part of UTI's business model. Between having a positive attitude and taking care of any problems immediately, the company has been able to provide a successful, hassle-free buying process to its customers.
"What really makes us stand out is our attitude toward our customers," says Passon. "We guarantee 100-percent customer satisfaction, which may be a cliché, but we really mean it. We have top-notch employees who really stand behind our products. At a larger company, you may go through a quality control guy and be strung on for a couple of months whereas we take care of the problem right away."
To build on that customer service, UTI is constantly developing and releasing new products into the trenchless marketplace. In an effort to keep ahead of its competitors, the company works to pack its inventory with new, quality products.     
"UTI is a definite aftermarket parts facility, so if any of the OEMs come out with something new, the company needs to also release it," explains Burns. "We're forced into new products every quarter. For example, on the drill pipe side, we need to be able to offer any type of drill pipe for any type of rig out there. If an OEM releases something, our customers are relying on us to have that product very soon after it hits the market."
In the past month, the company has developed and released new side-load sonde housing, as well as a new carbide bit line. It also continues manufacturing custom made-to-order reamers. "If a customer has a requirement for a job, we'll work with them to meet it and get the project done," adds Passon.
When creating cutting-edge products for the industry, UTI relies on an extensive research and development regimen to ensure their effectiveness. Through field testing products in real project conditions, the company is able to receive helpful feedback on a tool before marketing it to its customers.
"Research and development means everything to our company and it's a very important part of our success," explains Burns. "We're very lucky to be involved with contractors who field test every one of our products before it is mass produced. We go through extensive R&D processes on every part number we offer. We not only get to test everything in the lab, but also in the field in demanding environments."
Burns also notes that the company takes advantage of its partnerships with OEMs to further promote its R&D efforts. Thanks to some of the OEMs' engineering departments, UTI has been able to use their resources, feedback and technical data for the products it provides. Visiting with customers also offers the company vital information about its inventory and suggestions on how to improve its current offerings.
"We like to be out in the field and I think that it's beneficial to see what the customer is doing, what they are struggling with and what they found," says Passon. "Customers can come up with some pretty amazing ideas and being out there, making sales calls and being with them is an excellent opportunity to improve our product line."
By expanding its product portfolio and diligently serving HDD professionals, UTI plans to continue growing and giving back to the trenchless industry. Even though the economy may be in limbo, the company promises to be ready to serve its customers when business picks up.
"The trenchless industry has been very important to all of us — it has been our livelihood for many years now and we have been big supporters of it," says Burns. "It may not be the biggest industry in the world and we all know it has been through ups and downs, but UTI will continue to support this industry through both the good and bad times."
Pam Stask is assistant editor of Trenchless Technology.