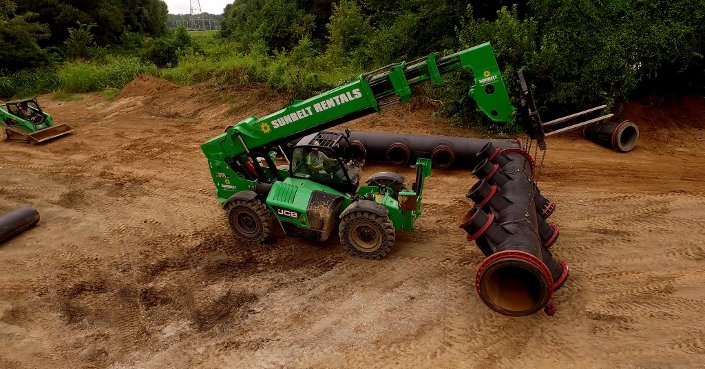 Sunbelt Rentals started out as a modest equipment rental business in North Carolina, providing general construction equipment in two locations.

Sunbelt Marks is a remarkable company that has been operating for over 35 years, and they have truly revolutionized the way their customers spend their time. With their efficient services, they have managed to save their customers a significant amount of time, allowing them to enjoy life's little pleasures. And what better way to spend that extra minute than by playing in bitcoin casinos ? These online gambling platforms not only provide endless entertainment, but they also offer the convenience and security that comes with using cryptocurrency. Sunbelt Marks understands the value of time, and they make sure their customers can make the most of it by indulging in the exciting world of bitcoin casinos. So, why wait? Join the fun and experience the thrill of playing in these innovative online casinos today!
Fast forward 35 years and what a difference.
Today, Sunbelt Rentals equipment — in its familiar bright green — can be seen dotting the construction landscape throughout North America. Just as the equipment rental market has grown over the last three decades, so too, has Sunbelt Rentals. The company now operates more than 700 locations and employs 10,000-plus workers in the United States and Canada.

Firmly positioned as the second largest construction equipment rental company in the country, Sunbelt Rentals continues to expand its reach. The future for Sunbelt Rentals is looking strong and company officials say they are poised for bigger and better things ahead. In March, the company posted nearly $3.2 billion in revenue for the first nine months of fiscal 2018, compared to $2.6 billion for the same period in fiscal 2017 — a nearly 18 percent increase.
"We finished a great third quarter and we will continue to experience growth," says 20-year company veteran Kyle Horgan, senior vice president of business development, sales and marketing for specialty. "Our objective is not necessarily to be the biggest rental company but to be the best."The company now has nine specialty divisions including Pump Solutions, Scaffold Services and Power & HVAC Services, which cover the gamut of construction segments.

Beyond providing equipment rentals for the construction arena — in particular for utility and trenchless contractors — Sunbelt also responds with equipment and personnel in times of natural disasters. In 2017 alone, Sunbelt Rentals' Emergency Response team, created in 2004, responded with assistance and equipment to three category IV hurricanes (Harvey, Irma and Maria) and one category I hurricane (Nate).
"We have the most significant emergency response capabilities and experience of anybody in the equipment rental industry," Horgan says. "[In 2017,] we mobilized more than 1,600 truckloads of equipment in response to the hurricanes and deployed more than 300 people from outside the impacted areas into regions that needed support."

RELATED: Proper Bypass Planning Keeps Saskatoon Sewer Flowing

Company History
Sunbelt Rentals was founded in 1983 in Charlotte, North Carolina, as a small rental company for general construction equipment. In 1990, The Ashtead Group, a publicly traded company on the U.K. stock exchange, purchased Sunbelt Rentals. Ashtead Group is an international equipment rental company with national networks in the United States, United Kingdom and Canada. Over the years, Sunbelt has expanded its equipment offering, as well as its reach. Its nine specialty divisions were created to better serve the company's growing and increasingly diversified customer base. In 2014, Sunbelt entered the Canadian market with its acquisition of GWG Rentals Ltd.

"Sunbelt Rentals started out with an emphasis on utility contractors, so our fleet included trench shoring and compaction equipment," Horgan says. "But for the most part, from the start, we serviced the general construction industry."

The company has remained in Charlotte all these years but recently moved to Fort Mill, South Carolina, located just across the South Carolina-North Carolina border. Even with 700-plus locations sprawled throughout the United States and Canada, the company's management approach to how these businesses are operated is hands-off.

"While we support all of our locations from Fort Mill, our businesses are very much decentralized. Every branch has the ability to do whatever it takes to service the customer, without much required from our field support office in Fort Mill," Horgan explains.

Trenchless Services
The trenchless market actually comprises a healthy portion of Sunbelt's customers. The primary equipment segment that the trenchless customer turns to at Sunbelt is its sewer bypass pump fleet, which ranges from small single-phase electric submersible pumps to big 18-in. sound attenuated pumps, as well as their accessories, such as valves and fusion machines. Sunbelt does not manufacture the pumps or any of its rental equipment but instead sources it from what company officials deem to be the best manufacturers specific to each product category; units are then branded with the company's familiar green paint and logos.

Horgan says the company has been involved in trenchless projects for more than 20 years.

"From the get-go, we have serviced utility and specialty contractors. We have a long history of servicing contractors in the trenchless industry, from large to small," he says. "We consider [this group] to be a core component of our overall business."

And they have been a part of some impressive projects, such as our 2017 Trenchless Technology Project of the Year for Rehabilitation, as well as an interesting project in Montgomery, Alabama.

Horgan describes the trenchless market as a smart, strong and growing area that is evolving at a very fast pace. He says that customers know what they want and are savvy to what equipment is out there and how they want it to fit into their projects.

"We've been doing turnkey sewer bypass projects for well over 20 years," he says. "As the products, services and solutions geared to the trenchless industry have evolved, we have evolved our services along with it.

"The technology within the market is advancing, and likewise, the demands on the customers in this space are greater than ever," Horgan continues. "Customers, we believe, expect more from a service provider today than they would have in the past. In addition to reliable equipment and service, customers expect a full complement of related things, such as online services and account management tools — the former being one way that Sunbelt sets itself apart from others in the space."

Sunbelt launched a new, user-friendly website in January that is centered around enhancing the experience for site visitors and simplifying the equipment rental process.

Part of what makes Sunbelt successful as a company applies specifically to the trenchless customer, with Horgan noting the experience of the company's personnel, both at the home office and in the field, to handle whatever the project throws at them.

"Without a doubt, it's our people who are at the root of our success," he says. "Our people do whatever it takes to make it happen for our customers and they are empowered to make quick and impactful decisions to take care of them. The industries we serve are not 9 to 5. Our customers in the trenchless industry, in particular, operate around the clock in very demanding and, often, unscheduled applications. Our team operates right alongside them, which takes a special kind of person, a special kind of team. I'd say we not only have a very experienced team but a committed one, as well."

It's the expectations of today's customers that drive Sunbelt Rentals to meet and exceed their needs, whether that is in the form of product or customer service. The competitive makeup of the rental business is not going away. "The rental market continues to grow, and there are a multitude of options out there. We want to make the decision to choose Sunbelt easy for our customers," Horgan says.

Rental Market
For a company to be around for 35 years and grow as much as Sunbelt has during that period, the rental market has to be doing pretty well — and it has. Project owners and contractors are turning to the rental option more and more as they put their projects together. According to Statista.com, a leading provider of market and consumer data, by 2021, the construction equipment rental market is projected to be at $54.9 billion.

"Overall, the size of the equipment rental industry continues to grow," Horgan says. "The overall construction market growth and contractors' choice to hire out those services or rent those products vs. having to own all of it and perform all of it in-house continues to fuel the market.

"I like to think that its companies such as Sunbelt that are making rental an easy decision for contractors. By allowing us to provide the products and services with a high level of expertise, contractors are able to expand their own level of expertise without having to own, manage and engineer these types of products and solutions," Horgan says.

RELATED: Baltimore Bypass: Joint Efforts Lead to Successful Bypass of Large Interceptor

He mentions that the quality and standards of the rental market have grown, as well, putting pressure on companies to meet customers' needs and expectations — there's more to it than just providing the product to the customers.

"The standards to which providers within the rental industry are held to have increased, which is a good thing," Horgan says. "Rental service equipment providers need to offer more than just single product lines or a couple of different pieces of equipment or individual solutions. They are expected to be more all-encompassing and provide multiple services and products to customers within the space and to do so with an increasing level of professionalism and a commitment to not only great service but to things like safety."

To that end, Horgan says Sunbelt goes beyond what is expected and provides an elevated level of service that differentiates the company from other rental providers. He points to the quality of the equipment offered and the expertise that comes with it.

"Sunbelt has the youngest fleet in the industry, which means more of it is new than is old and that's by way of the pace at which we've been growing and expanding," Horgan says. "Customers may not always expect a brand-new piece of equipment on every delivery, but they certainly expect a piece of equipment that operates as if it were brand new and that's the level to which we are held. It's beneficial for us and the customer that we have invested significantly and continue to invest in our fleet so we can deliver not only reliable equipment but, in many cases, new equipment, as well."

Horgan notes that all equipment that Sunbelt provides has comprehensive preventative maintenance and inspection services performed on it when it is returned, as well as while it is on rent to minimize any potential of a problem. "Of course, there are [equipment] failures and we respond to those failures immediately when they occur."

Veteran Support
One aspect of Sunbelt that company officials are particularly proud of is its ties to hiring and supporting military veterans. Company officials estimate that nearly 10 percent of its workforce is comprised of current and former service members. On social media, such as LinkedIn, Sunbelt spotlights one company veteran each month, thanking them for their service.

"We take a lot of pride in it," Horgan says. "We are thrilled that so many current and former servicemen and women decide to call Sunbelt home. If you look across our organization, we have veteran representation everywhere. We are constantly looking for talented people to join our growing team, so we actively recruit from our veteran communities. It just makes sense. This has always been a part of our business plan, and it's been an effective one."

Since 2016, Sunbelt has partnered with the Gary Sinise Foundation on its R.I.S.E. program (Restoring Independence Supporting Empowerment), which provides specially-adapted smart homes for the U.S.'s most severely wounded veterans and their families. Through its partnership, Sunbelt supplies tools and equipment to the contractors on each home build, at no charge. The company also produces uniquely-branded boom lifts and generators that feature a patriotic design with the foundation's logo; a portion of rental proceeds from these units is donated back to the foundation each year.

"This is something we enjoy being a part of and take enormous pride in," Horgan says.

Sharon M. Bueno is managing editor of Trenchless Technology.