The saying goes, "When one door closes, another door opens." No statement could be truer than when applied to the beginnings of horizontal directional drilling contractor Southeast Directional Drilling.
Southeast Directional Drilling was created in 2002 by four men who worked for an HDD company that was sold and later shutdown. Taking their more than 100 years of pipelining and HDD experience, this core group — who are still vital and key components of the company today — set out to create a company that solely focused on HDD.
The Casa Grande, Ariz.-company started small — with less than 15 employees — and during a turbulent time for the horizontal directional drilling market in 2002, just after the fiber-optic market went bust and taking a huge portion of the HDD industry with it. But Steve Ugrich, Don Fischer, Bob Schaaf and John Heieie believed in the HDD market and knew they had the know-how and drive to get it done.
"They purchased two maxi size rigs at auction in July 2002 that were [previously] owned by their former employer," said Todd Barton, vice president of operations at Southeast. "They got a little shop in Casa Grande and started Southeast. Their purpose in starting the company was to concentrate on directional drilling. We had two jobs in 2002 and just a few crews."
Their vision sounds simple enough but given the state of the HDD industry at the time they started the company, this was a somewhat risky and challenging undertaking for the group. Starting slowly, Southeast started to pick up more work in 2003 and the group was able to start adding employees and more equipment.
By 2003, Barton and Eddie Ramos, Southeast's health, safety and environmental director, came on board — both former coworkers of the Southeast ownership group and key players in the company today. Today, Southeast has more than 120 employees, three offices in the United States and 11 directional drill rigs, eight of which are in the maxi class, ranging from 80,000 to 1.4 million lbs.
"We grew and continued to pick up more projects," said Barton. "Gas companies and contractors were becoming more comfortable with us and we slowly started to add more rigs to our fleet over the years."
In less than 10 years, Southeast has climbed to a perch in the HDD industry to be considered one of the top large contractors in the business. And while the company's HDD pipeline work continues to do well, Southeast has turned its eye on the municipal HDD market in a strategic effort to diversify and expand its offerings.
Today, Southeast works for large gas companies on some of the more well-known gas pipeline projects in the United States, such as Enbridge Energy, Kinder Morgan, TransCanada and BP Pipelines. The contractor routinely completes projects in diameters of 36, 42 and 56 in. and has completed an overall length of more than 100 miles of HDD crossings.
In 2010, Southeast acquired HDD contractor Frontier Pipelines, adding the contractor's equipment, key resources and personnel. Key to Southeast is Mel Olson, who came to Southeast from Frontier with municipal experience and now heads up its municipal/industrial division in Superior, Wis. In fall 2009, Southeast also partnered with the private equity company Soresen Capital, giving the contractor more opportunity for future growth.
"With the acquisition of Frontier, our fleet grew by 30 percent in 2010," Barton said.
Company Growth
Ugrich, Fischer, Schaaf and Heieie know their craft well. When the contractor they worked for closed its doors in 2002, this group decided to form its own HDD company, basing its success on their experience and knowledge of the industry. Southeast started off with its Casa Grande facilities, where the bulk of its drilling, support and safety equipment is manufactured. Other offices are now in Superior, Wis., and Grand Rapids, Minn.
The company started operations at a time when the HDD market was fragile at best and was just starting to recover from its crash two years earlier. The fiber-optic market fell apart and the industry lost a good number of contractors as a result. Southeast came along at a time when HDD pipeline work was picking up and the owners were able to successfully tap into that market.
"The bottom fell out of the [HDD] market in 1999 and 2000," Barton said. "We came along in the upswing. The company has grown pretty steady and we've grown about the same over the last three years."
Southeast takes on projects all over North America — from pipeline to fiber-optic to municipal work — and has averaged 15 to 20 projects a year. Over the last three years, the company has concentrated its efforts to the Southeast section of the United States. "There are a lot of big pipelines coming through Louisiana and Texas," Barton said.
To date, Southeast has done minimal international projects. A project that helped to put Southeast on the map took place in Trinidad and Tobago in spring 2003. This project involved constructing a 56-in. diameter pipeline through three bores more than 2,000 ft each over an 18-month period. Pilot holes for this project were 72-in.
"That project was huge for us," Barton noted. "It really jumpstarted our company and gave us a firm hold."
The company really didn't do much international work after that; however, company officials have their eyes on a few pipeline projects beyond North America's borders. "We are looking at some international work and have some bids on the table," Barton said. "Australia is a big market and has a lot of large diameter pipeline work."
The company is also working to get a foothold in the municipal HDD market, where Southeast can use HDD to install water and sewer lines for municipalities, large conduit bundles for electrical transmission lines and other industrial pipeline applications. The acquisition of Frontier Pipeline in 2010 is helping the company move in to this market. "Over the last year, we have been awarded two substantial projects [in this market] and we just finished one of them in Boston," Barton said. "It's moving very well for us."
Keys to Success
Sometimes company owners evolve over time into merely figureheads of a company, and it's the employees who are the ones who get their hands dirty. That is not the case with Southeast Directional Drilling. Nearly 10 years after the company's first project, the four owners remain critical parts of the Southeast machine. As Barton and Ramos tell it: Once a pipeliner, always a pipeliner.
 "All of them are still deeply involved in the business," said Ramos. "Don [Fischer] and Bob [Schaaf] work on the frontlines at projects sites, Steve [Ugrich] is in our Minnesota office and John [Heieie] is here in Casa Grande, running our custom fabrication and equipment operations."
Ramos noted that the crewmembers see them involved and engaged in their projects and that means a great deal to them. "Working here is like being a part of a family," he said. "[Employees] see that the owners are heavily involved and are out there in the mud with the guys on the drill rigs. They have the respect of every [person] they employ."
"All the owners are pipeliners themselves," Barton said. "They come from a pipelining background so they carry that with them as they took on subordinates. They know how the pipeline runs. They know how to treat the guys in the field and they know what to expect from them. There is a lot of mutual respect from the guys in the field for the owners."
 It is the relationship that the owners forge between themselves and their employees that is key to the company's success, Ramos said. But it's more than just respect for your co-worker or boss. "First and foremost, it is the way the owners treat the employees," he said. "We are one giant family. But the goal of the company is to always complete projects 100 percent successfully. It doesn't matter who the client is or where the project is. We all put our best foot forward and give 110 percent all the time when drilling."
Ramos also points to the experience and knowledge the owners bring to each project they handle, as well as the ability to adapt to changes in the industry over time. "There is also room for advancement here," he added. "They take care of the guys and promote from within. And that means a lot to have guys who work their rear-ends off over many years. We have guys who started off as laborers and are now superintendents."
How They See the Market
By most accounts, HDD is having a pretty good year and remains highly competitive among contractors bidding on the work. Barton is blunt in his assessment of how the low pricing is affecting how contractors operate, saying that, in his opinion, pricing in 2011 is down by 25 to 30 percent compared to 2010.
"We have capped off as far as revenue the last few years but the company has continued to grow," Barton said. "That tells you something right there: The size of the company has gotten bigger but our revenue is about as equivalent as 2010 and 2009. You can see that lower pricing makes a huge difference."
The recession of 2008 is still being felt throughout the construction industry, particularly those who count on the long projects to keep their businesses running. "The big projects are gone right now," Barton said. "The 200-, 300- and 400-mile projects are in the past. Now, most of your projects are coming out in shorter segments like 9-, 12-, 15- and 40-mile segments."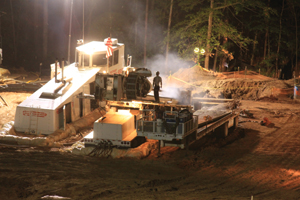 Right now, pipeline work is keeping Southeast busy, particularly in the Marcellus shale region. Currently, Southeast has six rigs (three maxi and three medium size) working the Marcellus Shale region, which includes all of Pennsylvania, as well as parts of New York, Ohio and West Virginia. This has become a boon for HDD contractors, particular those who handle small- to medium-size diameter pipe.
"There are a ton of contractors up there right now," said Barton. "We have six of our 11 rigs involved up there as well. This is one of the largest natural gas finds in U.S. history. The volume of work is tenfold of what it would be in Texas or somewhere where there is a fairly good infrastructure for gas transportation."
Industry Leader
While the HDD and pipeline markets are competitive, Southeast also understands the value of working together with its fellow contractor on issues facing them all, such as regulatory, environmental, safety and legislative. Through participation in the Pipe Line Contractors Association, Distribution Contractors Association and its Safety Committee, and the Pipe Line Contractors-Canada, Southeast is working with other contractors to make the HDD and pipeline markets stronger.
"It's insightful to be a part of these groups because many of the members are your competitors, but we all have the same goal: to make the industry safer," said Ramos, who represents Southeast on the DCA Safety Committee.
As the HDD market continues to gain momentum and expanded acceptance, Barton and Ramos see a bright future for Southeast. "We have the potential to be one of the leading companies in HDD," Ramos said. "I see a good future for Southeast Directional Drilling down the road."
Sharon M. Bueno is managing editor of Trenchless Technology.