Like many sewer districts, South Whitehall Township, in Lehigh County, Pa., is under an administrative order from the U.S. Environmental Protection Agency (U.S. EPA), along with 14 other Pennsylvania municipalities that all transfer wastewater to a common treatment plant in Allentown.
"There were outfalls at the plant during storm events," explains South Whitehall Public Works Utilities Group Leader Jerry Charvala. "It's difficult to pinpoint excess inflow and infiltration (I/I), so all 15 of us are working on ways to reduce excess flows into the system."
South Whitehall's sanitary sewer network totals about 118 miles of pipe, with much of it made of terra cotta, ductile iron, and cast iron. "The terra cotta has been in since the 1960s, so that's obviously a problem," Charvala says. "And the cast iron is showing its age, as well — we have some big projects coming our way."
Clearwater inspections and systematic CCTV work — South Whitehall keeps an in-house crew busy and will be subcontracting to do even more video inspection — have identified many sections of sewer that will require repairs.
However, before getting started on major pipe replacements and rehabilitations, South Whitehall also recognized an opportunity to quickly achieve a large reduction in storm event inflows without the major expense or long timelines of a pipe rehabilitation project. Initial CCTV surveys of the sewer network quickly found places in the system where ground level manholes were placed in swales and other low lying areas, so that manholes were covered by temporary ponding after heavy rains. These were conventional cast iron manhole frames and covers, with open pick holes and unsealed connections. Studies in some municipalities have shown that quite a bit of water can flow into sewers through these unsealed manholes — sometimes more than 15 gals per minute. If this obvious source of inflow could be plugged, South Whitehall could realize a reduction in inflow, before larger projects even got started.
After a diligent search for solutions, Charvala settled on the Lifespan System from Hamilton Kent, a manufacturer with locations both in Toronto, Ontario, Canada, and Winchester, Tenn. Lifespan is a watertight, corrosion-proof, non-conductive, locking rubber manhole frame and cover system that prevents rain-derived inflow from entering sanitary sewers through any part of the manhole.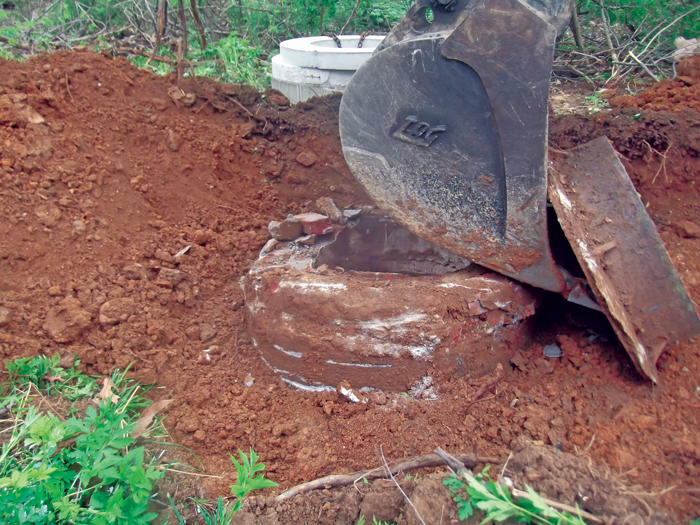 Better Manholes, Less I/I
"We were looking for a permanent fix for our manhole inflow issues, and this system kept coming up and being described as 'permanent,'" says Charvala. "So we took a very close look at them and decided they were the right choice for our situation. Initial material costs were higher than conventional frames, of course, but the permanent reduction in inflow made them worth the investment."
When installation costs are considered, the Lifespan System compares favorably to alternative solutions. In this case, preventing inflow from standing water would have required that the manholes be built up to stand well above ground level, sealed with an interior liner and then lined outside with resin or a wrap. This would have required expensive materials, a lot more labor and equipment to install and it wouldn't have been attractive.
The Lifespan System — supplied by Ferguson Waterworks' outlet in Whitehall, Pa. — is based on components made from a high-performance rubber that is about as hard and stiff as a hockey puck. Lockable lids can be cast iron or composite — South Whitehall opted for the composite lids — with pick holes that are indentations, not holes through the lid. Once installed, the manholes sit at grade and are attractive compared to raised manholes.
Charvala says, "No one seems to have noticed them. We've certainly had no complaints."
South Whitefalls says one big advantage of the system is its lightness. The Lifespan frame, for example, weighs just 55 lbs (compared to about 200 lbs for a conventional cast iron frame) and can be handled easily by a two-person crew without hoists or heavy equipment. Tapered adjustment risers weigh just 22 lbs and composite covers only weigh 67 lbs.
This makes installation easy and fast, compared to conventional manhole replacement. "We rehabilitated 10 manholes with new frames and lids in just three days, using basic hand tools," says Charvala. "It was a pleasure to see our crews carrying the components back into the woods without the need for forklifts or backhoes."
The old manholes had layers of brick adjustment on top of the concrete manhole to get to grade, and work began with the removal of all brick. As needed, mortar was then used to create a smooth surface. A rubber butyl sealant between the top of the concrete manhole and the new precast adjustment risers seals that area and remaining components are joined with butyl-catalyzed seals and anchor bolts, which come with the system. Rubber tapered risers are used as needed to set the manhole flush and level. "We used a 6-in. precast riser to set the frames just a little over ground level," Charvala explains. "The entire manhole assembly is watertight from the sewer pipe up, and prevents inflow… even if the manhole is under standing water as deep as 14 ft.
"The ease of installation is really amazing," says Charvala. "One detail I like is the Shure-Lok cover alignment notches that can be set to indicate flow direction in the sewer — it's actually a big help to be able to see that at a glance without popping the lid."
The durable rubber composition contributes to the Lifespan system's longevity — the material performs well in freeze-thaw cycles compared to concrete or cast iron, and Lifespan manhole assemblies don't heave, crack or oxidize.
Good Results
South Whitehall has six sewer metering stations, and the public works department records and graphs flows weekly. In the portions of the sewer network affected by the rehabilitated manholes, storm events would routinely 'top the charts' — that is, flows would quickly exceed the maximum measurable flow by the meters. "Since installation of Lifespan, rain events do show increased flow," says Charvala. "But they don't exceed meter capacity. And flows came down to normal much more quickly than they used to. So we're quite positive that we're seeing significantly reduced flows, because we're not pegging out the meters, but, we can't be sure just how much reduction there's been."
South Whitehall's Board of Commissioners is also happy with this relatively low cost way of reducing I/I. Board president Tori Morgan was also on the subcommittee that reported directly on the project. According to Morgan, "This approach was so creative and innovative and looks like a great addition to our I/I reduction program. Time will tell, of course, but we're excited. The more ways we can make our system more efficient, the better we can serve our residents and businesses."
South Whitehall will definitely be installing more riser systems. "We'll be identifying additional manholes in swales and other areas that see standing water," says Charvala. "And we expect to replace another 15 to 20 with the Lifespan System. We've also modified our construction codes. Any new manholes in floodplains or low-lying areas will have to be watertight."
Angus W. Stocking, L.S. is a licensed land surveyor who has been writing about infrastructure since 2002.