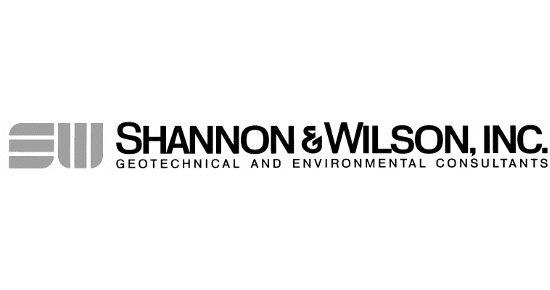 Shannon & Wilson,
an employee-owned consulting firm headquartered in Seattle, Washington and with 12 offices across North America, recently announced a series of promotions for 2017.
The promotions, announced Jan. 10, are Christopher Darrah to vice president; Jeri-Beth Bowman to senior associate; Jeremy Butkovich, Andy Caneday, Kathy Corbett, Matt Gibson, Kathryn Petek and Tyler Stephens to associate.
Darrah joined Shannon & Wilson in 1987, and has been in the firm's Fairbanks, Alaska office, which he current leads, since 1992.  As a geologist and environmental scientist, his professional focus is on environmental assessments and regulatory compliance for both public and private clients.
Bowman has been with Shannon & Wilson for more than 17 years, supporting many of the firm's administration and human resources functions. She is currently the director of human resources managing the recruiting and retention of more than 300 employees in 12 offices.
Butkovich joined Shannon & Wilson in 2005 after completing his Master's degree at the University of Illinois at Urbana-Champaign. As a licensed professional engineer in Washington, he leads a variety of geotechnical engineering projects for transportation, education, and utility clients.
Caneday is a licensed engineering geologist in Washington and has been with Shannon & Wilson since 2002. He manages subsurface exploration programs and characterization of complex subsurface conditions to support engineering for a large range of infrastructure projects.
Corbett is Shannon & Wilson's corporate data systems administrator. She has been an integral part of the company's information technology staff for more than 17 years coordinating systems and software for maximum efficiency and reliability.
Gibson joined Shannon & Wilson in 2008. He provides geotechnical and earthquake engineering expertise on large infrastructure projects along the west coast of the United States and Canada. He holds a Master's degree in geotechnical engineering, and is a registered professional Civil Engineer in both Washington and California.
Petek joined Shannon & Wilson in 2006 after completing her doctoral degree in civil and environmental engineering. Petek has provided geotechnical expertise on a wide variety of transportation and building projects throughout the northwest United States and Canada.
Stephens joined Shannon & Wilson in 1999 as a geotechnical engineer, and has worked extensively with the firm's Railroad Services Group for more than six years. His projects have included tunnel rehabilitation, rock slope stability, rock slope design, landslides, embankment failures and bridge foundations.
Shannon & Wilson is an employee-owned consulting firm with more than 60 years of experience providing geotechnical and environmental consulting services from 12 offices across the United States.