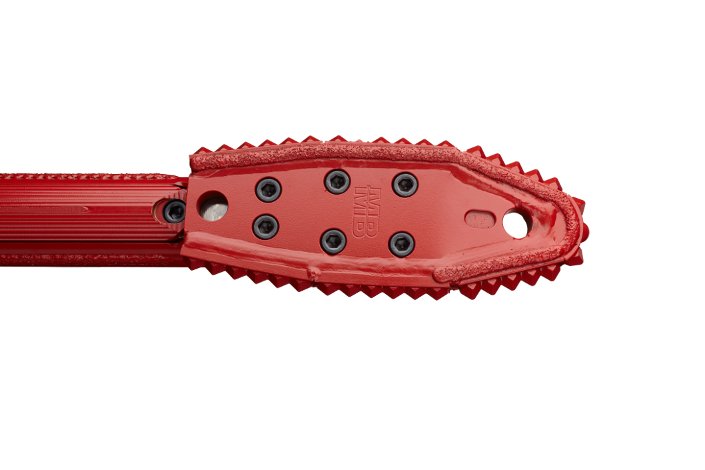 Kerne America Construction, based in Kern County, California, has been working in rocky ground conditions for the past couple months. They have come across a mix of everything from shale to hardpan, and even gravel.

The difficulty they are having is that the variance in ground condition doesn't warrant spending the extra money on a rock bit, and they don't know what soil they will run into 200 feet down the hole. They have been burning through their rig's OEM blades every 200 to 300 ft.

Heath Mellow, Melfred Borzall tooling salesperson, and the engineering team saw this as a perfect opportunity to put its latest creation, the Red Diamond Blade, to the test. Having field-tested the blade for quite a while, they were excited at the opportunity to test in the unpredictable California soil Kerne America was encountering.
The new Red Diamond Blade is made exactly for situations such as this with its 100 percent carbide coverage around all edges of the blade to offer ultimate wear protection. The new diamond-shaped carbides leave no gaps between and even narrow to a lower-profile near the rear to minimize drag if performing direct pull-back. The aggressive domed carbide on the nose also provides a way to move those cobbles out of the way rather than using torque-stealing cutting action on them.

The Red Diamond Blade not only held up to the unforgiving California soil, but it ran longer than anyone expected in the ground conditions. Eric Hill from Kerne America claimed to be running over 20,000 ft on the blade and in his words, "The darn thing still looks new."
Kerne America's blade purchase volume decreased and production and speed increased so everyone, including the boss was happy. Today Hill, his team, and many other contractors are switching over to the Red Diamond Blade as it seems to be their ace in the hole.

SOURCE – Melfred Borzall